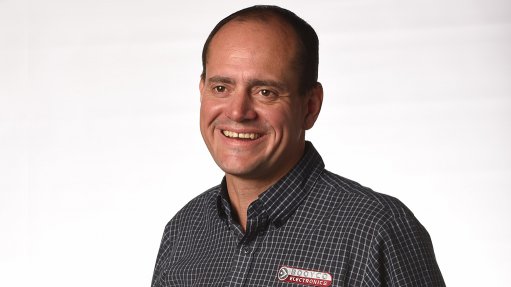 Anton Lourens, CEO of Booyco Electronics
While South Africa's mining sector is still unsure of exactly what future safety legislation will require in terms of proximity detection systems (PDS) or collision prevention systems (CPS), there is no mistaking that each mine has a responsibility to assess and mitigate 'significant risk'. The good news is that the country's world leading PDS technology developers are leveraging the latest digital capability to address site-specific risks.
Chapter 8 of the Mine Health and Safety Act (MHSA) is clear that the mine owner, through its appointed engineer, is responsible for complying with the law by identifying and mitigating significant risk. The Minerals Council [South Africa] recently reported that transport-related accidents remained in the top three causes of fatalities in the country's mines, and trackless mining machinery (TMM) falls in this category.
South Africa has been a global leader in the application of PDS and CPS in the TMM space, driven by regulation and a universal risk management approach. The process of developing and applying these solutions, however, is far from simple. It is made more complex by the wide range of equipment that moves around surface and underground mines – posing a variety of challenges for PDS suppliers, original equipment manufacturers (OEMs) and mines themselves.
Many large local mines have a bewildering array of TMMs, sourced from different OEMs and performing their own particular tasks under very specific conditions. These TMMs might range from low profile dump trucks and bolters to large earthmoving haulers and small utility vehicles. There is certainly no single OEM that oversees all this movement and activity on a site, so these companies are not necessarily in a position to take overall responsibility in applying PDS and CPS on any mine.
Interestingly, this 'standardisation' scenario is far more common in certain mining markets like the US, where some OEMs offer site-wide contracting services using only or predominantly their own brands of equipment.
In terms of Section 21 of the MHSA, every OEM also has a responsibility to ensure their machines are fit for purpose. There may be a specific legal requirement on the mines, for OEMs to fit PDS systems, but ultimately the performance and functionality of that PDS must be defined by an upfront risk assessment.
The job of choosing the right solution – and bearing responsibility for that choice – falls to the mine's designated engineer. This is where all stakeholders must be clear: PDS and CPS are not a silver bullet, but rather a response to clearly defined significant risks identified by the mine.
It is therefore a weighty responsibility on the shoulders of mine management to select the right PDS solution, as no one is as familiar as they are with their conditions and needs. The risk assessment needs to carefully consider all the variables – including the composition and age of the fleet, the number of people on site, and the patterns of vehicle-to-vehicle and vehicle-to-pedestrian interactions.
While PDS selection and implementation needs a broad and integrated project approach, it is worth highlighting that fast-moving technology is playing a vital role in making these systems effective in meeting mines' legal mandate. With the experience of over 15 years in PDS and CPS development, Booyco Electronics constantly improves our product offering to enhance its flexibility, in the knowledge that each customer site has its own functional requirements – with some sites having more than one set of parameters for the installed base of PDS equipment. Ease of adaptability and flexibility is, therefore, key to the efficiency with which PDS can address and mitigate risk.
We therefore achieved an important step change in our technology recently when we developed a software-driven version of our Booyco CXS solution. This means we can keep up with the changing requirements of customers without replacing this new equipment on their fleets. Instead, any necessary modifications can be made in the software application rather than the hardware. This introduces another level of convenience and efficiency, as updates can usually be done via a wireless data transfer.
This is an exciting reflection of the depth of PDS and CPS expertise and technical solutions in the South African market, which is making a valuable contribution to health and safety on mines globally through targeting customers' specific risk profiles.
Anton Lourens, CEO of Booyco Electronics.