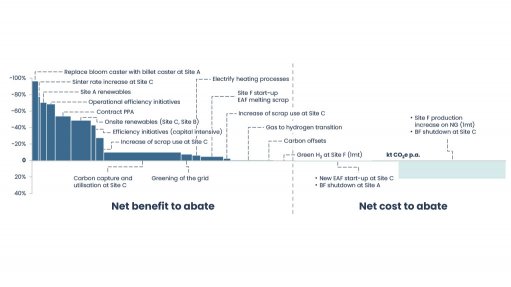 By Gareth Huckle – Partners in Performance
Various recent articles can be found that suggest the quest towards carbon reduction will negatively impact both productivity and profitability. One such article, relating to the South African mining industry, speculated that: 'carbon emission reduction plans could cost SA's gold and PGM miners up to 20% in market value from a detrimental impact on costs and financial benefits'1.
Contrary to this received wisdom, Partners in Performance's experience is that the path towards carbon neutrality is in fact almost always NPV-enhancing. We are assisting some of the world's leading industrial companies and miners to become carbon neutral and in the past few years have developed business cases for over 8GW of renewable energy. For the majority of these engagements, the path towards carbon neutrality is NPV-positive.
This outcome is driven by three main factors:
1. Lower cost of operation
With advances in technology, renewably sourced energy is in almost all cases cheaper than the fossil fuel alternative, driving down the cost of production. For example, new solar and wind projects are increasingly undercutting even the cheapest and least sustainable existing coal-fired power plants, while International Renewable Energy Agency (IRENA) analysis suggests 800 GW of existing coal-fired capacity has operating costs higher than new utility-scale solar PV and onshore wind2.
In South Africa, where there has long been dependence on cheap electricity from coal- fired power stations, the average tariffs for solar and wind projects awarded to developers in Round 5 of the Independent Power Producer Procurement Program (REIPPPP) in 2021 were 44c/kWh and 50c/kWh respectively3, compared with Eskom's average tariff of 146c/kWh4.
As well as renewably sourced energy simply being cheaper, the quest towards carbon neutrality is also driving a reduction in the consumption of energy in industrial processes through improved energy management and increased energy efficiency. A recent 30% reduction in energy consumption at a steel complex, achieved without significant capital investment and with existing technology, is representative of the magnitude of improvement possible.
In many cases, the combined drive to move away from fossil fuel technology and improve energy efficiency is leading to the development and adoption of new technologies that offer both. For example, in the mining industry, mobile fleet emissions typically contribute between 30-50% of a mine's GHG emissions and haul trucks up to 75% of diesel consumption. By converting to lower-emission alternatives, such as trolley assist, battery-electric or hydrogen, both emissions and total cost of ownership can be more than halved.
2. Improved productivity
Eskom's reliability challenges are well documented. In 2021, Eskom had implemented load shedding for a total of 1,169 hours, equating to approximately 48 days of unavailability5. Availability from such unreliable grid sources is greatly improved on conversion to own or contracted renewable production, leading to less operational disruption and higher output.
In our experience, there is also mounting evidence that being forced to think about energy alternatives and pathways towards carbon neutrality is leading our clients to be more innovative in the way that they both produce and consume energy, which is in turn leading to increased productivity. Whether it be the haul truck example cited above, the move away from blast furnaces in the steel industry or the introduction of battery-electric locomotives there are many examples of new technologies that are not only more carbon-friendly but more productive too.
3. Cheap funding
Although the cost of 'green capital' is often cited as being very high, this is not our experience.
Decarbonisation projects, especially Scope 2 electricity projects, have access to 'green funding' i.e. money looking for lower returns than the funds that typically invest in mining and industrial projects. Essentially, this funding is more akin to low-risk infrastructure funding in planet- enhancing projects.
While a mining investor might typically be looking for 15-20% returns, well-sourced green funding might seek a 6% return for suitably de-risked renewable projects. Accessing these funds, particularly if they are structured to keep them off the balance sheet, allows a mine/industrial to preserve traditional funding for higher return mining projects.
Summary
In our experience, the combined impact of lower cost, greater productivity and cheap funding is driving NPV-positive energy and emissions transition. The Marginal Abatement Cost (MAC) curve illustrated below describes a carbon neutrality programme for a steel producer comprising projects which are almost exclusively NPV-positive, and is representative of the MAC curves we see for the majority of our industrial and mining clients: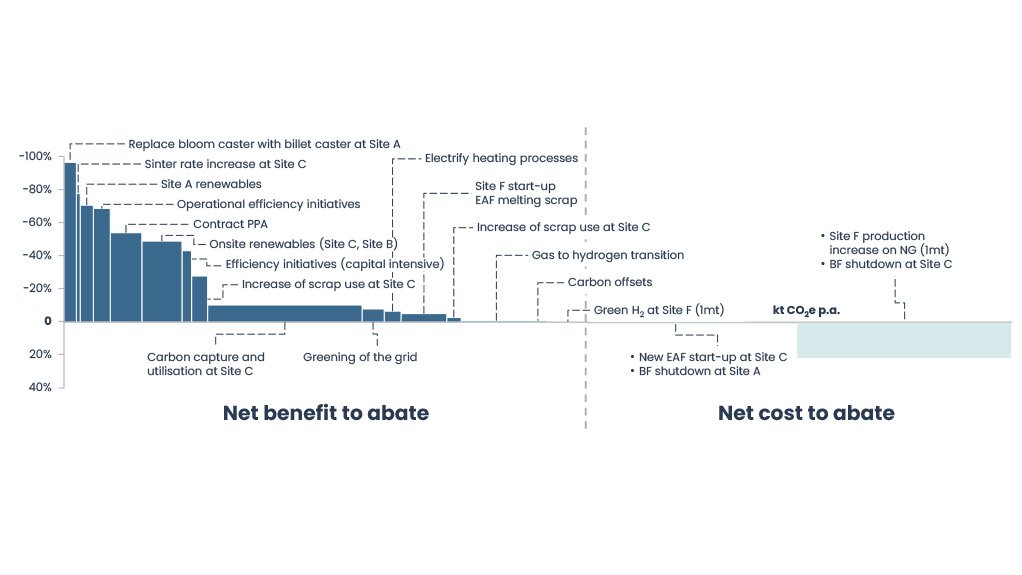 Marginal abatement cost (MAC) curve, cost / t CO2e
Note: The MAC curve is used to understand which initiatives have a +ve economic benefit while also contributing to overall emissions abatement
The journey towards carbon neutrality won't happen overnight, and the landscape for that journey is changing all the time: technologies are advancing, legal and regulatory environments are evolving and stakeholder positions are changing. However, companies should not be afraid of embarking on this journey for fear of destroying shareholder value. In our experience, carbon neutrality is value-enhancing and should be high on any board's agenda.
Gareth Huckle is a Director and Africa region lead of Partners in Performance, an international consulting firm, helping businesses in the resources, industrial and manufacturing sectors to sustainably improve bottom-line performance.
1. https://www.miningmx.com/news/markets/47604-carbon-emission-plans-could-cost-sas-gold-pgm-miners-up-to-20-of-market-value/
2. https://www.csir.co.za/sites/default/files/Documents/Loadshedding%20plot.pdf
3. https://finergreen.com/wp-content/uploads/2021/11/21-10-30-REIPPPP-Rd-5-Results.pdf
4. https://businesstech.co.za/news/energy/562560/electricity-price-hikes-announced-for-south-africa/
5. https://www.parliament.gov.za/storage/app/media/Docs/atc/b7d829ce-beb1-40eb-9577-ad1b63643926.pdf