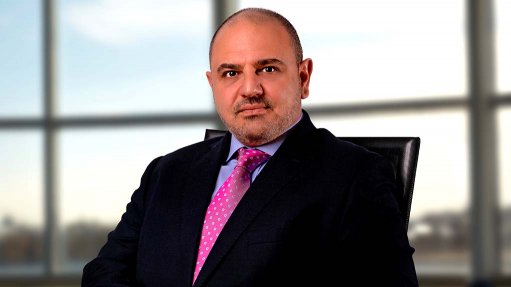 Tharisa CEO Phoevos Pouroulis
Despite a 9.1% year-on-year drop in earnings before interest, taxes, depreciation and amortisation (Ebitda) for the six months ended March 31, platinum group metals (PGMs) producer Tharisa CEO Phoevos Pouroulis believes the company managed to maintain "healthy" margins.
Tharisa's Ebitda decreased by 27%, from [CDB1] $113.3-million a year ago to $81.2-million, resulting in an Ebitda margin of 24.2%, down from 33.3% in 2022.
"Despite the headwinds we experienced in the half-year, we nevertheless managed a healthy Ebitda margin, which ensures we can build on this sustainability and be part of the energy transition," he said, noting that the products being mined by the company were more relevant than ever before.
"The commodities that the mining industry produces are vital in the energy transition," he said.
Despite the drop in Ebitda, Tharisa's revenue experienced a modest increase of 0.4% to $335.3-million, compared with $334-million in 2022.
While having a direct effect on the company's PGMs production, he reported that Tharisa had managed to successfully increase its chrome production, feeding a market which reached multiyear pricing highs during the period.
The company reported a 1.4% increase in chrome production year-on-year, reaching 787 900 t, compared with 776 700 t last year, while the average metallurgical grade chrome price rose by 41.1% to $247/t, up from $175/t in 2022.
However, PGM production experienced a decline of 16.1% at 77 000 oz, down from 91 800 oz in 2022. Moreover, the average PGM basket price dropped by 14.5% to $2 216/oz, compared to $2 592/oz in 2022.
These figures ultimately led to Tharisa reporting decrease in profit before tax of $72.4-million, down from $124.3-million in 2022.
However, Pouroulis remained upbeat, as headline earnings rose by 25.4% to $52.8-million, up from $42.1-million in 2022. Headline earnings a share increased to just under $0.18, showing a 13.5% growth compared to just less than $0.16 in 2022. Further, net cash flows from operating activities nearly doubled to $97.1-million, compared with $49.1-million in 2022.
This meant that Tharisa was able to declare an interim dividend of $0.03 a share and report a net cash position of $112.7-million.
"Our unique model of coproducing high quality chrome and PGM products has allowed Tharisa to deliver strong returns, despite not only dealing with unprecedented rainfall, but also the impact of electricity curtailments and logistics issues in South Africa," Pouroulis explained.
He said Tharisa's strategic intention to become a multi-mine and multi-jurisdiction company would derisk the business, with progress being made at the Karo platinum project in Zimbabwe, which Pouroulis said was the company's key growth project.
"We are uniquely positioned to weather the elements, given the make-up of our operation as a mechanised, open pit operation requiring low power and using a highly skilled workforce. This formula will ensure we remain competitive," he said.