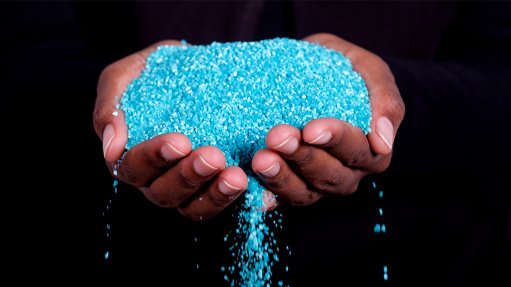 JOHANNESBURG (miningweekly.com) – Beneficiator Thakadu Battery Materials has taken significant steps forward in its high-purity battery-grade nickel sulphate plant project, which is expected to produce up to 25 000 t/y of high-purity nickel sulphate from South Africa-focused platinum producer Lonmin's crude nickel sulphate stream.
The plant will be built at Lonmin's base metals refinery, in the North West province, at a cost of R251-million.
The plant is assured of a steady supply of unprocessed sulphate that would otherwise be sold as an impure product at correspondingly lower prices.
A definitive feasibility study (DFS) for the plant has been completed, and debt financing discussions are under way to help fund the plant's construction. This funding will complement the equity funding that has already been secured.
The next step in the project will be the detailed engineering design in preparation for project execution.
Initial indications are that the plant will generate a yearly pre-tax internal rate of return of 47.3% over its operating life.
"The robust economics indicated by the DFS are fantastic for long-term value," Thakadu CEO Ruli Diseko noted in a statement released on Tuesday.
The plant will provide 60 permanent jobs when it becomes fully operational. Production of the pure nickel sulphate is expected to start at the end of 2018.
Thakadu has negotiated strategic partnership agreements for offtake that underpin the project's viability, with the first deliveries of refined product set to begin in January 2019.
The plant will be the first commercial-scale battery-grade nickel sulphate operation in the country, Mining Weekly Online reported in November 2016.
The pure nickel sulphate will be used as upstream raw material for the rapidly growing global lithium-ion battery market, with the product's end uses in stationary energy storage, consumer electronics and electric vehicles.
"We are pleased to be advancing a world-class beneficiation project in this country. This is a real South African success story, and we are immensely proud of what we have achieved," Diseko added.