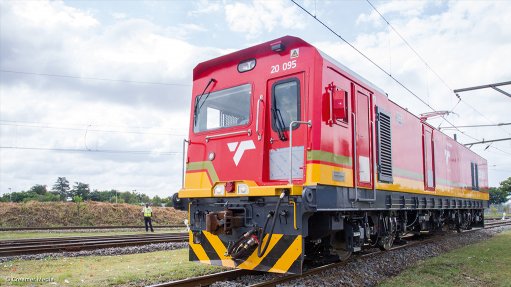 An estimated 161 locomotives have been out of service for periods exceeding 90 days
Photo by: Creamer Media
Transnet Freight Rail (TFR) has set a closing date of March 20 for responses to a tender inviting original equipment manufacturers (OEMs) to step in to rehabilitate more than 160 Chinese-manufactured locomotives that are out of service, owing to the unavailability of critical spare parts.
The unavailability of locomotives has affected operation on corridors used to export coal, magnetite, chrome and manganese, with the coal corridor having been particularly badly affected with the number of operational locomotives having slumped by 33%, between the 2017/18 and 2020/21 financial years, a collapse that TFR itself describes as "staggering".
The deterioration in the performance of key corridors has led to tension between Transnet and its mining clients, which culminated in the Minerals Council South Africa writing a letter in December calling for urgent action, including the replacement of the Transnet and TRF CEOs.
Following the letter, the Transnet board and Minerals Council agreed to establish an "Oversight Panel, a Recovery Steering Committee and Channel Optimisation Teams for each of the major commodities", including coal, iron-ore, manganese and chrome.
The deterioration also resulted in export coal miners resorting to the use of trucks to transport their coal to the Richard Bay Coal Terminal, in KwaZulu-Natal, sparking a misinformation campaign suggesting that coal that could have been used to reduce loadshedding was instead being redirected to customers offshore.
The Minerals Councils and Eskom were forced to respond by confirming that the loadshedding crisis was not the result of a shortage of coal, but rather that fact that many power stations were unable to burn the coal as a result of breakdowns.
Eskom confirmed that it has 31.8 days of stockpiled coal at its power plants against a required minimum of 20 days.
The TFR request for proposals (RFP) for alternative OEMs was launched after settlement talks between TFR and CRRC E-Loco Supply, the State-owned supplier of locomotives, deadlocked.
TFR attributed the impasse to CRRC's unwillingness to "engage with the relevant authorities in South Africa to normalise its operations in the country".
Through the RFP, TFR aims to find alternative OEMs to support the return to service of an estimated 161 locomotives that have been out of service for periods exceeding 90 days, owing to a lack of components.
The spares are required for the 20E, 21E and 22E fleets of electric locomotives.
"The proposed duration of the contract is a maximum period of 10 years on account of all the activities required, some of which may take up to two years to redesign and conclude.
"This contract will not only provide the required support that will ultimately see the return to service of the 160 long-standing locomotives but will also provide ongoing support for the entire 20E, 21E and 22E fleets."