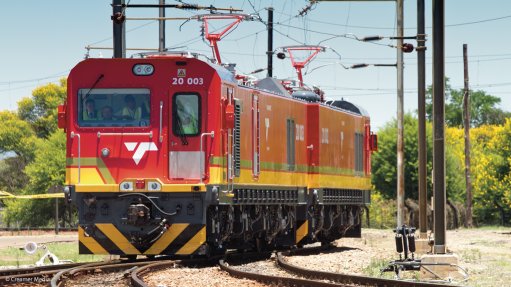 Photo by: Creamer Media
State-owned Transnet Freight Rail (TFR) has invited emerging miners who hold valid mining rights and have existing manganese mining operations to apply for two-million tons a year of export manganese capacity that it has made available.
All applications will be assessed in line with Transnet's requirements, as set out in the application process document, following the closing date of January 20, 2023.
"Transnet invites all interested parties who meet the criteria to apply to obtain access to its rail and port export capacity. A detailed application process document can be obtained from the National Treasury e-tender portal or on transnetetenders.azurewebsites.net."
Transnet is not bound to accept any application that does not meet its requirements and reserves the right to engage with parties before finalising the list of successful applicants for purposes of clarifying any details submitted. Submission of the information requested will in no way guarantee any entity being allocated capacity, TFR stressed.
Entities that do not currently have mining rights, as confirmed by the Department of Mineral Resources and Energy, will not be considered, it added.
Current or existing export manganese customers need not reapply for capacity, as they would have already been assessed and engaged with directly for capacity allocation, TFR said.