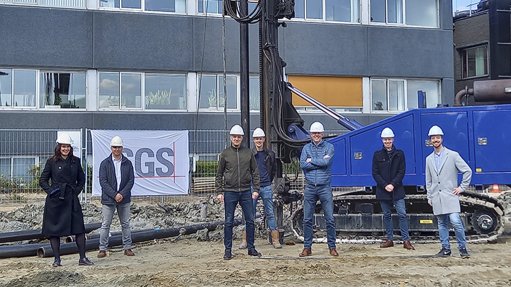 BREAKING GROUND The new groundbreaking state-of -the-art facility being built by SGS Group will allow for better testing
Swiss multinational metals and minerals trade commodities group SGS has seen a rising demand for testing services to meet client requirements and,
to facilitate the needs of its clients, it announced the construction of its new state-of-the-art laboratory in April this year.
This expansion, which is expected to be completed by December, will double the capacity and improve turnaround time of its current operations – ensuring that it can continue to provide a best-in-class service for all its clients.
The laboratory in Spijkenisse, located near the Port of Rotterdam, already offers a broad range of testing services for the metals and minerals industry.
The company performs analyses on nonferrous and ferrous products such as ores, industrial minerals, concentrates, intermediate products and high purity metals.
SGS group's services include, among others, sample preparation, transportable moisture limit/flow moisture point, wet chemistry analysis, X-ray fluorescence, inductively coupled plasma, optical emission spectroscopy, atomic absorption spectrometry, electrogravimetry and fire assay.
The construction project will allow the SGS team to further improve its global position within the industry.
"By continuing to invest in the laboratory's facilities, we are committing to increase our operational excellence, providing our customers with fast and wide-ranging testing services," says SGS natural resources, minerals commodities, Benelux and Germany business manager Frans van Croonenborg.
"Our employees are excited about the new facility and SGS's continued commitment to offer the latest technologies to the global industry."