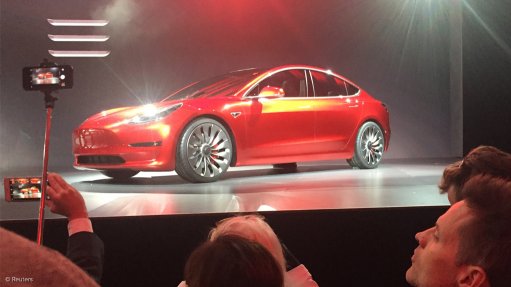 Tesla Model 3
Photo by: Reuters
TORONTO (miningweekly.com) – Twenty-four hours after launching, US electric vehicle (EV) maker Tesla Motors has secured more than 180 000 orders for its new Model 3 vehicle, making it the biggest driver of potential lithium demand from the auto sector to date.
By Friday afternoon, that figure had risen to above 198 000 orders, according to South Africa-born entrepreneur Elon Musk.
"Thought it would slow way down today, but Model 3 order count is now at 198k. Recommend ordering soon, as the wait time is growing rapidly," he posted to Twitter.
"The numbers are really incredible. That's over $7-billion of potential revenue in one day," UK-based Benchmark Mineral Intelligence market analyst Simon Moores told Mining Weekly Online.
Tesla on Thursday unveiled its latest-model EV, saying the most basic version of the Model 3 would start at $35 000, though the first ones delivered could fetch far higher prices, perhaps even as much as $55 000 or $60 000 owing to customers adding more features like a bigger battery pack with greater range.
The automaker promised the base model would have a range of nearly 350 km, fully charged.
Musk estimated the average car would sell for about $42 000, including optional features, for total sales of about $7.5-billion, should all customers who made a deposit complete the order.
Moores noted that while Tesla did not discuss the battery size – the details of which they were withholding for later in the year – based on the assumption that it would be a 60 kWh lithium-ion battery, the pre-orders alone would hypothetically increase demand for lithium hydroxide by 20% to 30%, if Tesla could deliver.
The overwhelming demand prompted Musk to comment on Twitter that Tesla was "definitely going to need to rethink production planning…"
Moores said the most interesting aspect would be the wider impact the Model 3 would have on other vehicle sales and, most importantly, the auto sector's major producers. "They will feel the need to react, perhaps with an even lower-priced car," Moores hypothesised.
GROWING LITHIUM DEMAND
With the Gigafactory now open, Moores expected to see rapid progress on raw material deals being made.
There had been a resurgence of lithium activity through staking, as well as mergers and acquisitions – a result of the present shortage in the market and lithium prices surging. Tesla's plans and its Gigafactory progress were also a key driver.
According to Moores, Australian spodumene projects had seen a surge of activity, starting from around last September.
There had also been a rush on Nevada brine projects since the start of the year. "There is of course no guarantee that these mines will come to production – most won't – but the world does need more lithium," stressed Moores.
The lithium market was currently experiencing a supply shortage and price spikes for lithium carbonate and hydroxide. It had also been well documented that prices had increased significantly on the back of surging battery demand from Asia.
"It's also important to note that Tesla Gigafactory demand hasn't hit the market yet. The questions over EVs have been answered. Now the issue is all about lithium supply," advised Moores.