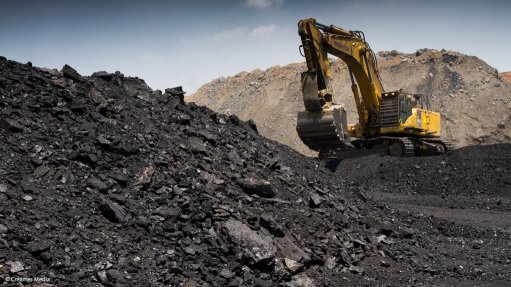 Photo by: Creamer Media
ASX-listed coal miner TerraCom on Monday offered to buy fellow-listed Universal Coal in a deal valuing the South Africa-focused coal producer at about A$175-million.
TerraCom, which in December acquired a 19.9% stake in Universal Coal, is offering shareholders 33.5c a share.
Should the bid receive 47% support from Universal's shareholders, about a third of the offer price would be paid in cash, while the balance would be paid by issue of new TerraCom shares.
The offer price is a premium to Universal's current share price, which traded at 25c on Monday – up 6.38% on Friday's closing price of 24c a share.
TerraCom said most of Universal's institutional investors were supportive of the transaction. Universal indicated that the preliminary support constituted three out of four institutional investors.
TerraCom noted that the post-offer combined market capitalisation of the companies would be about A$294-million, which is of similar scale to ASX 300 index companies.
The offer is scheduled to formally open during this month and should close by mid-March.
Universal's independent directors have recommended that shareholders not take any action, or make any decision in relation to their shareholding until the independent directors have had an opportunity to fully consider the proposed offer and provide a formal response.
TerraCom in its statement on Monday acknowledged that Universal had been subject to a number of failed takeover attempts, which had likely frustrated shareholders, and therefore committed to give Universal shareholders surety around its plan with the company.
For example, JSE-listed minerals and construction group Afrimat last year July pulled out of an acquisition deal with Universal, its offer stood at A$0.40 apiece. Afrimat said it pulled its offer owing to the size and complicated nature of the transaction.
In late 2018, a consortium of investors, headed by South Africa's Ata Resources, also indicated that it planned to make an offer for Universal, but no transaction materialised.
"This highly strategic transaction marks a transformational step for TerraCom and Universal shareholders with the merged group providing investors with scale and exposure to a portfolio of successful operating and geographically diverse coal production assets.
"The expanded production footprint and strong cash flow generation as a combined group is expected to provide an enhanced operating base to accelerate growth in the interests of all investors," TerraCom stated.