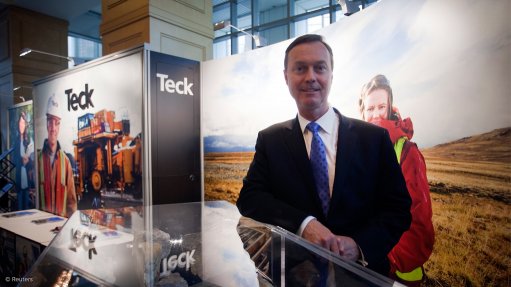 Teck Resources president and CEO Don Lindsay
TORONTO – Teck Resources dropped the most among large mining stocks after China Investment Corp unloaded nearly half its stake in Canada's largest diversified miner.
The Vancouver-based company dropped 6.7% to C$29.47 at the close in Toronto, making it the worst performer in the Bloomberg World Mining Index, which was little changed. The shares have gained 33% in the past year.
CIC subsidiary Fullbloom Investment sold in a private placement 42-million Class B shares, representing 7.36% of all outstanding voting shares, Teck said Tuesday in a statement. After the sale, CIC will hold 59.3-million voting shares, with a voting interest of about 4.4% in Teck, it said.
"We have been a shareholder of Teck since 2009," CIC executive VP Ju Weimin said in the statement. "We have full confidence in the management of Teck. The fundamentals of the company are sound. We are supportive of the strategic direction of Teck and look forward to ongoing close cooperation in future."
The decision by CIC, which remains Teck's largest shareholder, came even as both copper and coal prices continued to gain. Copper's up 25% this year on the London Metal Exchange, while zinc has gained 22%. Metallurgical coal, the company's largest commodity by revenue, has been more volatile. A benchmark price of coal used in steelmaking soared in April before falling back sharply, and it's down 7.1% so far this year.
The secondary sale was done through JPMorgan Chase & Co. with a pricing range of $23.75 to $24 a share – or roughly $1-billion for 42-million shares.
"We understand CIC's reasons for monetizing a portion of its shareholding and are pleased that CIC intends to remain a significant financial investor in Teck," Teck CEO Don Lindsay said in the statement.