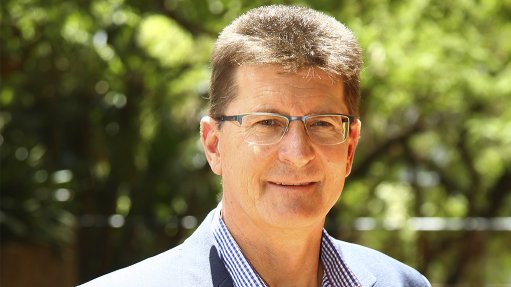 MARCIN WERTZ As a conference that focuses on business networking, the Mining Indaba is certainly compromised by being limited to a virtual format
While it will always be important for people in the mining sector to interact regularly in a forum where they seek new business opportunities, the Covid-19 pandemic has shown that virtual events can replace many aspects of physical conferences that representatives were accustomed to attending.
This, according to independent consulting firm of engineers and scientists SRK Consulting, has offered the company new ways of marketing its business.
With the 2021 Investing in African Mining Indaba conference taking place virtually from February 2 to 3, SRK's main focus will be to showcase its mining and engineering capabilities, its global footprint and experience, and to network among colleagues and clients in the sector.
Although the virtual version of the Indaba will seemingly provide plenty of opportunity to join specific sessions, and attendees will continue to benefit from keynote speakers' messages, SRK director and principal consultant Andrew van Zyl notes that many industry players attend the event for the direct engagement with their peers and potential clients, and that this may be difficult to achieve without a physical event.
"As a conference that focuses on business networking, the Mining Indaba is certainly compromised by being limited to a virtual format. "That said, virtual events present opportunities to use new marketing strategies to reach even broader audiences while being cost efficient," SRK partner and principal mining engineer Marcin Wertz tells Mining Weekly.
He advances that the virtual platform is probably better suited to more technical conferences, where the commercial networking is not as central to the purpose of the event.
Industry
The economic impact of the pandemic is being felt by communities throughout Africa, including those that host and surround mines, says Van Zyl.
"As livelihoods are affected further afield, people tend to migrate towards areas of economic opportunity such as mines. Mines may well experience more pressure from communities when general living conditions become difficult," he adds.
Simultaneously, mines continue to provide the channels through which beneficial technologies can find a foothold in Africa and can improve the broader quality of life.
"Our priority, wherever we work, is on local expertise and experience, so it is vitally important that local professionals drive our projects wherever possible. "Our global network of practices enables each office to draw on the expertise of others – facilitated by our digital information-sharing platforms."
In addition to its seven offices in South Africa with its head office in Johannesburg, SRK's offices in Accra, Ghana, and Lubumbashi, in the Democratic Republic of Congo, ensure that key mining regions of Africa are served by a combination of appropriate technical skills that are globally sourced, and input from experts who have knowledge of local conditions.
"We are continually looking to identify local partners in other jurisdictions to facilitate work, particularly in the newer mining jurisdictions," Van Zyl highlights.
Further, as many developed countries look for a low-carbon recovery route from the Covid-19 pandemic, renewable-energy technologies are fast being developed and rolled out.
Consequently, Africa is likely to see considerable strides in locally based distributed power generation models, for example, as solar and wind generation becomes cheaper and more versatile. This may even result in the continent's bypassing the more traditional, centralised generation and distribution of electricity through the use of microgrids, Van Zyl highlights.
"The recent installation by mines in Africa of large solar farms as part of on-mine hybrid power plants is providing an in-country base for renewable technology suppliers, component supply chains and specialised skills development.
"This will enable smaller users in those countries to grasp these opportunities and help build local economies. There is real opportunity for smaller users to leverage the suppliers and technicians that are available in country."
Additionally, Wertz asserts that, with solar power now available at a fraction of what it cost just a few years ago, many mines are aiming to augment their own infrastructure to reduce the risk of unreliable power supply.
As such, mining companies are also keen to realise the environmental benefit of renewables by reducing their carbon footprint – especially those using fossil fuels for on-site generation.
Moreover, with the likelihood that social distancing protocols will, to some extent, become entrenched in workplaces, there will be added impetus for the deployment of technological solutions at mine sites.
"Indeed, advances in remote technology have for years been made to achieve continuous improvement in safety and productivity.
"We are, therefore, involved in the application of digital technology that will facilitate the remote monitoring of various aspects of a mine's operation; these solutions deliver Big Data and the necessary analytical capacity to make quality, real-time decisions," says Wertz.
In the water and tailings field, for example, experts can gather much larger volumes of data from digitally-equipped devices. For underground operations, technology such as drones fitted with high-definition cameras can conduct cavity monitoring and face mapping.
These innovations, he says, will result in their being increasingly adopted in the interests of efficiency and the removal of people from potentially hazardous areas.