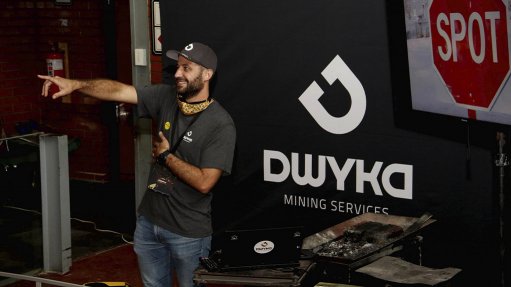 JAMIE VAN SCHOOR Dwyka and its partners advocate that they can create a platform where mining technologies are at the forefront. A space where the industry's contribution and potential can be acknowledged
Dwyka Mining Services Tech*Carnival-23 – "the lovechild of the Rand Easter Show and the Investing in African Mining Indaba" – is the inaugural #tech4good mining technology festival taking place on May 17 and 18 at Gallagher Convention Centre in Midrand, South Africa, says Dwyka CEO Jamie van Schoor.
The event's carnival atmosphere and core philanthropic ethos will help elevate the narrative and appreciation for mining technology and its ability to support safer, sustainable and efficient mining, as well as boosting skills development among the African mining community.
"Dwyka, as a business, continues to push the envelope around the art of the possible in mining, specifically around mining technology, what we would call MinTech. You've heard of FinTech? MinTech doesn't have that same kind of narrative or attention.
"Dwyka and its partners advocate that we can actually create a platform where mining technologies are at the forefront. A space where the industry's contribution and potential can be acknowledged. Because everything that we touch, that isn't farmed, is mined. And I think there's probably a lack of appreciation for the effort that goes into delivering an ounce of gold, zinc or copper and how that helps drive the African economy."
Having attended Mining Indabas and similar investment-focused mining events, and having recognised the reach, impact and collaboration that such events foster in terms of driving mining activities and changing industry perceptions, Van Schoor and his team predicted that a MinTech-focused event could generate similar activity, collaboration and innovation, while offering a more relaxed and fun environment in which to do so.
"We saw the power of collaboration, we saw the power that it had on social media, we saw that benefit of drawing people to our Invest in Mining Indaba Tech Co stand. Our Tech*Carnival will help create partnerships and link technologies that probably wouldn't have had the platform or opportunity to do so. Our event will help the development of stronger relationships between various regions and manufacturers and suppliers. Simply by spending time together."
He notes that a lingering effect of Covid-19 is that people are not engaging in the same way, with virtual and hybrid events becoming the norm. "Creating a platform like this, there's a couple of pieces that fall into place: the platform, the people, the products." He comments that combining these three Ps will produce a unique and memorable experience.
The Nitty Gritty
"We've brought in some of the global leaders in mining technology and, while the aim is to bring many other partners together in future, we, first and foremost want to curate the right kind of mix of partners, technologies and companies. It's not just about throwing every technology into the mix, it's about creating an experience. That's our key differentiator.
"We want people to be excited, to be surprised, to leave the 'Remarkable Carnival' having had an experience that's going to change the way they think about these brands, not just seeing them on a screen or seeing them on a booth and having someone pictured next to them. I want them to have a sensory experience – something that they will remember," says Van Schoor.
The event will have three 'experiences' linked to access passes.
The All-Access pass will let attendees visit the TECH*STAGE, which will host presenters from international brands in a TED-x type format, with sessions in which brands provide "an inside scoop on their key technologies and how global teams are deploying their solutions".
This will include Africa-specific mining use cases from several leading global mining companies and the Dwyka team. Two themed sessions will allow presenters to share and unpack learnings through interactive panel discussions, with seating to host a up to "400 #MinTech enthusiasts".
"The TECH*STAGE is essentially a TEDx two-day conference. We've invited CEOs and subject matter experts as well as mining companies to talk about how technology is impacting on their businesses, their workflows, the environments, some of the global learnings around these technologies, and what they are experiencing. The idea is to have many showcases during the day to draw people to the stage where they can hear about the products, while at the same time creating a flow and an energy and a space where people can have their lunch and interact and share experiences."
The Limited Access pass, meanwhile, allows attendees to visit the TECH*EXPO and TECH*ARENA. The TECH*EXPO exhibition will have a carnival theme with activations and a "festival fun product-focus" to make technology tangible and "stimulate the senses".
Adjacent to the exhibition stands – where Dwyka's partners will be exhibiting their solutions and allowing visitors to "kick the tires" and physically interact with the technology through games – there will be live demonstrations of technologies on stage at the TECH*ARENA. The demonstrations will be near continuous, with human–machine demonstrations and showcases to make technology "come to life".
Attendees can expect to engage with Dwyka and partners such as Canadian electronics manufacturer Maestro Digital Mine, Australian mine mapping experts Emesent, Australia-based underground mining equipment manufacturer Clemcorp, German laser technology experts LASE, Swedish gyro systems developer Inertial Sensing AB and Swiss high-precision mapping drone developer Wingtra.
Other technology partners include Boston Dynamics, Getac and Howden.
The event will also feature an indoor drone cage, robotics obstacle course and planned drone racing.
"This first-of-its-kind event in the African mining industry will be entirely cashless, and all net revenue from online ticket sales will be donated to selected nonprofit organisations that can be chosen when purchasing tickets. The tickets are available from Howler," says Van Schoor.
With many of Africa's leading mining companies and senior executives expressing their support and seats already booked, he stresses that people should log on and reserve their seats for the two-day TECH*STAGE conference, as it is expected to sell out. He adds that the other passes can be bought at the door if visitors only have a day to spare.
Focus on Youth, Training
Van Schoor notes that mining companies are grappling with the responsibility of ensuring that their activities are more sustainable and, as a business that supplies technology to mines, Dwyka seeks to ensure that whatever or whoever it engages with, it is surrounded by responsible actors and partners who want to "give back".
"A key aspect of this event is that you can showcase all these products and have fun, but at the end of the day, we also want to make a positive impact with three designated charities. I think the little bit that we can do to leave a lasting positive impact is to create a platform that we hope will become a calendar event, and every year from now on, the people can bank on us to give back. They can bank on us contributing to worthy causes as a way of improving the country."
This year's charitable organisations include Siyafunda CTC, the Youth Employment Service (YES) and Child Welfare South Africa.
In addition to donating to youth- focused causes, Van Schoor notes that the Tech*Carnival will have tertiary tickets available. Students need only display their student cards at the door to access these tickets.
The nature of the event indubitably ensures that it will also be a delight for school-aged students and Van Schoor suggests that attendees consider the value of using the event as an opportunity to 'take a child to work day'.
The Tech*Carnival will also feature breakaway Master Classes that are separate from the content and activities on the TECH*STAGE and, TECH*ARENA including Ventsim DESIGN, Emesent Hovermap, Ekahau ECSE Certification and Inertial Sensing BlastGyro training.
"We have four separate training programmes happening on the same campus in breakaway rooms", and while these programmes are not open to the general public, Van Schoor notes that interested parties can contact the Dwyka team regarding their involvement.