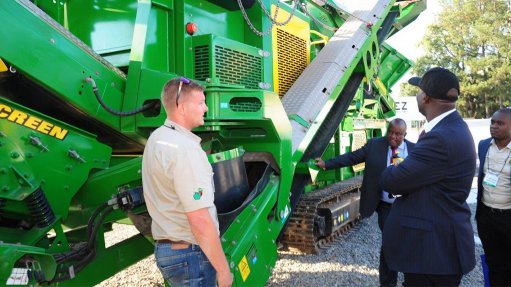 THE DEMO Exhibitor BL & D Copperbelt demonstrating a screener to Zambian Mines and Minerals Minister Richard Musukwa
This year's Caminex trade expo, which will be held from June 4 to 6 at the Kitwe Showgrounds, in Zambia, will focus on key topics such as taxation and labour laws, says event organiser Copperbelt, Agricultural and Commercial Show Society (CACSS) chairperson London Mwafulilwa.
The discussions on taxation and labour laws follow in the wake of the country's 2019 mining fiscal regime changes. Changes in the 2019 Budget include royalty rate increases, an import duty on concentrates and a 15% gold export duty, as well as the potential replacement of value-added tax with a sales tax that is nonreclaimable. These taxes could also detrimentally affect local mine suppliers.
Plans for the changes has resulted in mining majors expressing concern about potential mine closures and retrenchments.
Meanwhile, the Zambian government published the new Employment Code Act of 2019 last month. This will regulate the employment of persons and prohibit discrimination, as well as highlight possible penalties in this regard for employers.
Mwafulilwa notes that all the major mining houses will exhibit, bringing "together manufacturers and service providers in Zambia, the Southern African region and the world at large".
Caminex is supported by the Zambia Chamber of Mines and trade development and promotion organisation Zimtrade.
He adds that attendees can look forward to the Zambian Mines Minister's luncheon that will be hosted by multinational commodity trading and mining company Glencore's Mopani Copper Mines on Tuesday June 4, as well as a financial outlook breakfast where Zambian President Edgar Chagwa Lungu will grace the official opening on June 5.
Meanwhile, Caminex expects expo attendance to "increase by 30%", compared with last year, and "excellent participation from exhibitors and visitors". Mwafulilwa explains that the expected increase is a result of the positive responses to the last two exhibitions, as well as a deliberate budget increase for marketing - "we have also intensified the distribution of the free-to-attend tickets".
About 4 330 people and about 140 exhibitors are expected to attend from countries such as Zambia, South Africa, Zimbabwe, Spain, China, Australia, Germany and the US.
Caminex is the only mining, agricultural and industrial trade expo that takes place in the Copperbelt, which provides visitors from mines in the area direct access to the show.
Exhibitors have direct contact with new and existing clients, as well as opportunities to meet local distributors.
Thousands of business decision-makers, purchasing influencers and professionals will use the trade show to network, exchange ideas, share information and develop partnerships. The expo is also well positioned to stimulate diversified business growth in the region and promote environmental sustainability.
The expo provides a unique opportunity in the region for visitors to stay up to date with the latest trends and innovations through free-to-attend seminars. Seminar topics will include diversification, access to finance, infrastructure development and new technologies available to the region's mining and related industries.
Meanwhile, Mwafulilwa states that some of the challenges facing the mining industry in Zambia include "bureaucracy and the lack of information on the various legal and operating frameworks for those intending to set up businesses or look for materials and resources for their industries".
Caminex will, therefore, enable mining industry stakeholders, officials and regulatory bodies, such as government Ministers, and various regulators in mining, finance and taxation, to network together and simplify the process of doing business to overcome these challenges.
Zambian Mining Industry
Zambia's mining industry is expected to peak in 2023, with copper production set to double from the current production, owing to the Copperbelt now extending to the North-Western province of Zambia, says Mwafulilwa.
"A number of prospects in Zambia are coming up, which increases the mineral processing requirements. We expect an increase in copper production when Mopani completes constructing the new shafts as per their roadmap to become a world-class mining company by 2023. Further, there are projections from the smaller mining houses who have been prospecting. . . this will increase the opportunity for smelting and refining various minerals in the region."
As the capital investments in the mining industry materialise, and with production figures expected to increase significantly, there will be pressure on the existing logistics and support infrastructure such as roads and rail, says Mwafulilwa.
"This will necessitate a reforming of the transport sector to meet the needs of not only Zambia but also the Democratic Republic of Congo (DRC) as the transport life line for the DRC mining sector," he concludes.