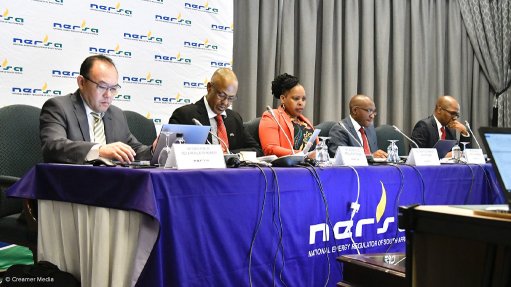 The Nersa panel at the MYPD4 hearing in 2019
Photo by: Creamer Media's Donna Slater
Power utility Eskom has welcomed the June 29 ruling of the North Gauteng High Court to review and set aside three regulatory clearing account (RCA) determinations made by the National Energy Regulator of South Africa (Nersa) for the financial years 2014/15, 2015/16 and 2016/17.
In his judgment, Judge Jody Kollapen declared that Nersa failed to process Eskom's R66.6-billion application for the three years within a reasonable time.
In addition, Nersa acted in a manner that was inconsistent with the Constitution when determining, in July 2018, that Eskom be allowed to recoup some R33-billion through tariff adjustments to be made between the 2019/20 financial year and 2023/24.
Kollapen said Eskom had advanced a proper case for relief given that Nersa disallowed costs that should not have been disallowed, with one of its decisions having been "premised on a fundamental factual error".
The Nersa RCA determinations were thus set aside, with costs.
The judgment is the second adverse court ruling against the regulator, with Kollapen having also reviewed and set aside Nersa's 2018/19 tariff determination in a ruling made on March 10.
In that judgment, Kollapen described Nersa's treatment of Eskom's coal and employee costs as "highly problematic" and having departed from the multiyear price determination (MYPD) methodology.
He added that decisions taken when reaching the 2018/19 tariff determination were "procedurally unfair, irrational and unreasonable".
Eskom was given permission, therefore, to make a supplementary application to Nersa to recoup "any additional amounts which it has expended in the 2018/19 tariff year and to which it would have been entitled had the original tariff determination been made lawfully".
The remedy from a third case, which arose when Eskom contested Nersa's treatment of a National Treasury equity injection of R69-billion as revenue, is still awaited.
During a hearing on June 24, the regulator reportedly acknowledged that it had incorrectly deducted the equity injections in its MYPD4 determination and requested the court to remit the decision back to it. Judgment on the MYPD4 decision was reserved, however.
Nersa said it was currently studying the judgment on the RCA matter and would consult with its stakeholders in due course, while committing to the regulatory principle of? transparency.
The full tariff implications of the three matters was not immediately apparent, but significant upward adjustments were implied.
In a statement issued on June 30, Nersa dismissed a report suggesting that the figure could be as high as R100-billion.
In response to recent developments, Eskom said it hoped that Nersa would now undertake its mandate of ensuring that Eskom was allowed to recover its prudent and efficient costs.
"The outcomes of the judgments will aid in ensuring that Nersa corrects the current poor decisions and in future applies and abides by the rules when making determinations on Eskom's revenue applications," Eskom said in a statement, adding that this would help restore the credibility of the regulatory environment.
"More importantly, the correction of the unlawful and poor decisions made by Nersa will assist Eskom in paving the way forward towards financial sustainability and in ensuring the migration towards cost reflective tariffs," Eskom concluded.