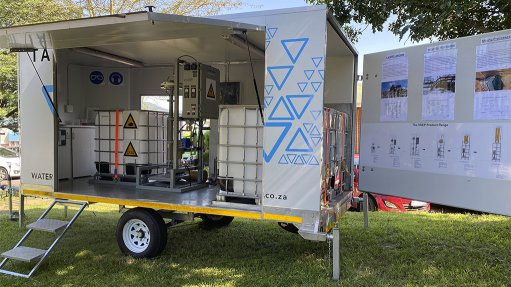 Sustainable water specialist Talbot is working with several major mining companies to demonstrate vibratory sheer enhanced process (VSEP) technology's ability to effectively treat problematic process water streams, and recover high-value resources currently consigned to waste.
Treating waters that other technologies just can't
"With tightening legislation in the management, containment and disposal of brine, we continually seek out innovative, robust solutions that offer effective waste management to our clients," says Talbot technical manager Claire Lipsett.
VSEP, supplied by US company New Logic Research Inc, uses a patented membrane vibration system that is able to tolerate extreme water conditions such as low pH and elevated inorganic loads that are not treatable by conventional membrane systems. "Ironically, VSEP is often the last option for companies that have tried conventional methods and found that their waste streams are just too dirty," says Lipsett.
"Miners and precious metals refineries facing the prospect of operating or investing in large, high-capex multi-stage wastewater treatment systems now have a far more cost-effective solution with VSEP, which can achieve in one stage what traditional solutions would typically accomplish in five or six," she says. Add to this the management of a single waste stream, which is effectively minimised prior to evaporation, and the technology is a win-win.
Waste to resource
"In addition, operations can utilise VSEP to recover ultra-fine particles of product from their waste streams so that they can be returned to the process. A number of South African applications reveal that through VSEP's ability to salvage valuable platinum group metals, payback time is reduced from more than six years to under 12 months while at the same time achieving accompanying water-saving benefits and environmental compliance," says Lipsett.
Water recovery
Apart from the technology's energy, chemical and operational cost benefits, companies benefit through the recovery of high-quality water that can be used as a substitute for municipal supply.
She adds that VSEP holds enormous potential in the mining industry to assist with the production of potable water for communities in remote locations. Mines are under increasing pressure to manage their water impacts, both in respect of abstraction in severely water-stressed regions and impact on groundwater qualities.
"We see positive commitment to water reuse targets which are crucial to the availability of water to growing communities. We regard this renewed focus on compliance as a niche market opportunity, and an opening for us to put our in-depth experience in water treatment to use," says Talbot CEO Carl Haycock.
Mobile pilot plants and water modelling
Talbot offers mobile laboratory and pilot trial options to potential clients while developing in-house models to demonstrate the potential of utilising VSEP within a given operation.
These have been employed at several sites across southern Africa where future expansion is hampered due to onsite brine storage facilities nearing capacity. The implementation of VSEP would not only reduce daily brine production levels by up to 80%, allowing for a substantial increase in mine activities, but produce large volumes of high-quality water for potential supply back to the mine or to local communities.
Talbot's proof of concept VSEP pilot plant provides live, real-time processing data in addition to samples analysed at the company's fully-accredited in-house laboratory. The information gleaned serves as the basis for a full plant design and the preparation of business cases looking five and 10 years into the future.
"We work with clients to make water management projects cashflow positive – where savings and product recovery pay for the plant itself, and sustainability risk from water unavailability is mitigated. We are also seeing a big drive from financial institutions to support 'green initiatives'; we assist our clients to access available funds and provide the opportunity for clients to rent or lease equipment in cases where cashflow constraints restrict their ability to buy the project outright." says Talbot economist Mike Smith.
VSEP is fouling resistant owing to its unique vibrating membrane with 30 years' global experience in complex wastewater treatment and water recovery. Modular units can treat between 25kl and 100kl a day, with multi-unit applications available for larger flow rates.