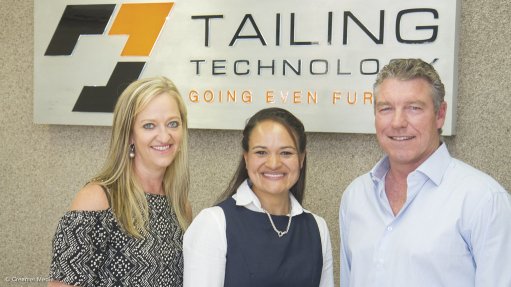 ERICA LAUBSCHER, TANIA PIENAAR & DAVE BAIGENT One of Tailtech's strengths lies in its ability to run its plants located at large mining operations at a gross profit of up to 95% during some months
Photo by: Duane Daws
Although tailings retreatment has been practised for 16 years in South Africa, it is still relatively new; it is not mines' core business and, therefore, they require convincing with regard to the profitability of installing a plant at the back-end of their operations, says platinum group metals (PGMs) tailings retreatment company Tailing Technology (Tailtech).
"Mines need convincing, since metallurgists believe they have optimised recovery processes, but stock dams still have potential. We advise metallurgists that our aim is to add value and not to show them up," explains Tailtech MD Dave Baigent.
He adds that tailings retreatment is beneficial for recoveries and removes the environmental risk mines would need to deal with in having a tailings stock dam.
To solidify more customer relationships and potentially expand Tailtech's project and supply footprint, the company will attend the Investing in African Mining Indaba to be held from February 5 to 8 at the Cape Town International Convention Centre.
Baigent says as Tailtech is focused on the platinum industry, the company will focus on South Africa and Zimbabwe when networking.
Tailtech operations director Tania Pienaar says the company also looks forward to the papers that will be presented: "It is essential to know where the opportunities are in the current mining industry."
She adds that the mining industry currently finds itself in a situation where everyone is encouraged to be more proactive with regard to improving recoveries, as well as ensuring that the best possible metal is produced in relation to the capital invested in the mining operation.
"One of Tailtech's strengths lies in its ability to run its plants located at large mining operations at a gross profit of up to 95% during some months. Every mine should aim to get its tailings grade down to prevent the disposal of value into tailings dams, from which this value is recoverable only at a significant cost."
Moreover, Tailtech FD Erica Laubscher points out that the company's biggest milestones include providing jobs for members of the communities surrounding the various sites where Tailtech operates, resulting in upliftment and empowerment.
Sometimes the company can employ 90% of the staff required for an operation from surrounding communities. The community members, who are mostly unskilled, also receive medical scheme contributions, a provident fund and work-related training, and are, thereby, able to seek other employment even if the operation is taken over by the mine or closed down.
"We always employ workers living within a 50-km radius of the mine and provide them with on-the-job training. However, as staff gain more experience, Tailtech provides advanced training to equip them with the necessary skills to expand their role beyond general operations to that of attendant, operator, supervisor and eventually foreman or manager," highlights Pienaar.
Incorporated in Tailtech's training are stringent health and safety guidelines. The company has a good safety record – it celebrated ten years without a lost-time injury on December 20 last year, which is a significant achievement in the mining industry, owing to it being known for safety risks.
Tailtech has added a new facet to the mining industry with regard to adding value, which will be communicated accordingly at the Mining Indaba, Baigent concludes.