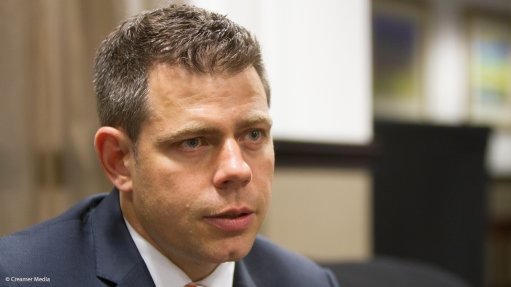 Pan African Resources CEO Cobus Loots
Photo by: Creamer Media
Aim- and JSE-listed Pan African Resources has reported solid gold production from its Elikhulu project for the nine months ended March 31, making up for its Evander project's lossmaking underground operations.
Gold production from the company's continuing operations increased to 123 771 oz, a 51.4% increase on the 81 792 oz produced for the nine months ended March 31, 2018.
The continuing operations include Barberton Mines, Evander Mines, Elikhulu tailings retreatment and Evander tailings retreatment, but exclude Evander Mines' discontinued large-scale underground mining operation, which produced 42 118 oz in the nine months to March 31, 2018.
CEO Cobus Loots said in a statement published on Friday that Evander's operations should return to profitability once the company has installed the 8 Shaft pillar. The company expects first gold from this operation by August and expects it will contribute an additional 20 000 oz/y to 30 000 oz/y for three years.
Meanwhile, the company completed feasibility work on Barberton Mines' Royal Sheba project, which Pan African does not plan to undertake on a standalone basis.
OPERATIONS
Gold production from the Barberton complex increased by 11.7% to 72 944 oz in the reporting period, compared with the 65 297 oz produced in the prior comparable period. Underground and surface mining output increased by 3.4% to 54 857 oz, compared with 53 034 oz in the prior comparable period.
The Barberton tailings retreatment plant increased its output by 47.5% to 18 087 oz, compared with 12 263 oz in the prior comparable period, owing to an improved tonnage throughput and recoveries following the successful commissioning of a regrind mill in May 2018.
The Elikhulu tailings retreatment plant processed six-million tonnes from September 2018 to March, at a recovered grade of 0.13 g/t gold, with 29 881 oz of gold sold.
Pan African further reported that the incorporation of the historical Evander tailings retreatment plant's throughput of 200 000 t a month into Elikhulu was completed in December 2018, which increased Elikhulu's processing capacity to 1.2-million tonnes a month.
Evander's remnant mining and surface sources contributed a further 20 946 oz, compared with 16 432 oz in the prior comparable period.
OUTLOOK
The company remains on track to meet its gold production guidance of 170 000 oz for the financial year ending June 30.
With Elikhulu producing at a steady state for a full year and the incremental contribution from Evander's Shaft 8 pillar operation, Pan African expects to produce about 185 000 oz of gold in the 2020 financial year.