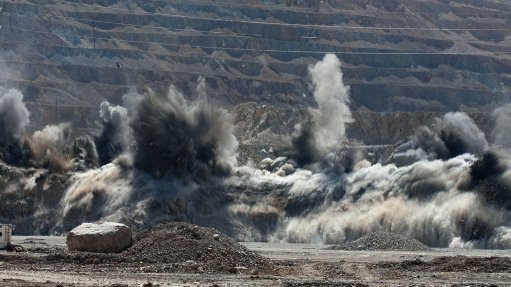 ENSURING SAFETY Flameproofing is an important aspect in mining that ensures the safety of mineworkers and a mining company's assets
Photo by: Bloomberg
Local nonprofit organisation the South African Flameproof Association's (Safa's) symposium, which will take place on November 13 in Secunda, Mpumalanga, will focus on mine safety and preventing hazardous explosions.
Safa representative Dion Abrahams tells Mining Weekly that the yearly symposium aims to provide a platform for various stakeholders in the flameproofing sector to discuss the state and ways of developing the industry.
Electrical engineering consulting firm Dario Campetti & Associates owner Dario Campetti will deliver this year's keynote address. He will discuss a suggested system for the control and management of explosion-protected electrical apparatus that can be installed at coal mines to increase operational safety.
The system outlines the minimum requirements for a coal mine's management system to ensure that the mine complies with the legal requirements and reasonable safe working practices when using explosion-protected electrical apparatus.
Several other speakers will deliver presentations, including mining solutions provider Joy Global representative Divan Pretorius, who will focus on the maintenance of flameproof equipment in mines.
His presentation will explore the necessary requirements for ensuring flameproof safety, from the time the equipment is delivered to site. The presentation will highlight the common failures that occur during and after maintenance and repair work. It will also attempt to explain why they occur and suggest ways of mitigating these in future.
Safa says Pretorius bases his assertions on 39 years of coal mining experience, detailing the responsibilities of everyone involved at a mine, from apprentices and artisans at the coal face to original-equipment manufacturers.
Another presentation will be that of UK-based hazardous equipment specialist Extronics MD John Hartley, who will present his paper, titled 'Making safe waves in hazardous areas – deploying wireless safely'.
"This presentation will discuss the various approaches of deploying wireless networks safely and effectively – from the first transmissions of radio-frequency signals in hazardous areas when exploring mine and mineworker protection, to detailing how new design methods and changes in safety standards have allowed for current technology to be more easily and efficiently adopted," Safa explains.
About Safa
Safa is involved in explosion-prevention and protection techniques for equipment used in hazardous atmospheres across all industries, including mining. It has been registered as a voluntary association with the Engineering Council of South Africa.
Safa has about 200 member companies, including end-users, manufacturers, equipment-testing houses and relevant government bodies. The association has branches in Johannesburg, Durban and Cape Town, with its interests being looked after by an executive committee and its president Paul Meanwell.
"Safa is the recognised authority in South Africa on explosion-prevention technology. The association values its stakeholders and its mission is to promote and encourage the interests of the industry in terms of safety in the field of explosion-prevention technology," says the organisation.
The association has several subcommittees, including the intrinsically safe subcommittee and the master installation electrician subcommittee, which tackle issues of concern as and when they arise. These issues are discussed by Safa's executive committee and, if required, the appropriate subcommittee is called on to investigate the issue and report its findings to the steering and executive committee.
Safa's primary objective is to promote safety best practice in the flameproof industry, develop competencies and pro- mote training, influence the formulation and implementation of national and international standards and regulations, and improve and maintain excellent stakeholder relationships.