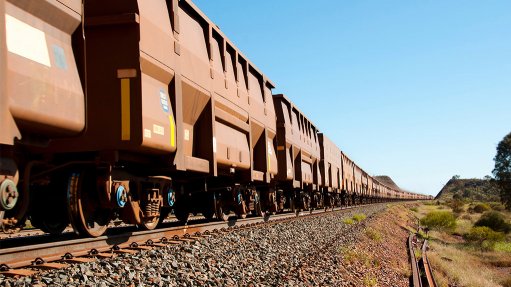 FULL STEAM AHEAD Rail lines offer more efficient transport compared to roads
To fully reap the benefits of the demand for battery-related minerals, the Democratic Republic of Congo (DRC) needs to prioritise mining and export the minerals swiftly, says WSP Africa Earth & Environment MD and mining in Africa head Dr Ralph Heath.
The DRC has significant amounts of sought- after minerals, such as copper and cobalt, that are critical to the growing battery industry, as well as gold deposits.
Heath explains that two of the major challenges impacting on the DRC mining industry are the struggle to increase production, particularly in copper and cobalt mining, and a lack of options to transport minerals out of the country.
Exports are usually transported through Zambia to South African ports. However, deteriorating road conditions, coupled with long waiting periods at borders, result in exports taking longer to get to ports.
Further delays, owing to the challenges of South African port authorities and general bureaucracy, often arise at the ports.
Additionally, transporting commodities in and through South Africa takes place mainly on road – as opposed to using rail – owing to the degradation of South African railway lines.
However, transporting by road is neither cost-effective nor helpful to reduce carbon footprints, which adversely impacts on mining companies' Scope 3 emissions, says Heath.
He explains that, during the Covid-19 pandemic, delays were expected owing to the various safety protocols and precautions. However, most restrictions have since been lifted, yet delays remain significant.
The DRC should, therefore, explore other avenues of transporting product, he adds.
Currently, there are opportunities to export through Mozambique, Angola or the West Coast of South Africa, which could ensure that miners reduce the challenges associated with exporting through South African roads and ports.
Further, while it is beneficial to mine as fast as possible, mining operations also must ensure safety in all processes, including transportation.
"There have to be more efficient ways of safely transporting those commodities, rather than sitting at border posts or [being stalled] on rail lines and roads," stresses Heath.
He notes that transporting product on rail is often safer, compared with transporting it on road, and emphasises the need for Southern African Development Community (SADC) countries to work together towards resolving common challenges, particularly in terms of logistics, where countries must rely on one another to efficiently export product.
"It requires strategic global or SADC interventions to make sure that these logistics are worked through a lot easier."
Recharging Industry
The DRC can benefit significantly from the increased demand for battery-related minerals, owing to the global electrification trend.
Copper and cobalt are used in applications ranging from electric vehicle batteries to solar panels and wind turbines, Heath adds.
As a result, the prices of these commodities are increasing, consequently presenting the DRC with the opportunity to attract foreign investment and stimulate job creation.
Further, developing local beneficiation within the DRC would stimulate the mining industry and retain more revenue in the country.
"This is a conundrum in most African countries where we export raw material and then import it back in the form of finished products at huge cost," adds Heath.
He notes that the DRC will have to navigate balancing the benefits of job creation and increased local taxation and foreign investment amid growing the local economy, while ensuring that increased mining does not harm the ecosystem and pollute the environment.
The environmental, social and governance component of mining has gained investor attention, and mining companies need to ensure, at every stage of the operation, that they are aware of their impact on the environment and surrounding communities and take actions to reduce negative impacts.
While electrification, or the green transition, is set to benefit countries with critical minerals, mining operations in such countries also need to transition to cleaner and greener ways of production.
Transitioning to environmentally conscious practices can impact positively on companies' ability to mine and their efficiencies, while shareholders are expecting and demanding more environmentally conscious practices, which is a positive development that mining operations will need to address moving forward, concludes Heath.