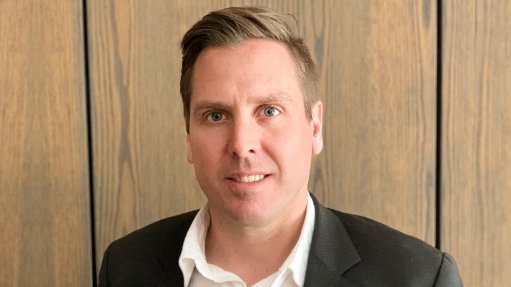 Harmony Gold investor relations head Jared Coetzer
JOHANNESBURG (miningweekly.com) – Large South African gold miner Harmony Gold sees R500-million a year savings from Phase 2 on-balance-sheet renewables projects.
This means the estimated R1.5-billion cost of the planned 137 MW second phase solar power projects will be covered in three years.
Meanwhile, ground breaking for the 30 MW Phase 1 off-balance-sheet power purchase agreement (PPA) project is imminent.
Harmony, which would like to progress its Phase 1, Phase 2 and Phase 3 renewable energy rollout over the next four years, is targeting a 20% reduction in carbon dioxide (CO2) emissions by 2026.
Phase 1 is the first step in a far broader picture for the JSE-listed company's deep-level energy-intensive mines, with an energy split of around 30% renewable energy envisaged by 2027.
This is what Harmony Gold investor relations head Jared Coetzer had to say in a Zoom interview with Mining Weekly. (Also watch attached Creamer Media video.)
Mining Weekly: Please outline some of Harmony's power project history and why Harmony has chosen sites in the Free State for Phase 1 of the renewable energy rollout.
Coetzer: This is a project which has been a long time in the making. The plans for our renewable energy programme actually started around four years ago. We always knew that there was this necessity to transform our renewables or our energy consumption, so the plans really began quite a while back and obviously it's a long time. It's a new science for Harmony. We are gold mining specialists, not typically renewable energy specialists, so we had to do a bit of work in understanding the science behind renewable energy and we decided to go with Phase 1 and put these sites near our Free State operations, Tshepong and the Nyala plant. Those are two big operations. We've got a lot of hoisting, a lot of pumping there and they're typically longer life assets. We tried to align the renewable plants with our longer life mines in the Free State, so that we could get maximum utility from the power from these plants. The original plan was to do an off-balance-sheet structure, given we weren't 100% sure exactly how it would work, but we've done the numbers and we're really happy with what we've seen, and we're very excited that we will be breaking ground imminently on these three plants.
Who will be building and operating these solar projects?
Old Mutual has taken an equity stake in this, along with Mahlako Energy Fund, and they'll be the equity partners, with RMB providing the debt financing. It's through a third party - we're doing it through a power purchase agreement. After 15 years, the plants will then become Harmony's. They are being built on Harmony land, but they are being constructed, managed and we will obviously have engineering oversight given they are being used to power up our operations. We've started clearing the sites and were looking forward to putting the panels in and getting things underway within the next few weeks.
What is Harmony's decarbonisation strategy and how do these contribute towards Harmony's strategy?
We've got quite a robust decarbonisation strategy. There are a number of factors at play. First of all, we've got a clear plan to decarbonise over the next few years with our ultimate goal of being net carbon zero by 2045. We'd like to have a 20% reduction in CO2 emissions by 2026. We would then like to progress with our renewable energy rollout from Phase 1 to Phase 2 to Phase 3 over the next four years as well. Phase 1 is a 30 MW renewable plant. Phase 2 will see us rolling out an additional 137 MW of solar renewable energy. Phase 1 is really the first step in a far broader picture. We've also got to understand the types of assets we own. They are deep-level energy-intensive mines so what will typically happen is as some of our older assets such as Bambanani and Masimong reach the end of their lives – Bambanani is closing at the end of this month and Masimong will probably close towards the end of the next financial year – we will see a lot of our energy consumption naturally taper off. But the plan is to have an energy split of around I think 30% renewable energy by 2027.
What other benefits will flow directly from this project as it relates to Harmony's sustainability strategy?
A number of benefits do typically flow from this. First and foremost, we're derisking our business. We've all been very familiar with the electricity tariff escalations over the last few years and the rate of load-shedding. We typically don't suffer from load-shedding like the retail consumers do, but we do have load curtailment where we have to hoist off peak. We've got an agreement with Eskom where and when we use energy as it relates to our hoisting so this will go a long way towards reducing that demand and from a savings perspective, the price of the renewable energy is about 25% cheaper than what we're currently paying from Eskom. The other plan is to sustain our mines for a lot longer, thereby sustaining jobs. The solar plants themselves would employ a couple of hundred people as well. Overall, there's the broad picture as it relates to operational benefits, environmental benefits, sustainability benefits. It weaves its way into our ESG story and I think ticking all the boxes simultaneously.
How much will Harmony be saving on electricity once these plants are operational?
We're paying about R1.34/kWh for electricity from Eskom at the moment and our energy consumption from these plants will be at about 99 c/kWh. That's the absolute savings. But when we look at the consumption of the demand side that we get out of this, we will typically be saving around 20% of our peak daylight demand. Now obviously the solar plants only operate during the day and we've calculated about six-and-a-half hours of sunlight that we can actually use to power these plants. So it'd be about 20% of our Free State demand peak daylight consumption as Phase 1, and about 6% of Harmony's overall daylight demand for the group. Obviously Phase 2 will step up and we will create a far larger offset. But I think also one of the benefits we've got to be cognisant of is the carbon tax, which is said to be implemented after December 2025 and which we have to mitigate as well.
What will the sustainability-linked R1.5-billion green loan be used for and how it will work?
That's another quite exciting first for Harmony, and I must give credit to our treasurer Herman Perry for working hard with the banks to renew our credits and our facilities with the banks. But part of this refinancing of our facilities was the R1.5-billion green loan, which has been ringfenced and that will be exclusively used to build our solar plants as part of Phase 2. As I mentioned, Phase 1 is an off-balance sheet PPA with a third party where we will take ownership after 15 years. Phase 2 is going to be built on Harmony's balance sheet. We've got numerous sites around the country, the West Wits, the Vaal River area, the Free State and we will determine where best to place these solar plants. The proceeds of that green loan will be used to build these solar renewable plants. From where we started four years ago, when we thought we needed to do an off-balance-sheet structure with our third-party energy providers, now we've come to realise that it actually makes sense for us to allocate capital to renewables on balance sheet so I think that's where things have changed over the last few years. Being in the mining business, we're always looking to develop and go deeper and that's the nature of gold mining, but it's becoming equally important to address the sustainability issue, decarbonisation, supply of water to our plants, so we really are assessing each and every project in its individual capacity as it relates to sustainability and how best we can derisk the business going forward, so that R1.5-billion green loan is certainly going to go a long way towards assisting us on our decarbonisation journey.
What are the funding requirements for the Phase 1 renewable energy rollout and how does this compare with Phase 2?
We didn't fund any of Phase 1, which is purely a PPA and we will acquire that asset from our equity providers. After 15 years we will then take ownership of that and then we will determine what next you want to do with the project. If mines like Tshepong are still operational that will be used to continue powering long-life operations. Alternatively, we could look at distributing power into the grid and sustaining some of the host communities around operations as well. There are numerous options we have and as a mining company, we now have the opportunity to generate so much of our own capacity, that being a deep-level mining company, we've also got an abundance of water. We're looking at how we take advantage of these wonderful assets that we've got and potentially roll them out into the communities going forward, once our mines reach the end of their life.
Unpack more about Phase 2 and what the expected costs and savings will be? Where will the 137 MW plants be situated?
Phase 2's quite a big project so we're looking at about R1.5-billion as our initial estimates on these plants. But the exciting part is that we would pay that back in three years, so we're looking at about R500-million rand a year in savings, just on our electricity. If you pay that back in three years, but you've got these plants for 20, 30 years, they're very attractive from a financial perspective. How we are trying to allocate our capital is to determine how we can check three boxes at once, we can check the sustainability box, we can derisk the business and make financial sense for our shareholders and all our stakeholders. These projects are a good example of how our executive for sustainability Melanie Naidoo-Vermaak likes to advocate triple bottom line reporting: planet, people and profit, and I think that really is where we looking at allocating these funds to really check all three of those boxes, so we're very excited about it. It's a great initiative and being South Africa's largest gold producer by volume, and it's a step in the right direction and certainly an important step for our country.
When considering projects such as these photovoltaic solar plants, how does Harmony weigh up capital allocation decisions?
That's quite a tough one because obviously there's limited capital and unlimited wants, your typical economic equation; where we've got our operations which need money and we've got to develop. Mining is, as you know, a depleting resource. We have to spend money in order to extend the life of these assets. But we also need to be cognisant of the fact that the times have changed. We don't have the luxury of cheap power anymore. We don't have the luxury of fossil fuels, so we need to look at the alternatives, so we obviously have to allocate capital towards natural capital, renewable energy, our people, resources and developing and extending the life of our assets. It's a balancing act and I think we've always done a good job of allocating capital effectively. Harmony has been very disciplined in how we allocate our capital and I think this is certainly another example of a great financial and sustainable project.
What is Harmony's sustainability development policy?
That's a complicated one, but you know, we've got a very big business, we've got 48 000 people across the globe that work for Harmony. But the core to our business is obviously people. Everything we do, across our Papua New Guinea assets, South African assets, we're in the people business through our mining and each and every one of our decisions has to take into account first and foremost whether it is safe for people to go underground and what the impact is going to be on the communities in and around those mines. That forms the basis for our decisions and we will then take into account what needs to be done from an operational perspective. We've always had an embedded approach to ESG and I think what's happening now is we've seen a far bigger balance between the E and S coming through with you know, Harmony typically focused on the S aspect of things, we're now having to focus on the E as well. We've got a number of frameworks that we use from the sustainability aspect and we're trying to balance the E and the S now from a mining perspective. We've obviously adopted the United Nations Sustainable Development Goals as part of our guidelines. We're aligned to the World Gold Council, as well as the Task Force on Climate-related Financial Disclosures, or TCFD. We've got all the frameworks and structures in place from a reporting perspective and that's where we find ourselves. A case in point could be a mine like Bambanani, where we extended the life-of-mine for about 20 years. That is typically your ESG and action. But that's, that's more related around the S side of things. I think now what we're seeing is an uplift in our environmental journey as well, where we're focusing on land rehabilitation. A very exciting business which we've got now is our surface retreatment business, for example, the Kareerand Expansion Project, which was recently approved. Through that project, we've now got the option to extend that life by 16 years, further retreating the land and the whole Vaal River region. It's a complex and complicated framework that we've got, but it's because we have such a big, complicated business with so many stakeholders, and so many people have a vested interest in Harmony that ESG is certainly something, or sustainability, as we call it, embedded in everything we do and, and really takes the front seat when driving business decisions.
Why do you believe ESG is part of your DNA?
It almost checks that box as well. We've got 11 mines across our jurisdictions. We've got the Hidden Valley operation in Papua New Guinea, which is an important strategic asset for us as part of our plans for the Wafi-Golpu Joint Venture and we've got ten operations in South Africa. The nature of deep-level mining is labour intensive, but it's also an energy-intensive business and we've had reliance on Eskom for many years. That certainly, as relates to ESG, is part of our DNA. Through taking all the assets from other mining houses, recapitalising, extending their life, an example, as I said, was Bambanani, which we extended the life of for 20 years. Another case in point could be Moab Khotsong, which we're investing in now through the Zaaiplaats project, which will be extended by 20 years. So we'll see the whole Orkney/Stilfontein region benefit for many years because of these projects which we undertake and I think that's really where we pride ourselves in our ability to actually do these declined systems, to extract value out of these mines where, typically other miners would not see a life for these assets. And I think that's why these solar plants and Phase 1 and Phase 2 are going to go such a long way to help us with these projects as we reduce our costs and we shift towards the far greener renewable energy consumption.
Is it realistic to assume that Harmony's mines can be powered with solar power?
We'd like to think so but not at the moment. A lot of that depends on battery storage technology. At this stage, we can't send 30 000 people underground and hope for the sun to come up. We do need to rely on baseload power. But I think we are moving in the right direction, certainly as it relates to the various alternatives which we've got at our disposal now. Solar power as part of Phase 1 and Phase 2 is just one component of our longer-term plans. We are looking at other energy sources such as liquefied natural gas. We are looking at things like wind wheeling. We've also got to be cognisant of the fact that Eskom will most likely transform their energy supply over the next two decades as well. Eskom's transformation is also a benefit, which we're not really taking into account at the moment. We're doing everything we can on our side to make sure that we reduce our reliance on fossil fuel. Solar plants will obviously go a very long way in reducing our costs and also our reliance on fossil fuel but we will need to do more and Harmony is very clear about working with the government. We've got a very important role to play as South Africa's largest gold miner, and I think the best approach is for us to understand what's the best way to find solutions that benefit everyone. The solar plants are certainly a step in the right direction, but we believe there's a lot more that can still be done.
What other power-generating alternatives has Harmony considered? What about using the water in your mines to generate power and green hydrogen?
We've been exploring those options. I mean, certainly as it relates to our big pumping stations, like Margaret Water Company in the Vaal area. We've got the Covalent Water Company at Mponeng in the Western Wits area. A lot of those stations are there to just keep the mines dry so that we can operate, for example, at Moab Khotsong and Mponeng. But we could certainly do a lot more with that water and those are things we're obviously looking at our executive for sustainability Melanie Naidoo-Vermaak is working with a number of our peers to understand how best we could use this water and turn it into something which can supply our host communities. Those are all various options. At this stage, we haven't really explored green hydrogen in too much detail, but it's certainly more on the case of providing potable water for the communities, from an agricultural perspective. We're pumping millions of litres a day so there's certainly an abundance of water available for us to use.