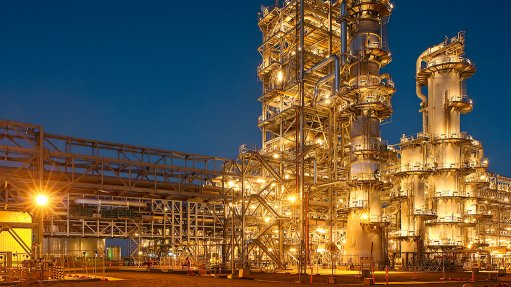 PERTH (miningweekly.com) – Support has flooded in for oil and gas major Woodside's decision to develop the $12-billion Scarborough and Pluto Train 2 liquefied natural gas (LNG) projects.
Woodside and mining major BHP on Monday took a final investment decision (FID) on the Scarborough development which will include new domestic gas facilities and modifications to Pluto Train 1.
The Scarborough field is located approximately 375 km off the coast of Western Australia and is estimated to contain 11.1-trillion cubic feet (100%) of dry gas. Development of Scarborough will include the installation of a floating production unit (FPU) with eight wells drilled in the initial phase and thirteen wells drilled over the life of the Scarborough field. The gas will be transported to Pluto LNG through a new trunkline of approximately 430 km.
Expansion of Pluto LNG will include the construction of Pluto Train 2, associated domestic gas processing facilities, supporting infrastructure and modifications to Pluto Train 1 to allow it to process Scarborough gas. Bechtel has been selected as the engineering, procurement and construction contractor for Pluto Train 2 and integration into existing Pluto LNG facilities.
Federal Minister for Resources and Water Keith Pitt congratulated the two companies, saying the project would provide a significant boost to jobs and the economy.
"It is a great achievement as the world emerges from Covid and the demand for our gas and resources continues to grow.
"The $12-billion project is a real shot in the arm for the industry, for Western Australia and for the nation.
"This is a major vote of confidence in the sector and demonstrates that, despite the claims and protestations of activists, there continues to be a bright future for our gas and oil industries," the Minister said.
"It's estimated the project will have a peak construction workforce of over 3 000 and 600 operational jobs including 230 jobs in the heart of Pilbara at Karratha with the first LNG cargo expected in 2026," Pitt said.
"Over the life of the project, which should extend into the 2050s, it will provide a boost in Australia's gross domestic product of A$125-billion and generate A$33-billion in direct and indirect taxation for federal and state governments.
"Woodside says that Scarborough gas will provide enough energy to power the homes in 10 cities like Perth for more than 30 years," Pitt said.
"This LNG will go into markets across our Asian neighbourhood, contributing to lifting millions out of energy poverty and providing jobs and opportunity for Australians and our trading partners."
The Australian Petroleum Production and Exploration Association (Appea) has also welcomed the investment decision, with CEO Andrew McConville saying it was a massive vote of confidence in the future of the Australian natural gas industry.
"This decision brings announced investment in Australian oil and gas projects to more than A$27-billion this year alone.
"The benefits of this project are significant, creating 3 200 jobs at peak during its four-year construction and securing the future of around 600 Scarborough jobs during operations.
"These jobs are on top of the 80 000 direct and indirect jobs, and hundreds of thousands of Australian jobs, that depend on the affordable, reliable and cleaner supply of oil and gas.
"Woodside can make this investment decision because of the strong outlook for the natural gas industry and the growing global demand for reliable, cleaner energy," said McConville.
The Chamber of Minerals and Energy of Western Australia (CME) said the investment decision was a momentous day for the region.
"This is a huge announcement by Woodside, which represents the largest investment in a resources project within Australia in a decade. The Scarborough and Pluto Train 2 developments will provide significant employment for West Australians and generate strong opportunities for local companies and suppliers," CME CEO Paul Everingham said.
"It's been estimated Scarborough and Pluto Train 2 will contribute A$19-billion to the Australian economy through taxation and boost national gross domestic product by A$125-billion to 2063.
"In addition to long-term export opportunities, domestic gas capacity of up to 225 terajoules per day at Pluto LNG will also help power homes and industrial operations across the State," Everingham said.
"We view gas as a vital transition fuel on the pathway to decarbonisation and, in keeping with that, it's fitting that the Scarborough reservoir being developed contains only around 0.1% carbon dioxide."
Advisory firm Wood Mackenzie (Woodmac) senior analyst Daniel Toleman said that Woodside had learned from Australia's "lamentable" track record in LNG project delivery, taking the decision to reduce the risk of cost overruns by expanding the existing Pluto operations, while Scarborough's contracting approach shifted much of the cost overrun riks to the contractors.
"Scarborough plus Pluto Train 2 represent not only the first new LNG infrastructure sanctioned in 10 years (since INPEX progressed Ichthys) but also the biggest single upstream investment in Australia of the last decade," said Toleman.
"Scarborough is the last remaining giant undeveloped resource outside of Browse. With the latter still struggling to progress, the Scarborough sanction raises big questions for the North West Shelf (NWS) joint venture (JV).
"With Scarborough confirmed to Pluto, the forward plan for the NWS now needs urgent clarification. The once-mighty NWS is maturing and needs new resource to keep its five trains full. Third-party agreements have been struck with Waitsia and Pluto. But these only provide a stopgap as we see spare capacity increasing to more than eight-million tonnes a year by 2030. A sizeable backfill development is needed to change this course."
Woodmac said that the FID also comes at an interesting time in the global LNG market, as spot prices are at record highs and prices are expected to remain strong through to 2026, when Scarborough is expected online. Cashflow from these high prices will help Woodside fund the development. However, it warned that there is a risk that the project will start up as the next supply glut, led by Qatar, begins in the mid-2020s.
"Woodside is not the only LNG player looking to take advantage of rising prices and strong demand. Over the next 12 months we expect several low-cost projects to move towards sanction. These include Cheniere's Corpus Christi Stage 3 and Venture Global's Plaquemines project in the US, North Field South in Qatar and Arctic LNG-1 in Russia," Toleman said.
"Nonetheless, for Woodside, Scarbrough plus Pluto Train 2 is a company-making project. It will bring over 20 years of strong cashflow, and locks in production growth through to 2030 and beyond. The next question is around participation. Having recently brought a partner into Pluto Train 2, does it intend to do the same with Scarborough?"
While the resources sector has been quick to welcome the investment decision, environmental groups were less thrilled, with Greenpeace Australia Pacific saying Woodside's decision to "hastily" fast-track the FID indicated "desperation".
"The International Energy Agency, one of the world's most conservative energy bodies, has said that there should be no new coal or gas projects, and yet here is Woodside, like a bunch of vandals in the night, trying to rush this monstrous project through. Woodside is treating Australians, and in particular the people of Western Australia, with contempt," said Greenpeace Australia Pacific CEO David Ritter.

"Public outrage at what Woodside has planned, the threats to whales, the marine environment, the Western Australian coastline and the climate, will continue to grow. For so long as the company persists on this course, the corporate name of Woodside will become synonymous with the destruction of everything that Australians hold dear."