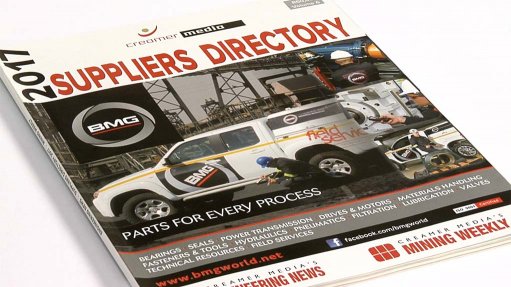 The Suppliers Directory is published annually at the beginning of each year. This maximizes the directory's shelf life and ensures that it remains a handy source of information throughout the year for companies looking for industrial and mining suppliers. The Suppliers Directory is widely distributed, including to the regular readers of Engineering News and Mining Weekly.
Prominent advertising positions are available on the front cover as well as on the inside and back cover pages of the Suppliers Directory. Adverts on the pre-index pages also offer excellent exposure.
The index page shows an alphabetical listing of industrial and mining supplier categories along with relevant page numbers for each category. The index page also includes a message from Creamer Media's publishing editor Martin Creamer. There are also alphabetical listings with page numbers of all display adverts and company profiles at the beginning of the industrial and mining sections of the directory.
The Suppliers Directory includes options for standard listings and branded listings. Branded listings include company logos for the advertising company, as well as a brief description of what the company has to offer including phone, email and website contact details. The listing service also offers barcoded links that can be scanned by using a mobile phone. This barcode links the reader to the advertiser's product listings on the Engineering News and Mining Weekly websites and mobi-sites.
Advertisers in the Suppliers Directory can also publish full page Company Profiles in either the industrial or mining section of the directory. Company Profiles follow a set format including pictures, a brief write-up and an advert showcasing details about a company and its product and service offerings.
For maximum impact, advertisers can combine their listings and company profiles with a campaign of display adverts including full page, half page, quarter page or sixth of a page adverts. Advertisers who opt for such display advertising qualify for discounted rates on their product and services listings.
To find out more about any aspect of Creamer Media's Suppliers Directory please contact advertising@creamermedia.co.za or call +27 11 622 3744 and ask for advertising and subscriptions.