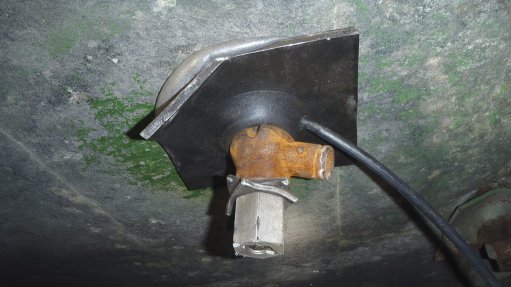 INDEPENDANT SOLUTION The Flexibolt allows for the installation of longer flexible support in high-risk mining areas without the need for secondary support screws
To cater for increased demand for its products in the Steelpoort area, physical support systems supplier to the underground mining industry M and J Mining has expanded its Steelpoort depot, in Limpopo.
Over the past two months, the area of the distribution depot has increased from 200 m2 to 1 000 m2, which enabled M and J Mining to install more production tables to boost production capacity at its head office and created 12 production process jobs. The positions have been divided between the distribution depot and the company's head office, in Krugersdorp, Gauteng.
M and J Mining sales director Daniel Mathews attributes the expansion of the depot to the company's continuous and collaborative effort to assess market trends in the mining industry and devise solutions for reduced service delivery cycle times and increased safety support.
M and J Mining does not have a dedicated research and development department, as it prefers that its sales manager and representatives assess product demands and trends to identify new and customised safety solutions requiring development.
This principle ensures customer satisfaction and tailor-made solutions can be offered to deep-level mines in the coal, diamond, platinum and gold sector. It also enables both the customer and the sales representative to take ownership of the new solution.
"Together with our engineering team, the sales manager and representatives came up with the Flexibolt, a threaded cable anchor solution for mechanised mines," Mathews tells Mining Weekly.
The Flexibolt allows for the installation of longer flexible support in high-risk mining areas without the need for secondary support screws.
"The resulting product has created a niche support area, known as a single support pass," says Mathews, adding that the company is supplying an increasing number of mines with its Flexibolt technology.
M and J Mining mainly supplies its single support pass system with Flexibolt technology to platinum mines in Steelpoort.
Mathews says that, owing to deeper mining activities and unpredictable ground conditions, safety products, such as cable anchors, are becoming more sought after as they can arrest a seismic fall of ground in underground mines.
"By specialising in cable support solutions, M and J Mining is able to provide customised solutions for deep-level mines by working together with our existing and future customers."
Through collaboration with customers, the company has also identified a growing need for support in seismically active mines and entered into an agreement with Australian safety product manufacturer Garford in 2015 to import the company's Garford yielding bolts.
The manufacture and supply of Garford bolts for South Africa's deep-level mines is now in local hands, as M and J Mining appointed roof bolt supplier Videx Mining with the licence to manufacture this specialised support unit.
As a result, jobs have been created, consistent cost-effective supply ensured and a stringent quality standard is being upheld for support products in the industry, says the company.
M and J Mining supplies yielding safety products to seismically active mines in Carletonville and is working to expand the company's range of yielding anchor products by the end of the year.
"Together with industry experts, engineers and our customers, M and J Mining will continue to strive for a 'zero harm' mining industry in South Africa," Mathews concludes.