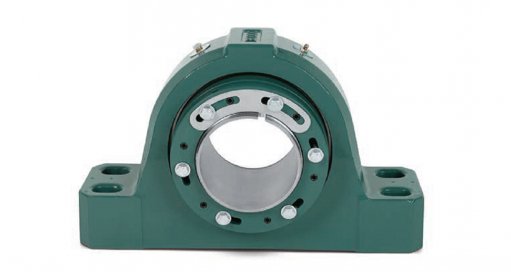 BEARING DOWN Dodge ISN Trident bearings have a triple-lip sealing system with a contact seal for wet or dirty environments
Power transmission products distributor Bearings International (BI) is supplying bearings manufacturer Dodge ISN bearings to the quarrying sector to address contamination – the leading cause of premature bearing failure in the industry.
"Dodge ISN bearings feature innovative sealing systems that prevent contamination, maintain lubrication and allow for contaminated lubricant to purge," says BI product manager Lingesh Naidoo.
Dodge ISN Trident bearings have a triple-lip sealing system, and Naidoo explains that the system is made of nitrile rubber, with a contact seal for wet or dirty environments, with the flinger to further protect against contamination by centrifugal force.
Therefore, one of the most commonly used bearings in the quarrying sector, namely self-aligning spherical roller bearings, are also one of the most prone to contamination when used in the conventional design housing. "These bearings are commonly attached to shafts that use a number of separate components such as adaptor sleeves, lock nuts and washers, locating rings, seals and split housing, and do not have the effective sealing offered by the Dodge ISN design," Naidoo notes.
The Dodge ISN mounted spherical roller bearings arrive in a single package and are shaft-ready, with added benefits such as factory-greased and sealed components, which prevent any chance of contamination during installation and grease retention near rolling elements, where it is needed most.
Moreover, the simple internal clearance setting method allows for the Dodge ISN mounted spherical rollers to be installed in a simple process.
"The Dodge brand is an industry leader, providing users with the highest-quality mounted bearings. With the Dodge brand having more than 125 active years in the industry, the high-capacity double-row spherical roller bearings, with an effective easy-on and easy-off adapter mounting and removal system, completes the Dodge ISN bearing family."
The patented Dodge ISN bearing system not only provides concentric grip for superior holding on the shaft but also ensures that the bearing can be mounted and dismounted in less than 15 minutes, Naidoo concludes.