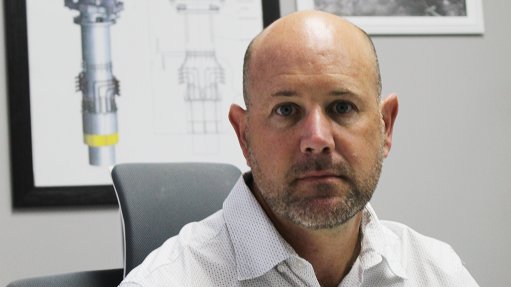 Richards Bay Alloys CEO Andries van Heerden advocates chrome export tax to save local ferrochrome industry.
JOHANNESBURG (miningweekly.com) – The struggling electricity-intensive South African ferrochrome industry, which has taken significant strides to increase its efficiency and reduce its electricity consumption, needs urgent steps to be taken to enable it to restore its competitiveness.
The most far-reaching of these is the proposed imposition by the Cabinet of a tax on the export of chrome ore, coupled to the industry itself adopting energy efficient cogeneration and self-generation technologies at smelters to lessen its dependence on Eskom, which has increased the price of electricity by 523% in the last decade.
"We need an interim measure to make sure that we level the playing field with China in order to move business back into South Africa," Richards Bay Alloys CEO Andries van Heerden stated in a Zoom interview on Wednesday. (Also watch attached Creamer Media video.)
This is despite the huge effort to increase the efficiency of South African smelters, which, outside of Eskom power, are competitive.
In the past two years, nearly 40% of South Africa's ferrochrome production has either been closed or mothballed, Minerals Council South Africa said in a media release this week.
As reported by Mining Weekly in August, the global ferrochrome business itself remains solid and there is still a large amount of ferrochrome required in the world, but most of the production of ferrochrome occurs in plants in China that use mainly South African chrome ore owing to South Africa not being competitive in respect of electricity prices.
The ferrochrome industry has for long been doing everything it can to cut its electricity consumption through the use of alternative electricity sources, green energy and increase its own operational efficiencies.
But beyond that, there is not much that it can do, which is why the chrome export tax is seen as being essential as a means of levelling the playing field.
Mining Weekly can report that China, which does not host any chrome, imported 79% of its chrome ore in 2019 from South Africa, compared with 76% in 2018, with 99% of the ferrochrome produced being used in stainless steel, production of which grew from 51.4-million tonnes in 2018 to 51.9-million tonnes in 2019.
Approximately 3.6-million tonnes of the world's ferrochrome production of 14-million tonnes was supplied by South Africa in 2019, and more than 72% of the world's chrome reserves are held by the South African chrome industry, which at one stage provided 200 000 direct and indirect jobs and was a major contributor to South Africa's gross domestic product.
PLANT CONVERSION IN RICHARDS BAY
For Richards Bay Alloys, it is not really the high price of electricity that concerns it most but rather the extent to which South Africa has lost market share to China.
In 2012, South Africa was overtaken as the biggest ferrochrome producer and Van Heerden estimated that by 2021, two-thirds of the world's ferrochrome would be produced by China, while the South African ferrochrome industry, in contrast, just keeps getting smaller and smaller, even though it has all the chromite.
It was also further disturbing, Van Heerden said, that upper group two (UG2) chromite ore, mined by platinum group metals (PGMs) miners, was being exported at prices significantly cheaper than the LG6 and MG4 ore supplied from companies engaged primarily in chrome mining rather than PGMs mining.
"Our opinion is that the export tax proposed on to ores will have no detrimental effect on the local miners in South Africa. The only thing that will happen is a portion of their market will move back to South Africa.
"It's also interesting that some of these producers actually wish to beneficiate in South Africa. However, due to the risk in South Africa in terms of Eskom pricing and labour the easy way out is to export rather than build smelters or close down the smelters that they have. That's why we believe tax on ore would be beneficial to the South African community and South Africa as a whole," Van Heerden contended.
Richards Bay Alloys, which is located in the Richards Bay Industrial Development Zone, had to shut its furnace down at the end of 2017 and is now looking to initiate a conversion to new technology in the first quarter of next year and resume ferrochrome production towards the fourth quarter of 2021, when it expects to be one of the lowest-cost ferrochrome producers.
Asked by Mining Weekly to motivate the case of the ferrochrome industry for an interim export tax on chrome that would return the ferrochrome industry to a competitive footing, Van Heerden contended that the chrome export tax would enable the local ferrochrome industry to regain its competitiveness as Eskom improved its position, which he estimated could take 18 months to 24 months, or even 36 months.
While Eskom addresses its challenges, ferrochrome producers need to be given a window of opposrtunity to restart and operate their furnaces to regain lost ground.
"At that point, it's very likely in our minds that these taxes could be reduced again or done away with, because South Africa would then be competitive," Van Heerden outlined.
EXAMPLE OF ELECTRICITY REDUCTION
The Lion smelter uses 37% less electricity than conventional ferrochrome processes to produce the equivalent volume of ferrochrome.
In addition, the smelter needs far less coke than conventional smelters as well as using significant amounts of locally produced, lower cost anthracite and char.
Mining Weekly can report that had the Lion operation not installed Premus technology, it would have needed an additional 1 776 MWh to produce the same volume of ferrochrome. Instead, all four furnaces collectively utilise some 4 800 MWh a day.
The efficient use of energy, significantly enhanced through pelletising to cope with increasing volumes of fine chrome ore, and the use of more cost-effective UG2 chromite ore recovered from platinum tailings, have been key sources of competitive advantage that place both phases of Lion – known as Lion I and Lion II – in a cost-leadership position.
Friable, metallurgical grade chrome ore is pelletised to produce the ferrochrome. The pelletised material is put through prereduction kilns, which radically reduce furnace time and thus electricity consumption.
Lion II doubled the 360 000 t capacity of Lion I to give the Lion smelter a combined capacity of 720 000 t of ferrochrome a year. Lion II was built at a capital cost of R4.9-billion, capital which included the development of the Magareng chrome mine.
MINERALS COUNCIL SOUTH AFRICA
Minerals Council South Africa stated in a media release this week that a comprehensive "toolbox" of measures are required to improve the competitiveness of the entire chrome value chain.
The Minerals Council represents companies that are involved in primary chrome ore mining, that produce chrome ore as a byproduct of platinum mining and the integrated ferrochrome producers.
It has an active chrome leadership forum where several challenges facing the value chain, and potential solutions have been discussed.
South Africa produces, the council stated, about 1% of the world's stainless-steel production of 52-million tonnes, which is dominated by China with a 56% share. South Africa accounts for 200-million tonnes, or 35%, of the world's known chrome reserves (economically recoverable) and 70% of the world's chrome resources.
Over the past decade the South African chrome ore mining business has grown strongly with primary chrome ore exports rising from 4.7-million tonnes in 2010 to 14.1-million tonnes in 2019. If chrome produced as a by-product of PGMs mining is included, South Africa accounted for 78% of global primary chrome ore supply in 2019.
Over the past decade South Africa's ferrochrome production has risen from 3.2-million tonnes to 3.6-million tonnes in 2019. However, despite this modest growth in aggregate terms, South Africa's share of the world ferrochrome production fell from 47% of the total in 2010 to 25% in 2019.
ROAD TRANSPORT AN ISSUE
More than half of chrome and ferrochrome by volume is moved by road transport and not rail which is more expensive. Transport and port bottlenecks and high costs have further undermined competitiveness.
Specific solutions discussed by the Minerals Council with government, Eskom and Transnet include:
The investigation of a developmental pricing mechanism that provides short term support for ferroalloy producers in distress while also looking at a longer term electricity pricing mechanism to enable longer term planning.
The critical need to review the current electricity intensive user cross-subsidy and to possibly phase this out. Also, to see if the winter peak demand tariff cannot be adjusted.
The critical need to enable investment in self-generation for own use and improving the reliability of the Eskom fleet.
The critical need to get more chrome ore and ferrochrome onto rail and off the roads. A chrome technical task team has been established with Transnet Rail Freight to drive synergies, improve coordination, and improve rolling stock availability.
The need to improve port efficiencies and capacity to increase exports and lower costs is important and is being looked at.
Engagement on providing incentives for the ferrochrome producers, such as a S37E Income Tax benefit for investment in updating the capital stock of the smelters.