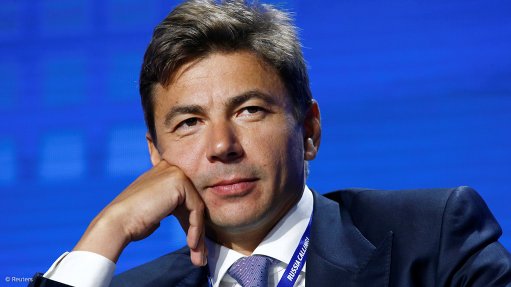 Polyus CEO Pavel Grachev
JOHANNESBURG (miningweekly.com) – Following positive operational and financial progress during the first half of 2017, London- and Moscow-listed Polyus remains on track to meet its full-year production guidance of between 2.08-million ounces and 2.13-million ounces.
The gold producer – Russia's largest – also expects total gold output to see a further increase in the next two financial years to between 2.35-million ounces and 2.4-million ounces in 2018, and to 2.8-million ounces in 2019.
In the half-year to June 30, Polyus upped its total ounces of gold sold, year-on-year, by 17%, to 983 000 oz of gold. This was on the back of higher gold production and included 71 000 oz of gold contained in the concentrate from Olimpiade.
Polyus's revenue totalled $1.23-million, compared with $1.08-million earned in the first half of 2016. This was driven by an increase in sales volumes, including flotation concentrate.
Profit for the period increased to $603-million, partially reflecting the impact of one-off noncash items, as well as a foreign exchange gain.
Adjusted net profit amounted to $475-million – a 17% increase from 2016.
The company's positive operational and financial performance can be attributed to the steady advancement of its development projects for the half-year to June 30, including its flagship greenfield project, Natalka, which remains on track to be commissioned by year-end.
"This progress has been achieved whilst maintaining our strict focus on operational efficiency," said CEO Pavel Grachev in a note to shareholders on Monday.
He added that the company's operational strategy included the implementation of several efficiency initiatives, which have helped ensure that the group's total cash costs remained below $400/oz in the period under review at R379/oz, despite the local currency strengthening by 17%.
Also despite the strengthening of the rouble, and offset by strong operational results and efficiency improvement initiatives, all-in sustaining costs increased to R610/oz, up 10% compared with the prior-year period.
Polyus's adjusted earnings before interest, taxes, depreciation and amortisation, or Ebitda, increased by 10% over the comparable half-year in 2016 to $762-million, while its adjusted Ebitda margin stood at 62%, compared with 64% in the first half of 2016.
Driven by its strong Ebitda, net cash inflow from operations amounted to $550-million.
In line with Polyus's dividend policy, the company's board of directors has recommended a half-year dividend of about $229-million, or 30% of Ebitda, which amounts to $1.73 per ordinary share, subject to shareholder approval.
In the period under review, capital expenditure was $322-million, a 72% increase from the first half of 2016, which the company attributed to the ramp-up of construction activity at Natalka.
Grachev noted that the strength of Polyus's investment case was recognised in June when the company raised $858-million following the pricing of a secondary public offering on the London Stock Exchange (LSE) and the Moscow Exchange.
"This represented a landmark transaction for Russian companies and the global gold industry, as [it was] the first listing of a Russian company on the LSE since 2014 and the largest public offering by a gold producer since 2010.
"Our unique profile of sustainable organic growth and attractive dividends enabled us to attract a broad range of international investors, including some of the largest names on the market," he concluded.