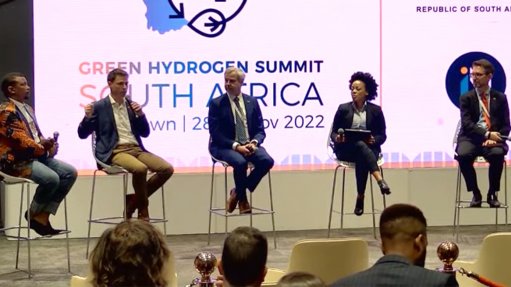 Taking part in the South Africa Green Hydrogen Summit panel discussion are (from left to right) facilitator Lorato Tshenkeng, Timo Bollerhey, Till Mansmann, Sasol's Gosiame Khoele, and Tobias Bischof-Niemz.
Photo by: Creamer Media
JOHANNESBURG (miningweekly.com) – A strong call for final investment decisions (FIDs) on a multiplicity of green hydrogen projects was made at the South Africa Green Hydrogen Summit in Cape Town yesterday by H2Global, a market ramp-up instrument that serves as an innovative form of subsidy scheme to smooth out bumps along green hydrogen's early-mover road.
H2Global innovatively enters into long-term offtake agreements on the supply side and short-term sales agreement on the offtake side, with cost differences being borne by the German government, which is laying the ground work for the importation of green hydrogen.
H2Global MD Timo Bollerhey urged the many entities that have already signed green hydrogen memoranda of understanding (MoUs) to advance those agreements to fully fledged FIDs.
"What we're trying to provide today is an investment case to start production to get from MoU to FID by providing long-term offtake agreements, locked-in prices for ten years, and market risk enhancement through a government-backed offtaker," Bollerhey stated during a panel discussion covered by Engineering News & Mining Weekly.
Legal certainty is further augmented by ten-year green attribute agreements, all in the interests of eliminating slowdown caused by the chicken-and-egg issues of which comes first, green hydrogen infrastructure 'chicken' or green hydrogen's critical mass 'egg'.
German Federal Ministry of Education and Research innovation and green hydrogen commissioner Till Mansmann spoke of the entire fossil fuel-based market needing to be replaced by a new competitive renewable energy market, with excess renewable energy being stored for days, months or years in the form of hydrogen molecules in modified existing infrastructure or new infrastructure.
Mansmann emphasised that hydrogen is an indispensable core pillar of the transition to renewable energy and without hydrogen the challenge has no chance of being met.
To enable the transition, new international cooperation is essential, with every country needing to play its part, he stated during a panel discussion in which Sasol VP Gosiame Khoele, ENERTRAG new energy solutions head Tobias Bischof-Niemz and Bollerhey also took part.
An affirmatively nodding Khoele was quick to express full agreement with Mansmann and reiterated the intention of Sasol, where she heads strategy, pricing and regulation, to covert its current grey hydrogen energy into green hydrogen energy.
Germany, Mansmann added, would be a net energy importer for a very long time and was thus interested in the creation of an international renewables market to replace the current fossil market, with H2Global serving as a market ramp-up instrument.
Bollerhey spoke of the first large-scale green programme already being out of the starting blocks in Saudi Arabia and the expectation that many more would now emerge from MoUs to FIDs.
The audience heard that the price of green hydrogen achieved in the market could be much lower than often projected owing to falling marginal costs and the replacement of regulatory uncertainty with standardisation and certification.
The Hydrogen Intermediary Company, or Hint.co, was currently buying a relatively expensive product and selling it at a considerably cheaper price, with the cost of differences being covered by the German government.
Bollerhey said that there was a lot of available money out there, it was not stupid money, but smart money that needed to have investment certainty before being dispensed.
Hint.Co was banker-designed and would fund projects with price certainty and legal certainty creating exactly the business case.
"Once we have that in place, we don't have to worry about money. There's a lot of institutional money out there that is trying to get in," said Bollerhey, who has had a lot to do with South Africa's State-owned Public Investment Corporation (PIC) in the past and noted that the PIC is giving its full backing to the development of a hydrogen economy in South Africa
"I'm really happy about the PIC announcement," said Bollerhey.
PIC has stated that South Africa will require more than R4.3-trillion for the development of a local hydrogen economy, which it declared positive for people, planet, and client portfolios.
The hydrogen investment strategy of the PIC, which has R2.339-trillion worth of assets under management, is aimed at unlocking value and jobs.
This it will seek to do through:
the funding and provision of early-stage capital for the development of the hydrogen value chain; and
leveraging off more than 200 hydrogen projects that have been announced worldwide.
Hydrogen promises to be the next frontier in clean energy technology owing to its extensive value chain applications, the PIC stated in a media release to Engineering News & Mining Weekly.
Hydrogen is able to augment that renewable energy production by offering a relatively affordable way to store and transport the excess energy produced from these sources.
In addition, a well-developed hydrogen sector will boost demand for platinum group metals (PGMs), which are hosted overwhelmingly by South Africa.
PGMs are used in electrolysers to separate water into green hydrogen and oxygen, and in fuel cells to generate emission-free electricity from the hydrogen, with both playing key decarbonisation roles.
Hydrogen fuel cell electric vehicle (FCEV) fleets are on the rise worldwide, with China alone targeting cumulative sales of one-million FCEVs by 2035.
PGMs, which have unique catalytic properties, are used in proton exchange membrane (PEM) technologies and momentum behind PEM investment is building up, the World Platinum Investment Council has reported.
South Africa is expected to have projects in the upcoming Hint.Co tender, with the country poised to benefit from entry-level financial instruments.
South Africa's Saldanha Bay Industrial Development Zone – trading as Freeport Saldanha, together with ArcelorMittal Saldanha (AMSA) – on Tuesday hosted an on-site visit as part of the "Re-industrialising Saldanha Day" initiative. The aim was to showcase Saldanha Bay's potential as an ideal green hydrogen investment destination in the Western Cape.
Re-industrialising Saldanha Day provided an overview of pilot projects earmarked for the region, demonstrating how the region will be a critical player and catalyst in supporting South Africa's Just Energy Transition Investment Plan (JET-IP) by creating and developing a green hydrogen economy.
Visiting stakeholders included delegates from Freeport Saldanha, the Presidency and Infrastructure South Africa stakeholders, the Western Cape government, Transnet National Ports Authority, Saldanha Bay municipality, academia and private energy industry businesses, including Sasol, AMSA, Atlanthia, Mainstream and Keren Energy.
The initiative formed part of the inaugural South Africa Green Hydrogen Summit, where President Cyril Ramaphosa delivered the keynote address.
The summit forms part of the ongoing policymaking in South Africa centred around the JET-IP, tabled by Ramaphosa at this month's COP27, which is currently out for public comment.
JET-IP aims to accelerate the decarbonisation of SA's economy, reducing carbon emissions and aligning with the new energy-orientated economic growth set out in the nationally determined contribution of the Paris Agreement.