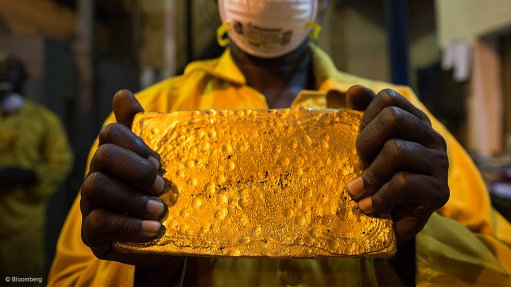 Photo by: Bloomberg
JOHANNESBURG (miningweekly.com) – Africa-focused gold producer GoldStone Resources says a recent funding deal with Aim-listed Stratex International will provide the capital-hungry explorer with sufficient cash resources to conduct meaningful exploration at its Ghana-based Homase/Akrokerri project,while allowing the company to investigate other funding options.
Stratex last month conditionally agreed to acquire up to 33.4% of GoldStone Resources for £1.25-million, buying 20.83-million shares at 0.6p a share. The deal remained subject to shareholder approval.
On Friday, Goldstone said in an operational results statement for the year ended February 28, that its exploration activities had, over the year, been constrained owing to a lack of funding.
Emphasis had been placed on cash conservation, project retention and keeping the company's licences in good standing. The company's executive directors and the operational management had agreed in February last year to defer 50% of their salaries and convert such deferred salaries into shares.
"The downturn in market conditions has resulted in a reduction of potential funding sources. In these circumstances, it has been necessary to contemplate the monetisation of any one of our assets.
"In a declining market, this is not only potentially value destroying, but also difficult to achieve. I am, however, pleased to state that the company has retained all of its projects and executed meaningful exploration at Sangola, in Senegal, and Ngoutou, in Gabon, during the reporting period," GoldStone CEO Jurie Wessels noted.
If "momentum" was gained through its relationship with Stratex, GoldStone may look to acquire smaller deposits in and around Homase/Akrokerri to provide the project with critical mass.
Exploration at the project would be directed at potentially adding shallow oxide resources and would involve metallurgy drilling, mine studies and the drilling of boreholes to test the potential of the recognised high-grade shoots at depth.

"We may also investigate joint ventures (JVs) for some of our projects and will also look at acquiring or partnering on assets from funding-stressed companies in West Africa," he commented.
DEAL TERMINATION
Updating the market on Goldstone's exploration activities over the period, Wessels said the company had, in April, terminated a JV licence with Randgold Resources at its 471 km² Sangola licence, in the southwestern corner of the prolific Kenieba-inlier gold province.
GoldStone said Randgold held the opinion that a potential discovery would not meet their internal investment criteria of yielding a deposit larger than three-million ounces at an average grade above 3 g/t.
Randgold noted, however, in the termination notice that, in its opinion, the permit was "still prospective for smaller or lower grade deposits" than a three-million ounce deposit at 3 g/t.

The licence area contained four gold-in-soil anomalies identified by GoldStone and four further conceptual regional target areas identified by Randgold.

Under the JV, Randgold was obliged to fund all costs, file all regulatory reports, make payment of prospecting fees and provide GoldStone with an exit report.

A renewal for the Sangola licence was filed in September last year after nonprospective ground comprising around 25% of the licence area was relinquished.
"The directors remain confident that the licence will be renewed in due course," Wessels said.

GABON PROJECTS
Meanwhile, drilling at the Oyem and Ngoutou licences, in Gabon, during the period under review, revealed the potential of the tenements to host significant gold mineralisation.
Both licences contain 15-km-long gold-in-soil anomalies with favourable geophysics and significant artisanal gold workings.

Best results at Ngoutou included 16 m at 1.3 g/t gold and 33.5 m at 0.4 g/t, while best results at Oyem were 2 m at 5.3 g/t in the first drill line and 2.2 m at 4.5 g/t in the second drill line.

Under the terms of a coexistence agreement concluded early in 2013, iron-ore and manganese developer Ferrex undertook exploration work in the southerly part of the Oyem licence, which included a nine-hole diamond drilling programme directed at both iron and gold and a soil sampling programme focused exclusively at gold around the area of interest.
Results of the drilling tested negative for gold mineralisation and results from the soil sampling programme were still outstanding.

Under the terms of the deal, GoldStone would receive a 1% royalty on any iron-ore produced by Ferrex.

Goldstone was informed in July that both its licences in Gabon had been renewed until May 28, 2017.

GHANA PROJECTS
In Ghana, the total resource of the Homase/Akrokerri project, located in the heart of the Ashanti gold belt, now stood at 10.6-million tons.
At the Manso Amenfi project, also in Ghana, over which GoldStone had a JV with Asasemu, a trenching programme was started over prospective gold anomalies, some of which trended parallel to a well-known gold-bearing structure.
A total of 48 trenches had been excavated and samples taken at 2 m intervals.
"The results have been received, but were found to be inconclusive. Owing to the financial position of the company, decisions on future exploration work have been put on hold until sufficient funding has been secured," Wessels noted.

The Minerals Commission of Ghana had, meanwhile, recommended renewal for a two-year period in respect of the Homase, Akrokerri and Manso Amenfi licences, subject to Ministerial approval.