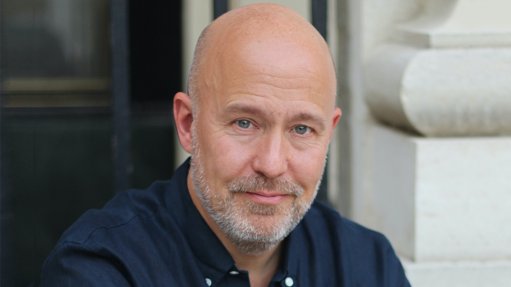 Kanga Potash executive chairperson Stéphane Rigny.
JOHANNESBURG (miningweekly.com) – Strategically located Republic of Congo, which is endowed with the key required raw materials, is poised to be a world leader in fertiliser production.
This is the view of Stéphane Rigny, the executive chairperson of Kanga Potash, which has received its licence to mine and produce potash in the country located on the west coast of Central Africa, to the west of the mighty Congo river. (Also watch attached Creamer Media video.)
"The Republic of Congo will become a world leader in the production of fertilisers," is Rigny's forecast.
"We have discovered the thickest carnallite seams ever drilled anywhere in the world. The seams of recoverable carnallite are in the order of 210 m thick," added Rigny.
Carnallite is a mineral consisting of hydrous potassium-magnesium chloride that is an important source of potassium and the thick recoverable carnallite is at a depth of about 1 000 m.
Rigny described the stability of the Republic of Congo as being very conducive for business.
By putting emphasis on power generation, the country now has excess.
The Kanga project is expected to have a number of spinoff industries and a development multiplier effect that Rigny believes is going to reshape the economy of the Republic of Congo.
Kanga, a private company, is entering the preconstruction development phase of a project aimed initially at extracting 600 000 t/y of muriate of potash (MoP) production from its 12-billion-tonne potash resource.
"There is still a bit of a road ahead of us but from the point at which we press the button to effectively start breaking ground and constructing is a 36-month period. We are now entering the phase where we are going to do the front end engineering, which is part of execution. From there we'll have about a 36-month period.
"All the pieces of the puzzle on the funding side are identified and certainly, in the next 12 months, we'll be bringing the project to financial close," Rigny told Mining Weekly in a Zoom interview.
Given the project's economics and its developmental multiplier aspects, there is significant appetite from private, development finance institution (DFI) and export credit agency (ECA) debt providers.
Regarding the importance of fertilisers, he said: "The entire planet is now very focused on food security, which is a major concern for most parts of the world if not all parts of the world."
Deglobalisation has set off a race that goes beyond financial returns.
"It's almost an existential debate with the fertiliser paradigm shifting in the same way as our world paradigm is shifting. We expect huge growth in agriculture and strong demand for fertilisers," added Rigny.
Kanga Potash aims to develop its project in a phased approach with a first 600 000 t/y MoP production module.
"This will position us as the first African MoP producer and the first MoP producer in the southern hemisphere. From there, we will increase production capacity to over two-million tonnes of production a year of MoP," he said.
Earlier this year, pressure resulting for current geopolitics resulted in MoP prices rising above $1 000/mt cost and freight (CFR) Brazil. The main importers are Brazil and China and demand is increasingly being seen in Africa.
Mining Weekly: When are contractors likely to be appointed to build the project?
Rigny: A call for tender process was completed and three world class major engineering procurement and construction (EPC) contractors have been shortlisted. Each one of these contractors has the financial capacity, experience and expertise to be our EPC contractor.
Where does the project stand on the cost curve?
The project is unique in the world. It is all about geology and geography. We have discovered the thickest carnallite seams ever drilled anywhere in the world. This has a major impact as it means that we can apply solution mining without having to drill as many caverns as a traditional solution mining operation. This has a massive cost saving impact and allows us to reduce operating expenses (opex) dramatically. From a geography point of view, it happens that these thick seams which are concentrated exclusively in our licence areas are next to the coast. This means that our mine-gate cost is pretty much our free-on-board cost. We are on the lowest point on the cost curve and can compete with the existing lowest cost producers in the world who usually have hundreds if not thousands of kilometres between their operations and export terminals. The Republic of Congo is uniquely positioned as it is ten days straight line shipping distance from the world's largest importer of MoP, Brazil. It is also strategically positioned in the middle of Central/West Africa ready to supply the continent at the precise moment in history when Africa is staged to become an agriculture and food security powerhouse.
How is the project being funded?
We are a private company and we are blessed with having fantastic well-funded partners with whom we have invested over $40-million to date to get to where we are. For the next stage, we have retained Natixis as our advisers. They have significant experience in structuring project finance for such projects. Given the economics, the food security and development multiplier aspects of the project, there is significant appetite from private, DFI and ECA debt providers. We aim to structure the project along a 60/40 debt to equity gearing. The equity component will be provided for from pre-export finance facilities for which discussions are under way with major offtakers as well as from investment funds. We also have two strategic world class companies with whom we are engaged in discussions and who have both completed due diligence. Each one of these companies has the financial wherewithal to fund the entire project. Finally, we have recently been approached by a group ready to bring us to a listing on a major international exchange. We are considering this possibility.
What capex will be required and what is the expected level of opex?
The capex for the first phase is estimated at about $580-million including cost of finance. The opex will be in the mid-to-late $60/t, which again positions us very competitively.
What is the current state of the potash market?
The potash market has been dramatically impacted by current geopolitics. Blending with normal anticipated growth figures, has produced significant upward pressure attaining earlier this year prices above $1 000/mt CFR Brazil. The prices have come down from those highs and now sit around $850/mt. We believe that in time this will further normalise and settle in the $500/mt range. For this reason, we have. from the beginning, used conservative pricing assumptions of mid-to-late US$300s/mt when compared with our peers who have preferred use mid-to-late US$400s/mt. Even with our conservative pricing assumptions, our economics are extremely robust.
Have offtake arrangements been made?
As our project has been significantly derisked with the conclusion of our studies and the award of our mining permit, we have been approached by several international groups all requested offtakes. We have two strong letters of intent (LoI's) from two major groups and are in discussions with a third world leading group who has expressed a desire for an offtake. We have purposely held off on concluding an offtake as this is obviously the prize.
What, in your view, should be the biggest takeaway from this interview?
The biggest takeaway is that there is a new player in town. We are private and have invested our own capital with our two partners to prove up what is the best MoP project in the world. We have put our money where our mouth is.
CANADIAN DOMINANCE
MoP and sulphate of potash (SoP) are the two main potashes. SoP is a specialised fertiliser used for specific crops and has a different although correlated market dynamic. It is a smaller, more specialised market.
MoP, a 75-million-ton-a-year market, has been typically dominated by Canadians, with what was the Potash Corporation of Saskatchewan, and which is now Nutrien.
MoP is described as being an indispensable component of fertilisers and there is reportedly an immediate negative impact on crops if MoP is withheld from the fertiliser mix. The big three primary nutrients in commercial fertilisers are nitrogen, phosphorus and potassium, which are invariably highlighted as NPK.