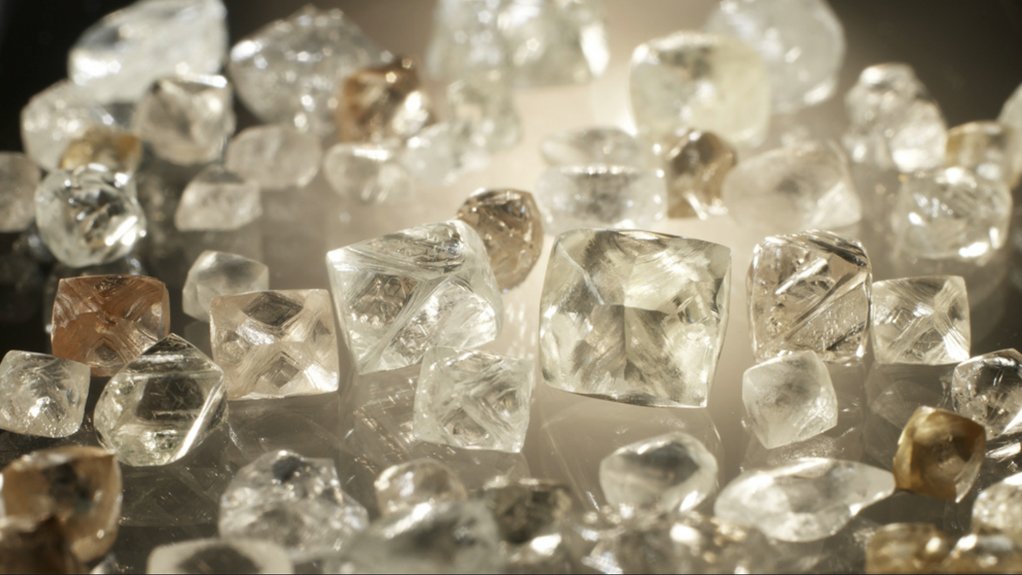 Photo by: Stornoway Diamond Corp
TORONTO (miningweekly.com) – Halfway through the construction of Quebec's only diamond mine, ongoing exploration at Stornoway Diamond's Renard project has increased the indicated resources, including reserves, by 16% and also reveals a significant resource upside.
"As we explore these orebodies at depth, we are delineating new mineral resources that represent potential mine production well past the current 11-year mineral reserve based mine life," president and CEO Matt Manson stated on Thursday.
Stornoway had increased the Renard 2 kimberlite indicated resource to 21.6-million carats by converting inferred material to a depth of 700 m. For the total project, the indicated resource now stood at 30.2-million carats.
The company advised that there was "substantial" new exploration potential at both the Renard 2 and 3 kimberlites. The deposits were interpreted to continue at depth to 1 250 m, while retaining sizeable widths. Both remained open. The C$752-million project was 350 km north of Chibougamau, in the James Bay region.
Stornoway expected to complete an optimised schedule for plant commissioning and ramp-up by the second quarter of 2016. The company would include a revised statement of reserves, if necessary.
The improved September resource estimate would now be included in the updated mine plan, which would consider mine production from the new resources through a deepening of the Renard 2 and 3 openpits, expanding the underground mine infrastructure. The new mine plan would also comprise indicated resources at Renard 65 for openpit mining.
Manson explained that drilling had revealed that while Renard 2, at 600 m deep, had a slightly smaller cross-section than the company had previously estimated, it continued downwards to a depth and on a scale that made it unique among Canadian kimberlites.
Another development was that Stornoway now saw the potential to mine the high-grade Renard 3 kimberlite deeper than was previously thought possible, after its rediscovery during drilling at 1 000 m below surface – 500 m below the previous drill intersection.
More detailed exploration work had allowed Stornoway to convert more than four-million tonnes of lower-grade Country Rock Breccia (CRB) material at the top of Renard 2 into the indicated category. This had prompted the company to think about further diamond production potential in both the openpit and underground mine. CRB was previously designated as either zero-grade stripping waste, or zero-grade mining dilution.
A 12 493-m-deep directional drill programme completed in 2014 at Renard 2 had intersected kimberlite up to a depth of 1 012 vertical metres below surface.