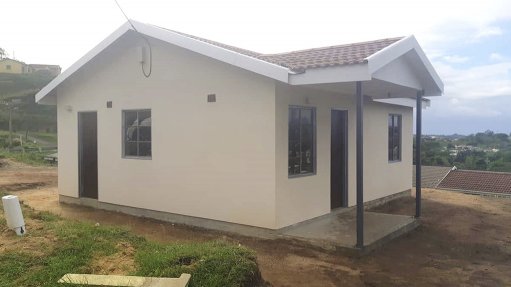 EVERY LAST DETAIL A truss has certain details, such as the edge distance, design and specifications, which engineers use to guide them when assembling trusses
The shortage of steel and an increase in the steel price have led to delays in projects for the light-steel frame building and roofing sector, says construction materials supplier Izinga Roofing director and owner Jerred Micholson.
"There are a number of issues that we face on the ground as a manufacturer and a supplier. It has become a rat race, companies are trying to fight the steel price and are attempting to manipulate the product by taking risks in utilizing inferior cheaper products/steel than what is specified for these projects, which is where the client must be careful not to focus too much on price as this may cost them way more in the long run."
He adds that, owing to imports following the trend of local price increases, there has been about 60% increase in local prices since the start of the pandemic.
Further, it has become evident that the quotes provided by companies for clients may vary from one month to the next based on the constant price increase.
As a result, it has become a case of whichever company acquires the material first will be the one that supplies the material to the client, Micholson adds.
While imports in South Africa are still open, countries, such as Britain, have closed off exports and there is speculation that China may follow suite in the near future. However, China is still supplying steel to South Africa.
Micholson notes that, should China close and not export to South Africa anymore, steel manufacturers and suppliers may look for other alternatives.
However, those alternatives come at a very high risk, as the sector is governed by codes and standards with regard to the quality of the steel.
"We face the challenge of not knowing the type of material we will be receiving. We do local testing to determine if the quality of the material meets the standards. However, we can never guarantee that that quality will remain consistent, which is cause for concern," he says.
In addition to maintaining quality, Micholson points out that Izinga Roofing`s appointed design engineers, Bigen, do not allow on-site assembly of lightweight steel frames, because of the engineering of a truss. A truss has certain details, such as the edge distance, design and specifications, which engineers use to guide them when designing trusses.
"In terms of edge distance, that edge distance for fixing of screws has to be, in Izinga`s design scenario, a minimum of 10 mm to 15 mm away from the edge for purlins and trusses to prevent torsion and tare factors. This is another reason Izinga does not agree with just any contractor erecting the roofing as currently the roofs just go up with no consideration to edge distances and torque of screws. If it's any closer than 10 mm, the design will fail and could be dangerous for the home owner," he explains.
Izinga Roofing's main focus is to not change the quality of the material or put people at risk because of lack of education and experience, to ensure that a person does not have to experience the roof of their house falling, Micholson concludes.