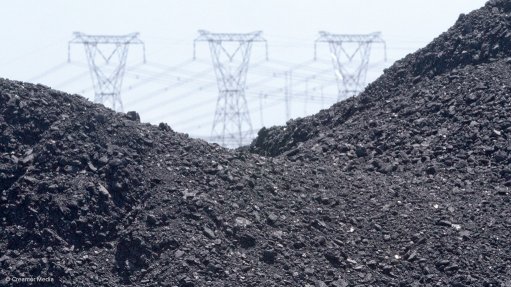 Photo by: Creamer Media
Financial services company Standard Bank Group has published its Fossil Fuels Financing Policy (FFFP) as part of its efforts to improve its management of environmental, social and governance (ESG) risks and contribute to the sustainable development of Africa.
This follows the 2019 adoption of policies on lending for coal-fired power projects and coal mining operations specifically.
In addition, the FFFP follows the release of Standard Bank's first climate-related financial disclosure report, which is aligned to the principles and recommendations of the global Task Force on Climate-related Financial Disclosures.
As a founding signatory of the United Nations Principles for Responsible Banking, Standard Bank states that it is committed to balancing the challenges posed by climate change with the need to support access to reliable and affordable energy that enables inclusive economic growth across Africa.
The FFFP sets out a range of strict conditions that must be met before the bank funds projects involving coal, oil and gas. These include compliance with the Equator Principles, the International Finance Corporation's Performance Standards and the World Bank's Environmental, Health and Safety Guidelines.
Standard Bank notes that in the case of oil and gas activities, it will only provide financial products and services to clients that commit to reducing their greenhouse-gas (GHG) emissions and that have implemented oil spill preparedness and response plans, for instance.
Among other FFFP requirements, the project owner would also need to provide updates on its performance related to water use, waste generation, energy consumption and GHG emissions.
Standard Bank group corporate citizenship head Wendy Dobson says the publication of Standard Banks' FFFP is another important step forward for the bank. "We are fully aware that climate change is a material risk to our ability to generate value for all stakeholders over time, and to our purpose of driving sustainable development across the continent."
Standard Bank believes the transition to a lower-carbon economy should be just and fair to developing countries, and to affected stakeholders. As such, the bank points out that the Paris Agreement recognises that this transition will take longer in developing countries, especially in Africa, where access to reliable and affordable energy continues to constrain socioeconomic development.
However, nonprofit shareholder activism organisation Just Share executive director Tracey Davies says Standard Bank makes it clear in the finer print of the FFFP that, contrary to the Paris Agreement's goals of requiring urgent action be taken to reach global peaking of GHG emissions, the bank actually intends to continue funding major new fossil fuel projects in Africa.
She points out that the bank may still fund coal-fired power projects going forward, as the FFFP only states that it "excludes direct finance to new coal-fired power generation plants" because the bank's Coal-Fired Power Finance Policy applies to these projects.
"The Coal-Fired Power Finance Policy does not exclude finance to new coal-fired power, but rather sets emission and plant size parameters linked to the level of development of the country in question."
Standard Bank's energy finance portfolio is increasingly focused on renewable energy projects, according to the bank; and since 2012, 85% of the bank's energy lending has been for green energy projects, it highlights.
Standard Bank Group corporate and investment banking CE Kenny Fihla says the bank will continue to engage with its clients to find solutions that enable them to understand and manage their climate risks, adopt good ESG risk practices and grow their businesses sustainably.
QUESTIONS RAISED
Davies also questions Standard Bank's claims that it has taken a "proactive" approach regarding its position and parameters for involvement in fossil fuels. She says the banks stance, outlined in the FFFP, fails to recognise that the bank was in fact, obliged to develop these policies.
"In 2019, 55% of [Standard Bank's] shareholders voted in favour of a shareholder-proposed resolution requiring the bank to publish a policy on the financing of coal fired power and coal mining."
However, Davies says, earlier this year, Standard Bank, "which is, by its own account, Africa's biggest oil and gas lender, refused to table a shareholder-proposed resolution which asked that it extend its coal policies to include its position on oil and gas financing."
In response to significant pressure on the bank as a result of this change in stance, she says it indicated, at its 2020 annual general meeting, that it would publish a fossil fuel financing policy by the end of this year – a move she alludes is more reactive than proactive.
Going forward, Davies said that if banks and other financial institutions continue to provide funding for coal, oil and gas, it would become increasingly unlikely that the Paris Agreement's goals can be met.
"South African banks, like all financial institutions, must rapidly limit their exposure to fossil fuels and scale-up and direct financing towards assets and investments necessary for transitioning to low-carbon, resilient and sustainable economies."