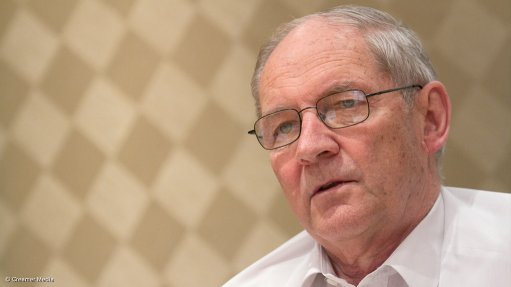 Dr Oskar Steffen
Photo by: Creamer Media
One of SRK Consulting's three founding members, Dr Oskar Steffen, passed away on Wednesday, June 27, in Johannesburg. He was 77 years old.
Steffen was born in Swaziland, where he completed his schooling. He left for Johannesburg in 1956 to study civil engineering at the University of the Witwatersrand (Wits), graduating with bachelor's and master's degrees in 1961 and 1963 respectively.
He spent the next seven years working for Nchanga Consolidated Copper Mines, in Zambia, initially in a geotechnical role focused mainly on pit slope stability and later in production, where he moved successively through the positions of shift boss, mine captain, assistant openpit manager: production and planning, and openpit manager.
He took up the position of senior lecturer in soil mechanics and foundation engineering at Wits in 1969, working with his mentor, Professor Jere Jennings. His research focused on rock slope stability, which later led to his PhD thesis, which dealt with methods of stability analysis for rock slopes. While at the university, he also consulted for civil and mining clients. He remained at the university until 1973.
In 1973, Andy Robertson persuaded Steffen and Hendrik Kirsten to join him in a consulting partnership, which started in 1974. The new partners set out to build a firm where staff could reach their full potential without having to leave for new challenges, recognising that work must be interesting and fun, but also profitable to be sustainable.
SRK notes that Steffen was the statesman and "spiritual leader" of the new firm, and that his personal values had an immense influence on the culture that evolved. "He firmly believed that ownership opportunities for strong contributors were essential in securing their long-term commitment to the business, leading to increasingly broad-based ownership in SRK."
Throughout his tenure at SRK, Steffen's recognition and profile as a "top-drawer consultant" grew and significantly contributed to SRK's becoming a premium brand in the industry. His consulting activities included openpit planning and design; rock and soil slope stability analysis and design for road and rail cuttings and openpit and strip mines; and general surface mining geotechnics, including tailings dam investigation and design.
"His innovation and discovery activities included developing frameworks for pit optimisation, strategic mine planning and the application of probability techniques in geotechnical engineering, particularly regarding risk analysis of slope failure in openpit stability investigations," SRK recalls.
Steffen served as South African Institution of Mining and Metallurgy president from 1989 to 1990. He was awarded the Brigadier Stokes Memorial Award in 1995 and the South African Institute of Civil Engineering Geotechnical Gold Medal in 2001.
The former is awarded to individuals who make a unique contribution to the mining industry over many years and the latter to individuals who have made a significant contribution to furthering the art and science of geotechnical engineering in South Africa. Steffen was also awarded the Mining Journal's Lifetime Achievement Award in 2010 in recognition of his technical contribution to the international mining industry.
"For those of us who worked with Oskar, we remember his strong interest in supporting and growing people, his belief that our problem-solving approaches and technologies should continue to evolve, his commitment to clients and his sense of humour. His belief in and support for our potential as consultants led to not only our striving to produce results but also tremendous respect and affection for him as an individual. At no time did he show signs of having an ego – things were never about Oskar – which is truly remarkable in an industry where egos are not uncommon," SRK declares.
Steffen retired from SRK in 2005, but continued on a full-time basis as an associate. His work increasingly included panel membership on consulting review boards and commissions as an independent reviewer for openpit mines, including Chuquicamata mine, in Chile; Nchanga mine, in Zambia; and Kumtor mine, in Kyrgyzstan.
SRK notes that Steffen's health had deteriorated gradually over the past few years, leading to his passing away peacefully with family at his side. He is survived by his wife of 53 years, Marge, his daughters Helen, Linda, and Heidi and their families, as well as his niece Ilse and nephew Oskar junior, and their families.
His contribution to the global mining industry, specifically the African mining industry, cannot be understated or forgotten.