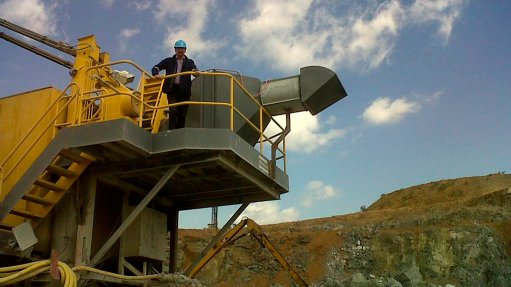 MOGALAKWENA MINE, NORTH WEST Spin filters are an effective solution to dust build-up at mines
With the local mining industry facing increasing pressure to contain costs and maintain profits while overcoming several industry challenges, such as ensuring clean and filtered underground air, mining houses are looking to the engineering industry to offer innovative ways of dealing with these challenges, says specialised engineered solutions provider Rand Technical Services (RTS).
"This was the challenge facing mining major Anglo American Platinum's (Amplats') North West-based Mogalakwena platinum mine, near Mokopane," says RTS MD Ian Fraser, who tells Mining Weekly that Amplats recently contracted RTS to provide a solution for its air-filtering requirements on a project that had specific design parameters.
RTS supplied a tailored air-filtering system to the Mogalakwena mine in January.
"There were significant space constraints on the project, which the mine outlined from the start. RTS had to design an air-filtering unit that could operate at 32 000 Nm3/h on a platform which had other items and equipment on it. After several meetings with Amplats, we designed the product, which was successfully installed," says Fraser.
Another challenge that RTS had to overcome was the amount of dust that was created by the process of stripping the overburden. Sufficient clean air needed to be driven into the space to pressurise the cabin and prevent dust from rising into the space.
The system had to meet the specific para- meters that were stated by the mine and help mitigate the challenges traditionally faced by mining companies, such as keeping costs down while increasing production.
He explains that RTS's air-filtering unit, which helps mining companies to effectively remove dust from both the surface and the underground working environment, comprises a high- efficiency application of cyclone technology.
"Air that needs to be separated is blown through a module that consists of a series of small vortexes. The air flow is induced to spin using fixed vanes at the entry to the vortexes, with centrifugal force driving the dirt particles to the outside of the vortex."
Fraser adds that RTS has established its reputation by providing solutions for industrial challenges. Since the early 1990s, the company has brought a range of quality products to the market, supported by expert technical consultation.
Fraser says spin filters are an effective solution to dust build-up. "Conventional filtration methods often require costly maintenance and filter membrane replacement on an ongoing basis. However, spin-filter technology provides a method of eliminating dust that not only works but is also virtually maintenance-free."
Meanwhile, project management firm Professional Process Consultants (ProProcess), which services the mining and petrochemicals industries, is one of the service providers that uses RTS's spin-filter technology.
"Conventional fan or filter systems tend to get clogged up and stop working after a while. For most mining operations, this is a messy and time-consuming problem. However, one does not experience this with RTS's spin-filter tech- nology," notes ProProcess electrical engineer Cassiem Solomon.
He highlights that the easy maintenance of spin filters is also a compelling drawcard for consumers.
ProProcess has since required specific spin filters for two of the mining projects it is working on, in South Africa's Northern Cape province, and in the Democratic Republic of Congo, respectively.
"Spin filters have a long working life. For instance, we have installations still going strong that are 23 years old," says Solomon, adding that spin filters are effective for mining applications with heavy dust loads.
"This technology is also being applied in the coal, gold, diamond and other mining sectors, including in motor control centre rooms, control rooms, substations, transformer rooms and workshops."
Solomon adds that spin-filter technology is starting to gain traction locally and that ProProcess is investigating its application in packaged plants for the mines.
Fraser believes that the benefits of RTS's spin-filter system are "almost endless". He adds that customers are saving on costs, owing to a substantially smaller spend on filtration maintenance and replacement, as well as the ongoing reduction in equipment breakdown and support costs.
There are also environmental benefits as a result of the mine being able to reduce undesirable emissions when using RTS products, concludes Fraser.