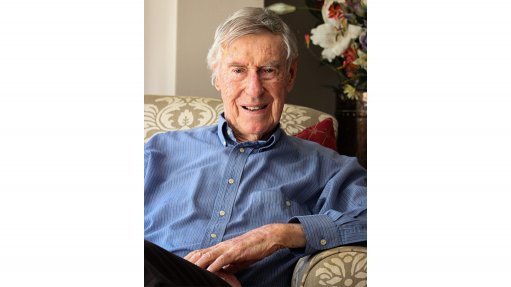 Retired civil engineering construction cost consultant David Easton
JOHANNESBURG (miningweekly.com) – A speeded-up solar, wind and storage (SWS) approach is needed to advance South Africa's decarbonised energy situation and take the country into a cleaner, greener future.
Also, steps need to be taken to allow the delayed Tubatse pumped storage scheme to go ahead as an independent power producer (IPP) project.
These are the views of retired civil engineering construction cost consultant David Easton, who spoke to Engineering News & Mining Weekly in a Zoom interview. (Also watch attached Creamer Media video.)
Easton criticised the slow phasing in of renewable energy projects through the Renewable Energy Independent Power Producer Procurement Programme (REIPPPP) and, in particular, decried the long delay between Window 4 and Window 5.
He sees SWS as having "magnificent investment" potential.
"There are huge firms itching to come here. So where's the problem? We've got the sites, we've got the engineers, we've got the roads to get there.
"So, we've got to look at it from what's holding it back. Grid is a problem. We've got to connect it all up. There's a lot of wires to take them from the Northern Cape, or from Limpopo, down to the centres of the consumers, especially the industrial consumers," he said.
Interestingly, in an Engineering News article dated 12 September, 2014, Easton had this to say on the delayed Tubatse pumped storage scheme: "A pumped-storage scheme at present is the only practicable and economically viable way to store electrical energy in large quantities."
He concluded the article with these words: "Some of the considerable number of actions that have to be taken start with the process to invite competitive bids, as was done for the REIPPPP. The 64 solar and wind projects under construction at present have given the whole South African engineering, banking and legal professions a huge exposure to new forms of getting difficult power generation projects successfully negotiated and completed. The way forward is to complete the Tubatse pumped storage scheme as an IPP."
Mining Weekly put these questions to Easton:
Do you think that South Africans who want to go exclusively for SWS – solar, wind and storage – are going in the right direction? And when it comes to storage, do you think pumped storage schemes could play a role provided there is sufficient renewable energy to power these water batteries?
Easton: Yes, if we look at a timescale, for instance, in 50 years' time. I take 50 years because all of the coal-fired power stations would have gone by that time. The intermediate situation is that South Africa depends on coal for 80% of its power and that's a fossil fuel. It is causing problems with its emissions, so immediately we have to have a plan. Not that we can change that situation overnight. We have solar, we have sufficient sun, but insufficient grid. For instance, if we try to generate a lot of solar in the Northern Cape, we've got to get that back with a grid capable and quickly - on that I suggest we need an additional grid for these forms of renewable energy. Now, wind is also in different parts of South Africa. There's a map of the wind availability and again if we choose what we were trying to work on the lowest cost, cost comes into all three of these [including] going to the third one of storage, which is to take us through the hours when the other two are not working. This is the way we have to go.
Mining Weekly: I've been listening to global webinars over and over and one that really remained with me involved Mark Carney, the United Nations special envoy on climate change action and funding, who spoke of $130-trillion being available to 2050, and that green energy proposals need to be put forward at a faster pace. Do you get the impression that the funds are there if the projects are appropriate?
Easton: Yes, I do.
Mining Weekly: Also, South Africa's just transition proposals at COP26 were hailed as a template for the rest of the developing world. Available to us is $8.5-billion. The Shell Foundation also wants to help entrepreneurs in transitioning carbon-intensive areas with blended finance. Do you get that impression that maybe we should be moving faster?
Easton: Yes, definitely. We have the pieces. We can put them together.
COMPETITIVE PRICING
Detailed modelling undertaken by energy expert Clyde Mallinson shows that an Integrated Resource Plan (IRP) comprising only SWS would deliver a platform for new industries to be built on near-zero-marginal-cost excess green electricity.
Mallinson's alternative SWS IRP would involve the deployment, between 2021 and 2040, of 40 GW of new wind, 230 GW of solar photovoltaic (PV) and 35 GW/290 GWh of storage, comprising mainly battery energy storage and mechanical gravitational potential energy storage.
Such a system would cost $90-billion to build over the period at a yearly investment rate of about $5-billion, or about 1.5% of South Africa's current gross domestic product.
It would deliver electricity at the factory gate at a cost of $0.03/kWh (R0.45/kWh in rand at prevailing exchange rates), well below Eskom's current wholesale tariff of about $0.07/kWh, which is poised to rise to $0.15/kWh by 2030.
The SWS IRP deviates materially from the current IRP 2019, which envisages a mix that is also dominated by wind and solar PV, but still includes new coal, gas and imported hydro.
Mallinson's alternative IRP allocates far more to solar PV and storage than is the case in the IRP 2019, with the wind and the storage designed to "see us through the night" and the capacity of the storage calibrated to the country's current peak demand of about 35 GW.
The actual ratios of wind to solar PV could vary, depending on future cost reductions, with the SWS IRP assuming a steeper decline in solar PV costs relative to wind over the period, reflected in the preponderance of solar PV in the IRP.
Such a system would supply at least 231 TWh of conventional demand yearly and also deliver a further 461 TWh of "superpower", a term coined by independent US think-tank RethinkX, or near-zero-marginal-cost clean electricity.
This "superpower" is earmarked to bolster the competitiveness of existing economic activities such as mining and smelting, while opening prospects for new activities such as electric mobility, the low-cost desalination of water, or the production of green hydrogen for use in hard-to-abate sectors.
The large-scale output of the SWS fleet would be three times that of the current coal-dominated system, based on Mallinson's reinterpretation for South Africa of the 'Clean Energy U-Curve' used by RethinkX to model a 100% clean-energy system for America.
That U-curve shows that the lowest-cost system or "sweet spot" for South Africa would involve building an SWS fleet that produces 1.67 times the annual output of South Africa's current fleet, at a cumulative capital cost of $71-billion. Such a system would deliver 155 TWh of so-called superpower, while meeting yearly conventional demand of 231 TWh.
However, Mallinson's IRP is premised on a system that by 2040 will produce three times that of the current system, as it would deliver 461 TWh/y of near-zero-marginal-cost surplus green electricity for an investment only $25-billion greater than the least-cost solution.
"For only 38% more investment above the least-cost sweet spot, you get a dispro­portionate amount of superpower," Mallinson explained in an Engineering News interview earlier this month, describing that sweet spot as the 2040 target for which South Africa should be aiming.