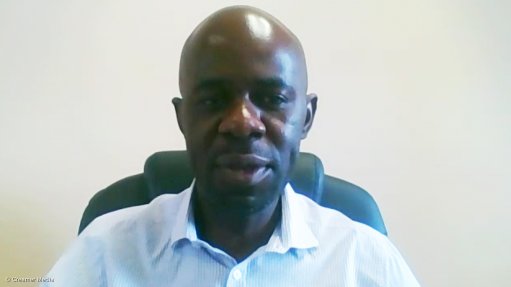 Southern African Development Community SADC Centre for Renewable Energy & Energy Efficiency executive director Kudakwashe Ndhlukula
Photo by: Creamer Media
JOHANNESBURG (miningweekly.com) – Southern Africa's buy-in into the green hydrogen economy concept is exceeding expectations, Southern African Development Community (SADC) Centre for Renewable Energy & Energy Efficiency (Sacreee) executive director Kudakwashe Ndhlukula said on Tuesday.
Green hydrogen is a clean form of hydrogen with a zero-carbon footprint.
"We have come in at the right moment and the buy-in from stakeholders, especially the governments, is huge," Ndhlukula said in a Zoom interview with Mining Weekly. (Also watch attached Creamer Media video.)
Some private sector companies are wanting to sign memorandums of understanding (MOUs) and others are seeking guidance on how they can start developing into the green hydrogen sector.
Sacreee, established in 2015 by the Ministers responsible for energy in the 16-country SADC – as a way of addressing energy access and security with the help of the region's immense renewable energy potential ­– sees much regional value in green hydrogen development.
The current Green Hydrogen Atlas-Africa initiative that it is helping to advance in the region is also highlighting the value of Southern Africa's huge platinum group metals (PGMs) endowment, which goes hand-in-hand with the green hydrogen economy, both in the electrolysers that produce green hydrogen and in hydrogen fuel cells that provide mobility, stationary power generation, heating in steel plants and other ferrous and non-ferrous metals plants and a host of other industrial, commercial and residential applications.
"I see a lot of beneficiation coming out once we have analysed the competence we have as a region," Ndhlukula said.
Furthermore, SADC hosts a range of metals and minerals used in the hardware that provides the solar power and wind power used to generate the clean electricity that guarantees the decarbonised nature of the hydrogen.
"We see that green hydrogen can play a significant role, not only to address energy access and security, but it can also play a big role in terms of the industrialisation of the region," said Ndhlukula.
Green hydrogen can be stored, it can function as a carrier, it can be used directly for heating and cooling, it can decarbonise production processes and will likely be available at the same production cost as fossil or blue hydrogen in the next two to three years.
A key pillar of Sacreee's business plan, adopted at the end of 2019, is the industrialisation of the region, currently a net importer of energy resources. Regional green hydrogen development has the potential to change the region from being a net importer of energy to being an exporter of energy.
"We're importing petroleum products mostly to drive our vehicles. Some of the mining companies are using imported heavy fuel oil for process heat. The same applies in other industrial applications.
"Then, if you look at the chemical industry, we are importing a lot of feedstock. If you look at the fertiliser industry, we're importing a lot of ammonia. We can now see a locally produced substitution coming in with the utilisation of green hydrogen," he said. Green ammonia and methanol are derivatives of green hydrogen.
"We're looking at the source of electricity for hydrogen production being renewable electricity. In this case, we're looking at wind, solar and other renewable resources that can be used to generate electricity and then split the water into hydrogen and oxygen.
"Water is a challenge. We know that quite a lot of SADC countries are water-stressed. If you look at Namibia, Botswana and South Africa these are water-stressed countries. Of course, if you look at the whole region, there are some countries with an abundance of water, such as Zambia, the Democratic Republic of Congo, Congo, Malawi and some parts of Zimbabwe, but overall, the region is water-stressed.
"Brackish water is a good source of water for electrolysis. Saudi Arabia and Morocco are pushing hard for green hydrogen and definitely they're going to use sea water for that. The advantage is that we can also see another industry coming up. It's an industry where we are going to be processing sea water. We get, of course, hydrogen and oxygen, but also we can use that water as potable water. So, there's that opportunity also arising out of utilisation of brackish water and sea water," said Ndhlukula.
Sacreee is working with the Southern African Science Service Centre for Climate Change and Adaptive Land Management (Sasscal), a regional technical committee with high-level technical know-how in renewable energy, climate expertise, water resources and socioeconomics. On the horizon are:
the introduction of a postgraduate course in green hydrogen to advance academic sustainability in the region; and
a visit next year by 15 young scientists to Germany as part of a "seeing is believing" green hydrogen experience.
From the Sacreee/Sasscal MOU has come a technical committee made up of economists, legal minds, environmentalists and people engaged on the industrial front and who are drivers of the industrialisation agenda of the SADC. The committee is helping the region to understand the upcoming value chains.
"We've also gone a step further to establish national teams, which are very active on the ground collecting data as well as liaising with national stakeholders. The green hydrogen economy, in our view, is going to be a game-changer. We see a lot of value in developing the green hydrogen economy in this region.
"We expect that by the end of 2021, we should have validated the hydrogen atlas that identifies the potentials and identifies requirements in terms of the infrastructure that needs to be developed. It is on that basis that additional aspects of the green hydrogen economy can be developed, for instance the siting of electrolysis plants, the industries that can benefit from green hydrogen, the networks that need to be developed, as well as policies and regulations that need to be brought in to support the green hydrogen economy. There is great potential, there is great will.
"Currently, we're working with 12 SADC countries where we're piloting, but the benefits have to stretch to all 16 countries of SADC. We expect that in one form or another, all the countries of the SADC region are going to benefit from this project," said Ndhlukula.
The Green Hydrogen Atlas-Africa project, to which the German Federal Ministry of Education and Research has allocated €5.7-million in funding, is placing Southern Africa on the road to contributing meaningfully to the global Sustainable Development Goals.
"We're moving really fast," was how Sasscal executive director Dr Jane Olwoch put it to Engineering News & Mining Weekly in a Zoom interview recently. Olwoch described the green hydrogen atlas project as the starting point of a process to firm up data and validate green hydrogen sweet spots. This is expected to be followed by the building of a pilot plant that is able to demonstrate the competitiveness of Southern African green hydrogen generation ahead of commercialisation.
In South Africa, HySA Infrastructure is leading research and development efforts in South Africa in water electrolysis, based on polymer electrolyte membrane (PEM) electrolysis technology, in which deionised water is spilt into hydrogen and oxygen on the application of an electric current.
Oxygen and protons are generated at the anode that contains an iridium-based electrocatalyst. Iridium is a PGM. At the cathode, the protons that pass through PEM electrolysers are reduced by electrons to form hydrogen gas at a platinum-based electrocatalyst.
"Given the fact that the global water volume is estimated to be around 1.4 × 109 km3, hydrogen could be seen as an almost everlasting resource," Dr Dmitri Bessarabov, of North-West University, who leads HySA Infrastructure in South Africa, under the Department of Science and Innovation, has noted.
"The green hydrogen export market potential is much larger than the local green electricity market," Thomas Roos, a senior Council for Scientific and Industrial Research (CSIR) researcher, who has been leading CSIR work on green hydrogen export opportunities for South Africa, stated in the Hydrogen, Fuel Cells & the recent Green Economy feature in Engineering News & Mining Weekly.
Venture capital company AP Ventures described hydrogen as providing domestic energy resilience, creating new high-technology jobs and providing a tangible route to decarbonise at residential and industrial levels.
"Hydrogen offers the opportunity to unlock investment into South Africa and create employment plus a competitive export market. Liquid organic hydrogen carrier technology is a key enabler to link the potential of South African low-cost green hydrogen production, both with domestic demand and to international markets. Recognising this valuable opportunity, we and our investors are working to make the hydrogen economy a reality both in South Africa and worldwide," stated AP Ventures, the investors in which are the Public Investment Corporation of South Africa, Anglo American Platinum, Mitsubishi Corporation, the Toyota-linked Mirai Creation Fund and Plastic Omnium.
The frequency of news reports on global green hydrogen developments is gaining pace, along with advertising campaigns. In a double-page advertisement in The Economist, Hyundai Motor Company fuel cell centre head Saehoon Kim said: "The world has taken the right step at a critical juncture towards a sustainable future with hydrogen as the medium." The South Korean company is fully committed to zero-emission mobility and is investing $6.3-billion in ongoing research and development.
The membership of the Hydrogen Council, a global CEO organisation, has rocketed and the intensity grew earlier this year when the companies Hatch, Anglo American, BHP and Fortescue formed the Green Hydrogen Consortium to look at ways of using green hydrogen to accelerate decarbonisation within their operations globally.
The consortium aims to collectively help to eliminate the obstacles to the adoption of green hydrogen technologies and encourage innovative applications. Some of the proposed activities include undertaking research, technology, and supply chain development, as well as piloting green hydrogen technologies that seek to de-risk and accelerate the technologies.
Green hydrogen in the region is poised to be inextricably linked to solar power, which the International Energy Agency (IEA) this week declared the "new king" of electricity, arguing that, while renewables technologies as a whole are poised for rapid growth over the coming several decades, solar will be "at the centre of this new constellation of electricity generation technologies".
The agency's 'World Energy Outlook 2020' notes that, with sharp cost reductions over the past decade, solar photovoltaic (PV) is now consistently cheaper than new coal- or gas-fired power plants in most countries, while solar PV projects now offer some of the lowest cost electricity ever seen. Solar is now the cheapest electricity in history, the IEA has shouted from the rooftops, and Southern Africa is blessed with superior sunshine and prime wind, a combination that puts the region in pole position as a provider of the full spectrum of energy offerings, for the benefit of itself and the world.