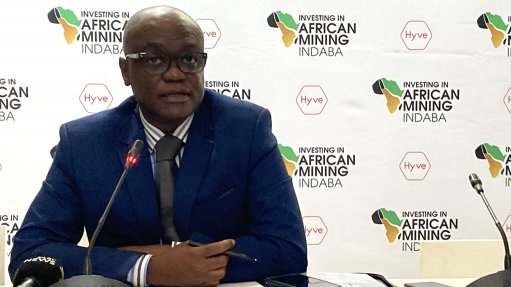 Sokwani Chilembo
While the Mining Industry Association of Southern Africa (Miasa) supports the just transition to clean energy, the region must ensure it is pragmatic in its approach, says newly elected president Sokwani Chilembo.
Chilembo is also the CEO of the Zambia Chamber of Mines.
Speaking at an Investing in African Mining Indaba media conference on Wednesday, Chilembo noted that there was a need to ensure the protection of communities' livelihoods, and that the upscaling of renewable energy had to be "pragmatic" and "carefully considered".
"We must not leave any of our regional citizens behind."
Chilembo said the region had recently seen a "very hard stop approach" from the world in its consideration of coal and gas projects – this during a time when Southern Africa's endowment of the latter was growing.
"This is concerning to us. Access to energy is a key component in improving the quality of live of our citizens. In the absence of energy, people may do what they can, leading to deforestation.
"It is really important that, as a region, we do not lose out on the opportunity to lift enough people out of poverty to a reasonable standard of living, and then become more custodial in our way of thinking."
Hydrocarbons had to continue to be a key component of energy resilience in the region, emphasised Chilembo.
"As you know, when one area in the region is affected, the Southern African power pool is affected. If we pull a hard stop now, the consequences will be felt across the entire region."
Chilembo noted that another area of concern for Miasa was persistent allegations around illegal financial flows from, and within the mining industry, and the participation of the corporate mining sector – to the detriment of casting a spotlight on "outright illegal mining".
"Illegal mining is growing in scale in the region. We are not paying enough attention to this, in preference for the easier story to sell, which is that of persistent corporate malfeasance."
A third and final concern Chilembo raised was around the recently released Fraser Institute's Annual Survey of Mining Companies.
This investment attractiveness index "really gave Africa the short end of the stick", he said, with several African jurisdictions dropping in the ranking, and Morocco, out of left field, popping to almost the top.
Zimbabwe – in Southern Africa – was at the bottom.
Chilembo said Miasa acknowledged the report, but believed that it should be more geographically spread, so that countries which had remained steadfast in their policies were not affected negatively.
He said the report could benefit from being more interactive, cooperative and inclusive, especially as its stature, value and efficacy were highly valued by the mining industry.