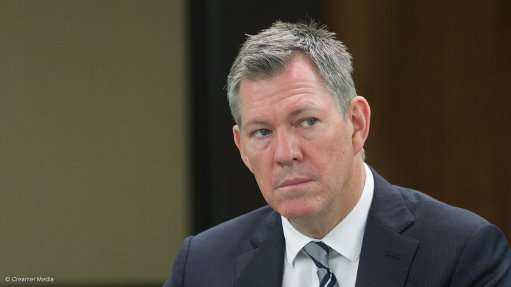 South32 COO Africa Mike Fraser
JOHANNESBURG (miningweekly.com) – While diversified mining major South32's South Africa-based thermal coal expansion projects are yet to be approved, CEO Graham Kerr remains optimistic about developments at its South Africa Energy Coal operation, noting that both proposed expansion projects are progressing well into the feasibility study stage, with the Klipspruit life extension project about six months ahead of the Khutala expansion project.
Addressing a global media contingent in a Perth-based conference call on Thursday, Kerr highlighted the company's existing coal supply agreement with State-owned power utility Eskom, under which South32 would supply about 13.3-million tonnes to Eskom a year. He added that the company was in ongoing talks with Eskom to determine the best way forward in this regard.
South32 COO Africa Mike Fraser further explained that, under the cost-plus agreement with Eskom, the company was looking to progress a lower capital cost option to extend the life of the Khutala underground mine.
When asked if Eskom was "reticent" to contribute to the extension at Khutala, Fraser responded that, while Eskom had initially not been keen to contribute capital to existing cost-plus operations, the conversation had evolved in recent months.
"What we've seen over the last six months is that they've introduced some external help into their coal procurement operations to identify how to get the lowest-cost coal into their business," he said, adding that this was beneficial for Khutala.
As Eskom was looking to increase coal output to meet Kendal coal-fired power station's burn requirements, South32's feasibility study for Khutala would look to meet that requirement through to 2033.
"There are a lot more conversations to unfold, but certainly the indication is that they see it as an extension of the existing coal sales agreement rather than a negotiating agreement," confirmed Fraser.
Meanwhile, South32 is also assessing the viability of a lower capital cost development option for the Klipspruit life extension project.
Fraser explained that, given the relative uncertainty in the long-term thermal coal market, the company was looking at having a mixed bag of own-operated pits as well as contract-mined pits at Klipspruit, as it saved the company having to recapitalise the entire operation.
He added that the Klipspruit colliery had traditionally been treated as an export-orientated mine, and that it would, therefore, be treated as South32's capital input if the expansion project got the cost go-ahead.
He noted that a small portion of coal from Klipspruit does find its way to State-owned power utility Eskom "though on a much more opportunist basis".