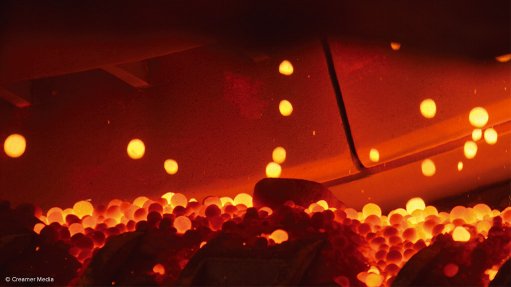 South Africa's ferrochrome industry has taken its first steps towards independent power generation, with plans to generate up to 750 MW of its own electricity (comprising wind, solar and cogenerated power) by 2024, Mining Weekly can report.
The industry adds significant value to chrome ore by elevating it to ferrochrome, which it sells at a far higher price, earning South Africa higher levels of foreign exchange.
However, because of the continually rising price of electricity charged by State-owned power utility Eskom, the industry has lost considerable market share to China. The South African industry is working hard to regain that market share.
Mining Weekly can confirm that cheaper power supply is top of mind for many producers, with the local ferrochrome industry currently discussing various initiatives with Eskom. That includes discussions about power pricing tariffs, but also about integrating an alternative electricity supply – whether it be renewable energy or cogeneration.
South African ferrochrome producer Samancor Chrome CEO Desmond McManus notes that the industry has a "dedicated team" focusing on finding solutions to power pricing and ensuring stability.
The industry has explored "all available avenues", even going as far as having met with Eskom CEO Andre de Ruyter and National Energy Regulator of South Africa (Nersa) full-time member for electricity Nhlanhla Gumede.
Topics at hand include Negotiated Pricing Agreements, though the industry fears that it is "running out of time".
Despite progress having been made up to now, the ferrochrome industry is disheartened that this progress has not been "fast enough" and laments that, should no dramatic changes occur in the strategy going forward, the industry is "facing challenges, including threats to the viability of its smelters".
Changing the narrative has proven difficult thus far, as five of South Africa's ferrochrome smelters have either already been shut down, been liquidated or placed in business rescue. These smelters supported more than 31 000 jobs along with a yearly contribution of R11-billion to South Africa's gross domestic product (GDP).
Mining Weekly previously reported that the industry's support of another 68 000 jobs, a R41-billion contribution to GDP and R14-billion in payments to Eskom, are under threat.
Direct employment lost in the past five years alone totalled more than 2 000 jobs, with another 1 608 jobs at risk under Section 189 of the Labour Relations Act. Remaining at risk are another 5 243 jobs through direct employment.
The multiplier effects these incomes have on surrounding communities is thus at risk, which implies that multiple thousands of people stand to lose if the ferrochrome operations, often the lifeblood of its surrounding community, continue to power down.
In addition, Mining Weekly can report that, for example, should ferrochrome sell for about $1 000/t, ferrochrome producers are using about $200 of these funds to supply the chrome ore used to produce the ferrochrome.
The $800 balance is reinvested into the South African GDP, meaning money that goes to Eskom, wages, taxes, anthracite miners, transport and others.
"All of these stakeholders stand to lose if [producers] decide to stop spending that $800 and rather just send the $200 out of the country."
Ultimately, this reinvestment should benefit South Africa's foreign exchange holdings, energy generation, and indirect and direct jobs, besides others.
Notwithstanding this threat to employment, amongst others, the industry remains frustrated, as no "real progress" has been made in ensuring the industry's survival.
Energy pricing remains at the forefront of the industry's struggle to remain sustainable and viable and has been exacerbated by a 15% increase in power tariffs in an environment characterised by multiple smelters shutting their doors and operations.
Keeping this in mind, a reliable source and an industry expert has told Mining Weekly that while cogeneration and independent renewable power is a viable energy strategy currently in the pipeline, "there are still many unknowns" in terms of what Eskom will charge for power, as well as uncertainty surrounding regulatory approvals.
"It's difficult to pull the trigger on these multibillion-rand projects with that type of uncertainty. There's only so far we can go without getting more certainty, and that has led to the discussions while we bridge this gap and while these major energy issues and other issues (like the carbon tax) are being resolved."
The source emphasised that it was "not going to be a quick fix", as resolving these issues could not be done in a matter of months.
It is for this reason that the ferrochrome industry supports the recently mooted chrome export tax in South Africa, in conjunction with a strategy that focuses on long-term sustainability.
Progress in this area is critical, as over the years the overwhelming majority of chrome ore mined in South Africa has been exported in its raw form, rather than being beneficiated into ferrochrome domestically.
This ore is used to produce ferrochrome, which, in turn, is a key ingredient in making stainless steel, which has a range of uses across various industries.
A media release by research institute Trade & Industrial Policy Strategies (TIPS) in October last year indicated that the introduction of a chrome export tax, announced on October 21, 2020, "will bring immediate benefits to the ferrochrome industry, and also presents an opportunity for South Africa to support the development of the downstream industry".
In the context of a post-Covid-19 recovery plan, industrial development was cited as a priority requiring multiple measures by the State to strengthen its industrial base, the release further noted.
TIPS stated that the implementation of the export tax would mean South Africa was able to take advantage of its natural resources in that domestic ferrochrome producers would have a price advantage over Chinese firms, contributing to mining being used in support of beneficiation and, potentially, further downstream.
Mining Weekly can confirm that local ferrochrome producers have indicated that there have been no objections from China regarding South Africa imposing a chrome ore tax, which could potentially generate billions of rands in revenue for the government.
On very quick estimations, a reliable source has indicated that a chrome ore tax would generate the equivalent of a 0.5% increase in value-added tax (VAT) for the country.
While the TIPS policy brief discusses the benefits of a chrome export tax and why it makes sense for South Africa as a measure to support the ferrochrome industry, it insists that this measure alone is not sufficient to grow the stainless steel and downstream industry, as "an additional set of industrial policy measures are also required". This viewpoint is supported by the ferrochrome industry.
Despite the tax being tabled by government last year, the ferrochrome industry has remained disappointed in the sense that "government hasn't moved faster" on the tax, which it was suggested would "buy the industry some time" as it continued to work towards the industry's survival and sustainability.
"It's clear that it is a journey that can get ferrochrome through this difficult period, but it looks like the industry needs something like the chrome ore tax while we sort out the energy challenges and carbon taxes," the source elaborated, noting that this should, hopefully, assist the local industry in the medium term, while it builds towards becoming a thriving ferrochrome industry.
McManus, meanwhile, adds that the South African ferrochrome industry is in dire need of a further lifeline, such as can be found in the chrome ore tax, as "time is not on [the industry's] side".
"We are not only standing and waiting for things to happen, but we are also driving a basket of things, including cost saving initiatives and efficiencies on the transport side, as well as on the electricity efficiency side. We've also done investments in terms of our facilities, and we try to be as power efficient as the best in the world can be," he explained to Mining Weekly.
Divisions remain, with some chrome ore miners and exporters being opposed to the export tax that the ferrochrome companies favour, fearing that their outlay will be increased to little effect as export markets will simply switch to cheaper sources of ore from other sources, while the local ferrochrome industry could still remain uncompetitive without the required basket of measures being in place.
FERROCHROME PRICING
The European benchmark ferrochrome price for the second quarter of 2021 has been settled at $1.56/lb, marking a 32.8% increase compared with the first quarter.
This is expected to provide some relief to local ferrochrome producers. Mining Weekly can report that local producers are stating that "the trend has to be higher for ferrochrome prices if the industry is to survive", meaning that the current price increase will need to be at a structural level, and not something that is a result of a temporary imbalance in supply and demand over a couple of months.
While this limbo is not necessarily encouraging news, the integrated ferrochrome producers in South Africa continue to try and avoid more casualties.
An example can be found in Samancor's first cogeneration pilot plant, which is expected to lead to more such plants being rolled out in future.
Cogeneration – given the nature of ferrochrome production – may not be able to cover all or even half of the industry's power needs, but producers remain encouraged that renewable energy may be able to either supply all of its power needs, or fill the gap, should certainty on the regulatory environment, and Eskom's pricing intentions for using its infrastructure grid, be provided.
The industry is ready to move forward in this regard, but it remains hampered by uncertainty.
Another example is seen in the local ferrochrome industry making substantial changes to its technology and investing huge amounts of money into pelletising plants.
Glencore, a major producer, has meanwhile, over the last decade, continually invested in cogeneration at some of its plants, while using off-gas as another option, ferroalloys head Japie Fullard explained to Mining Weekly.
This, he added, is evidence of the industry working hard over the last couple of years, noting that this is neither "all of a sudden" nor a "quick fix".
"People expect us to have a quick fix, but we've done most of it to be in line. Unfortunately, the Eskom price has just caught up with us all the way, and for that reason, we really need relief," he averred.
This challenging environment has led to the Glencore Merafe Venture placing its Lydenberg smelter on care and maintenance.
Fullard lamented that "if things stay as they are now, we as the ferrochrome industry are going to be under a huge amount of pressure to keep our smelters open".
McManus echoed these sentiments, noting that the industry is in dire need of a lifeline, and that it "does not have time" to wait too long for that lifeline to emerge.