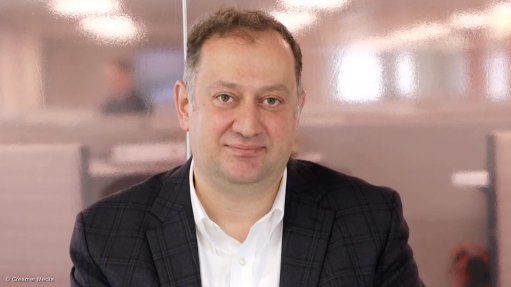 Menar MD Vuslat Bayoglu.
Photo by: Creamer Media
JOHANNESBURG (miningweekly.com) – At the end of the day, South Africa will overcome its rail transport and electricity availability issues, and confidence in both Transnet and Eskom will be fully restored, Menar MD Vuslat Bayoglu predicts.
"I'm confident that Transnet's problems will be solved because South Africa's got great rail infrastructure," Bayoglu told Mining Weekly unequivocally in a Zoom interview on Monday. (Also watch attached Creamer Media video.)
"As long as it is maintained, and Transnet is doing that currently, we really have world-class infrastructure," said the head of Menar, a private multi-commodity mining investment company.
While the concept of having third-party involvement, if implemented, would make things much easier for Transnet, even as is, the railway lines are in good nick: "If you look at the iron-ore line, manganese line, coal line, and the line that takes the chrome to Maputo or to Richards Bay, they're all in good condition.
"What we're missing is locomotive availability and we're having issues with cable theft and some leadership challenges in Transnet. I think we need to be realistic and work very closely and I think the solution is between top management of Transnet and the management of the mining companies.
"By talking and collaborating, we will resolve the issues of Transnet and I believe the same is going to happen with Eskom, because we will pass these stages of loadshedding and we will pass the stages of having issues on the iron-ore line or coal line or manganese line.
"Eventually we'll win. As the mining industry, there's been opportunity cost, but at the end of the day, we'll overcome the issues and have confidence again in both Transnet and Eskom," he forecast.
While in his speech to the Mining Indaba in February, in Cape Town, President Cyril Ramaphosa made the right commitments, Bayoglu expressed the view that the President's great skills of diplomacy and South Africa's cordial relationship with the Chinese President is key to unlocking crucially needed locomotive availability in South Africa.
On the prospect of new Monitoring and Evaluation Minister in the Presidency Maropene Ramokgopa ensuring speedier implementation, he said: "If she follows up on what the President has committed and monitors and evaluates what needs to be done, I think that will make investors very happy."
Mining Weekly: Road transport has made up for some of the poor rail performance in past months. With prices of bulk commodities now moderating, will resorting to road transport still be as economically viable as it was when the prices for bulks were considerably higher?
Bayoglu: Road transport won't work anymore. If you look at the past, what happened with iron-ore, for instance, when iron-ore prices hit $200/t, people were even trucking iron-ore to Durban from the Postmasburg/Sishen area. But when the iron-ore price softened to $120/t and $130/t levels, then it stopped because it no longer works. Iron-ore now relies purely on Transnet's performance to move the product, and the same applies to coal. At $200/t and $300/t coal price levels, it was okay to truck coal to Richards Bay or Durban. We even heard that some people were trucking coal to Namibia to move the product through Walvis Bay to the markets. But currently, with the coal price sitting at between $200/t and $120/t, depending on the quality, it's becoming very difficult now. We are seeing that the number of trucks on the roads are getting less and less. But if Transnet railed the product, there wouldn't be any need for putting any coal on the road, no matter whether the coal price is up or down. The way to move any bulk commodity, in any country, is by rail, there's no other way, and by putting coal or iron-ore or manganese on the roads, we're not being fair to our road infrastructure.
Red tape has been a major investment inhibitor. Have you seen any meaningful removal of red tape obstacles?
We need to create employment in this country and removing the red tape creates employment. We can't live sustainably with the unemployment rate among youth being 60%. This is not going to work, so we have to make a plan and remember, we don't have Silicon Valley in South Africa. This is a mining country and mining contributes substantially to the fiscus, so we need to be very practical and very agile in terms of licensing projects. If there is an investor who's trying to put R2-billion to develop an iron-ore mine or a manganese mine or a copper mine or a coal mine, government should be asking what it can do to help them. But unfortunately, that is not the case and there's a new phenomenon in the manganese mining industry, for instance, that mining companies should not mine boundary pillars, despite there being no health and safety issues. If we don't mine the boundary pillars, a big national resource will be sterilised. These kinds of obstacles are there and I firmly believe that we should wipe them out, because otherwise, we cannot create employment in this country.