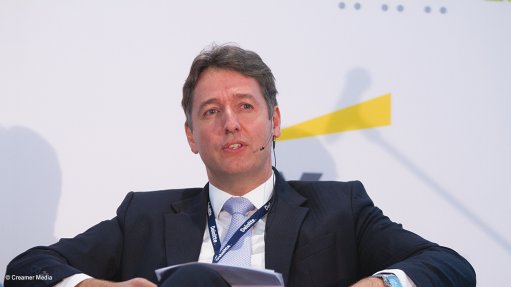 SFA Oxford CEO Henk de Hoop
Photo by: Creamer Media
JOHANNESBURG (miningweekly.com) – South Africa would do well to highlight its key iridium supply status to gain the full confidence of a world that requires this very rare platinum group metal (PGM) to advance the fast-moving hydrogen economy.
Iridium is a potent co-roleplayer with PGMs stalwart platinum when it comes to electrolysing hydrogen from water.
Because of South Africa's solar power potential, land availability and PGM endowments, SFA Oxford CEO Henk de Hoop expresses the view that the country should raise its flag to highlight the key role it can play in fostering global decarbonisation. (Also watch attached Creamer Media video.)
De Hoop, who spoke to Mining Weekly in a Zoom interview, believes that South Africa could play a leading role in getting the first big green hydrogen projects off the ground, particularly against the background of the long grey hydrogen track record of technology-smart South African synthetic fuel producer Sasol.
Money, he says, is available for hydrogen development and South Africa, he believes, should strive to be at the front of the green funding queue.
Scale, he emphasises, will eventually ensure the competitiveness of the now costly green hydrogen and he sees advantage in South Africa Incorporated participating in hydrogen development at pace.
Mining Weekly: Do you detect an acceleration in the momentum of the hydrogen economy?
De Hoop: Absolutely, and we shouldn't underestimate the capital and the broadness of the capital that is now being committed to making it all happen. I guess in the past the focus was very much on fuel cells and the future of fuel cells, but it has moved a lot now into the production of electrolysers and the production of hydrogen from those electrolysers – and that has become a lot more exciting for particularly the PGMs sector because we need some very critical materials for that to happen. Iridium is one of them and there are very few places in the world where you find iridium. As with many other minerals, South Africa is blessed with unique resources and will be a key source of iridium. So yes, we're seeing lots of momentum behind the green hydrogen economy – and one can see that in the capital budgets that have been committed, in the subsidies committed by governments, and the money being committed by companies to make this happen. There have been a whole range of exciting announcements and it's quite difficult to keep track.
Is it important in your view that the world should be focused on green hydrogen that makes use of renewables?
Yes, but I think we should also be realistic about the size of the challenge. Green hydrogen, ideally, is obviously generated from either hydropower or solar power or wind power, and hydrogen production from the green energy is one aspect. I think the focus should initially be more on access to hydrogen in the first place because that moves development away from the chicken-and-egg situation. We need hydrogen first before we can commit to technologies, and I think we've started to get there. There are a lot of commitments being made to see what processes can be run on hydrogen, even if, in the short term, it's from grey hydrogen, for example. Once proven, the next stage will be ramping up green hydrogen production to the scales required. The big challenge for green hydrogen, in the short term, is cost. Producing other colours of hydrogen is still a lot cheaper but the technologies for those hydrogen consumption patterns to emerge are ramping up quite quickly, and I think the volumes of demand will ramp up quite quickly and that will, in turn, help the green hydrogen economy to develop.
Which countries are furthest advanced when it comes to green hydrogen?
We see particularly Western Europe putting real capital in the ground, providing subsidies, putting lots of big windmills out in the Atlantic to make it all happen. The reality is that the scale of the challenge is still very large. It's a long, long road. It needs an enormous amount of capital but it's also very exciting for South Africa, which has some very strong benefits, not only from sitting on a lot of the metals needed for making this happen but if you look at where you can use green hydrogen the cheapest, South Africa has a real competitive position in the sense of the intensity of the solar that we have in parts of the country. We have space to put the solar panels up, we have space to put the windmills up and we could become a very large hydrogen exporter. Plus, we've been involved, in the form of Sasol, in some of the key technologies that can make this happen as well. We, as South Africa, have a couple of unique benefits that could see us playing a leading role in getting the first big green hydrogen projects going.
Is the green hydrogen route the only genuine route to take when it comes to mitigating against climate change?
I guess it's a very fair question and it involves a whole set of measurements and green hydrogen is only one of them. More and more governments are starting to realise that green hydrogen is there particularly for the hard-to-abate sectors. The quick wins are in battery electric vehicles, for example, and getting carbon dioxide emissions down. Obviously, a lot of people question it as well. If you power your electric vehicle with coal-fired power, your net benefit is very slim. In the case of green hydrogen, you need a solution. Steel production based on hydrogen technologies can eventually take a lot of carbon out of the system. It's one of the many core methods we have that need to displace carbon over time, but it's not the only one.
What policy blueprints are available for a country such as South Africa to emulate?
I think it's important that we don't forget the speed at which this is happening - the money that's being made available to projects that are going to be accelerated. And if we bog ourselves down with policy over the next five years, we will have missed the boat. This needs to run at a helluva pace. Namibia has already shown us their heels. Namibia has started to move ahead of us. Australia has some big plans. Australia has very similar solar and the space as well. We just need to make sure we get our act together and start moving fast. And that is where I think there is some scepticism out there about whether South Africa will be quick enough to make it all happen and get a slice of this cake because we shouldn't forget the initial phase of green hydrogen as well will need a lot of easy capital access. Green hydrogen initially is not necessarily competitive. It needs lots of scale and consumers. But there's a lot of money available to make the first projects happen and we need to be in the front of that queue.
To what extent do you expect green hydrogen to drive demand for platinum group metals?
It's very much at the back end of this decade, the 2030s, the volumes picking up and the bigger volumes are in the next decade after that. What is also very important is getting electrolysers going, PEM electrolysers, which need iridium, and that is where there is a developing market where we also need to look at what we can do to release some of the iridium that is currently used for other purposes to make sure it goes in making this hydrogen economy happen. It also is important for South Africa to be seen as a reliable producer of that iridium because we produce essentially 80% of the world's iridium and we shouldn't underestimate the cost of those metals in PEM electrolysers. It's also very important to keep a reasonable price out there for PEM electrolysers to stay competitive. Now, we have enough time for that. It is ramping up, but the exponential curve is right at the back end of 2030 and more moving into 2040s, which is good because I think also, we should not underestimate that battery electric vehicles will in time put some damage into the current PGM demand curves, and it's the right time then for hydrogen to really shine.
To get moderate volumes of iridium and ruthenium, large volumes of platinum must be mined. Won't this pull down the price of platinum itself?
There are a couple of angles to that question. First of all, you would never start a mine for iridium, which is a minor byproduct of the overall suite of metals produced and it comes mainly from UG2 reef. We have a declining supply forecast from South Africa. We have a lot of old deep mines that towards the end of the decade will come to an end. As a result, we see no real risk of overshooting the mark on the platinum supply. Over the last ten years, South Africa produced too much platinum because the mines kept on producing in a very tough price environment. But particularly in the 2030s to 2040s, we'll see a proper amount of platinum demand picking up and platinum is coming out as the strongest of the three metals over the long term because of the hydrogen and fuel cell demand eventually starting to require the volumes that the industry needs. So, we're not too concerned that we'll be producing too much platinum because we need the iridium. They go nicely hand-in-hand.
Could iridium constraints impact the uptake of the proton exchange membrane, or PEM, electrolysis?
There's a lot of work being done first in thrifting the amount of iridium per PEM electrolyser per kilowatt hour that one needs. The signal we're getting is that there's already good progress being made which will free up more iridium. What is also important is to look at where the bulk of the iridium now gets used and looking at the other sectors where some of the iridium can be released. One of the other aspects that we've looked into is the current traditional internal combustion engine industry consumption of iridium and how much of that will be released as battery electric vehicles start to flatten that long-term demand, releasing some of that iridium for the PEM electrolysers. It's going to be a tight market, but we don't think it's unmanageable.
How crucial is the availability of ruthenium for PEM fuel cells?
We think the iridium constraint is probably tighter than the ruthenium side of things. We also should remember that ruthenium gets used in the initial stages of grey hydrogen, which tends to be a bit, let's call it, dirtier than green hydrogen. As more green hydrogen gets produced, demand for ruthenium will be pushed back a bit because we will be producing more clean hydrogen and the need for ruthenium to go into PEM fuel cells will start to reduce a bit as well.
What other factors are important to drive home at this stage of the world's fight against climate change?
Firstly, we should not underestimate what's happening in the rest of the world, and the speed at which it is happening. Governments are preparing themselves to make big investments to green up overall economic output. You can see it for example, in the debate about nuclear. It's changed the tune completely, in a matter of months. It's the speed of change in the whole industry, and particularly the PGMs industry. South Africa must raise its flag on how key it is to the future. It's very important for us to keep on putting promotional money into what is a starting industry. It needs continued support. A lot of work has already been done but we need to keep up the pace because scale will eventually make it all happen.