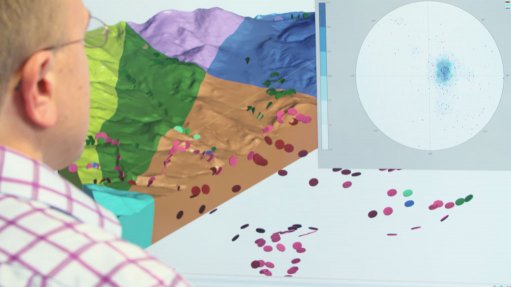 INFORMATION AT A GLANCE Leapfrog Geo 4.0 comes with a complete set of intuitive and highly visual tools and workflows to unlock the value of structural data
Amid the hype surrounding the proliferation of disruptive technologies for the mining industry is a real need for effective collaboration in terms of information. Global technology company ARANZ Geo's latest user-friendly software offering – Leapfrog Geo 4.0 – provides a key advancement in this regard, says ARANZ Geo Africa regional director Felix Walraven.
Headquartered in New Zealand, ARANZ Geo develops solutions that aim to harness complex information and make it meaningful to users in the mining and mineral processing, civil and environmental, and energy sectors. ARANZ Geo's products are distributed to the South African market through its branch in Johannesburg and delegates from the company will attend the 2017 Joburg Indaba at the Inanda Club, in Sandton, Johannesburg, from October 4 to 5, where the company hopes to gain further insight into the future technological needs of the South African mining industry.
"As commodity prices begin to rise globally, so do the spirits of mining companies, although they are taking things slowly and are still focused on limiting their costs and growing bottom lines. In South Africa, the proposed amendments to the Mining Charter have, moreover, unsettled many investors, making the future of the industry uncertain."
In this environment, Walraven notes that disruptive technologies have become a core focus, with several large mining houses initiating programmes to investigate how such technologies can impact positively on their business. Congruently, many technology vendors are investing in developing their solutions that have seen success in other industries, tailoring them for use in the mining industry.
"Breaking down the silos to create an ecosystem that provides timely and easy access to information and data – be it financial, technical or other – is imperative. As a vendor of digital technologies, we are continually looking at how we can integrate information to make company geologists more productive by applying their minds to solving the problems they face, rather than simply focusing on which buttons to push."
Walraven stresses that earth scientists need to be able to access three-dimensional (3D) representations of mining landscapes to solve the puzzles they are faced with, pointing out that, while working with such models is intuitive for some, for others it can be a challenge. In addition to being disruptive, new mining technologies, thus, need to have a level of flexibility built in, allowing users to collaborate and express their views and interpretations, which may previously not have been possible.
ARANZ Geo's Leapfrog Geo is a workflow-based 3D geological modelling tool with an advanced implicit modelling engine that bypasses time-consuming wireframing and lets users build models directly from various sources, including drillholes, points and surfaces. Models are dynamically updated when new data is added to a project, improving the ease with which models are kept current and reducing the risk of making key decisions based on outdated information.
Last month, ARANZ Geo introduced Leapfrog Geo 4.0, which comes with a complete set of intuitive and highly visual tools and workflows to unlock the value of structural data. Walraven notes that the software's intuitive and dynamic structural geology tools and workflows, moreover, make it accessible to all geologists. "No longer just for specialists, with Leapfrog Geo 4.0, vital structural data can now easily be interpreted and incorporated into mining models to influence and guide overall geometry."
Users are now able to view their data in a 3D stereonet to further aid the discovery of trends, relationships and geological structures. The 3D stereonet can be positioned beside 3D structural measurements from surfaces and other modelling data to provide a spatial understanding of how the structures relate to the data.
With Leapfrog Central – a model management solution – Walraven highlights, teams are further afforded the flexibility to work from a centralised data source that houses all geological modelling projects. The platform features version control, user permissions and the ability to track and audit the decision-making process at any time.
"This auditable environment allows users to make decisions with confidence and, above all, solve problems when it matters most. No matter where geologists are in the world – in an office or at a mine site, for example – Leapfrog Central ensures that they . . . always stay connected to their teams and provides a common source of knowledge for all involved."
Insights into project changes can, moreover, be monitored in real time, enabling teams to discuss and explore different geological interpretations, as well as share a detailed history of the model with management and other project stakeholders.
ARANZ Geo has been named a finalist in four categories of the New Zealand Innovation Awards 2017 for its Leapfrog 3D geological modelling software, including Innovation in Design and Engineering, Innovation in Technology Solutions, Export Innovator of the Year and Disruptive and Breakthrough Innovation. The winners will be announced at the awards ceremony on October 19 in Auckland.