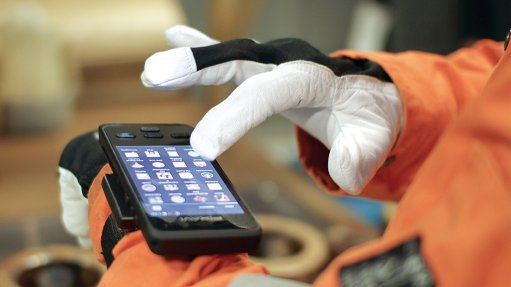 IMPROVED CONTROL eVision's software will increase the safety and efficiency of Bartec's explosion-proof mobile devices in mining and industrial environments
In a clear push towards mobile innovation, global explosion protection solutions provider Bartec and Netherlands-headquartered software provider eVision will deliver rugged, intrinsically safe devices, which will ensure worldwide distribution and support of eVision's suite of mobile Control of Work (CoW) applications on Bartec's explosionproof mobile devices.
"Partnering with Bartec [in March] is the next step towards the mobile future. This synergy between software and hardware equips the front-line workforce with the tools they require to further improve daily maintenance . . . We look forward to jointly innovating in this highly impactful area within CoW," says eVision chief commercial officer Ton Geelen.
Bartec's Android devices – which are compliant with the European Atmosphère Explosibles directives delineating equipment and processes in explosive environments – will support eVision's supplementary CoW applications, which integrate permit to work, risk assessment, isolation management, shift handover and management of change applications. The combination of technologies will enable companies to improve control over operational processes, resulting in fully auditable, real-time corporate risk management as well as increased operational efficiency.
eVision's application suite also makes full use of Bartec's advanced technology, including barcode and radio-frequency identification scanning, resulting in shorter work processes and increased hands-on tool time.
"Through cooperation with partners like eVision, we set new standards for enterprise mobility in hazardous areas. "The smart combination of hardware and software provides operators with a solution to make their daily work safer, more efficient and easier to handle," confirms Bartec automation and communication systems VP Nader Halmuschi.
He adds that any hardware is only as good as the software running on the device, but points out that, simultaneously, software can only work well if the devices it is used on meet all relevant safety requirements. "Therefore, Bartec and eVision are the perfect match – together we make the world a safer place," Halmuschi enthuses.
Bartec products and solutions prevent explosions wherever hazardous substances, such as flammable liquids, gases and dust, could be present, protecting both humans and the environment. Its customers primarily include companies from the oil and gas, chemicals, petrochemicals and pharmaceuticals industries.
The company stresses that, during daily operations in these hazardous mining and industrial environments, equipment dependability is a priority, highlighting that its flexible and powerful devices offer an ideal gateway to eVision's advanced front line CoW tools, enabling personnel to work faster, safer and with greater situational awareness.
eVision explains that CoW policies in businesses provide for systematic CoW standards, systems, processes and procedures with a view to provide safe and efficient working environments.
Replacing paper-based systems used to manage and enforce these controls, eVision offers a suite of integrated digitalised solutions that enable managers to gain a real-time overview of all the risks involved in the maintenance of assets, while streamlining operations, increasing productivity and efficiency, and safeguarding assets and workforces.
Bartec's comprehensive product portfolio ranges from complex measurement and analysis technology to heating technology solutions and explosionproof components, as well as systems for automation, control and communication. Bartec products have proven themselves in numerous projects around the globe and are available in South Africa through the group's Johannesburg-based subsidiary Bartec Safety.