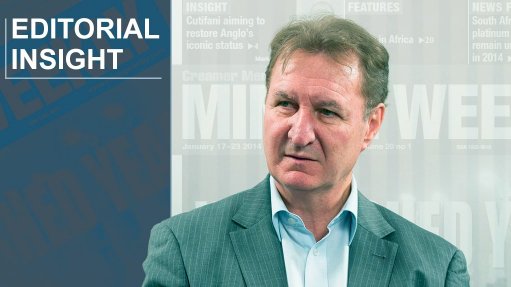 Four small diamond mines have run into financial trouble in as many months. It started with the Lace diamond mine, in the Free State, for which there were originally high hopes. Lace produced beautiful coloured diamonds and even attracted investment from the State-owned Industrial Development Corporation, but then experienced problem after problem and is now in business rescue.
Then there were rumblings within the Northern Cape-based sub-sidiaries of Rockwell Diamonds, which resulted in a court application for their liquidation, which Rockwell managed to stave off, but could not keep them from going into business rescue.
Trans Hex later told the JSE it was putting the Bloeddrif mine on care and maintenance, and now we hear that the Lerala diamond mine, in Botswana, has closed, with the local labour union complaining that its Australian owners gave its members eleventh hour treatment.
Things have not been rosy in the diamond supply chain for some time. Diamond cutters and polishers have been reporting financing difficulties and that has been a factor in lowering demand growth.
Meanwhile, Mineral Resources Minister Mosebenzi Zwane has taken a bewildering decision that could put the skids under our local diamond beneficiation business, which is supposed to be mollycoddled by government to sustain good-quality jobs.
For reasons best known to him, Zwane is refusing to grant the traditional export exemption that his predecessors champed at the bit to grant in the interest of local value addition. (Also see page 8 of this edition of Mining Weekly).
What has totally escaped the Minister is that the relevant legislation was developed by the South African government to incentivise large diamond producers to support diamond manu- facturing in South Africa, which it has succeeded in doing.
But the upshot now is that De Beers Consolidated Mines finds itself between a rock and a hard place and will leave it to the Pretoria High Court to sort out the mess.
On a more positive note, it is pleasing to hear the increasing comments about a platinum Mandela coin one day reigning supreme in the world of precious metals. Interestingly, these comments coincide with the fiftieth anniversary of the Krugerrand, the sale of which has been averaging a million coins a year. (See also page 7 of this edition of Mining Weekly).
Many believe that a platinum coin bearing the image of the late, great and iconic Nelson Mandela could gain similar traction in the world of precious metal coinage.
But to enable it to do so requires an energetic joint effort by the mining industry, the South African Reserve Bank, the Finance Ministry and the South African Mint.
Platinum companies have been giving the mint and the reserve bank all the technical information it needs for years now, with the Royal Mint already stealing a march on the South African Mint by announcing the imminent emergence of a platinum coin bearing the image of Queen Elizabeth.