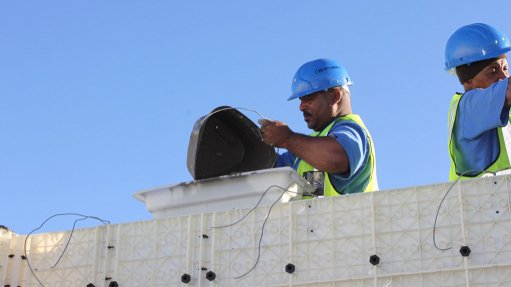 IDEAL MIX Using slag instead of sand in the mortar would result in substantial cost savings for mines
Alternative construction system company Moladi has developed a means of incorporating mine slag into its Moladi mix, offering mining companies a viable method for recycling their waste material and reducing construction costs when developing mine-site accommodation.
Moladi founder and CEO Hennie Botes explains that its cement admixture is poured into plastic moulds to form walls. "Using slag instead of sand in the mortar will result in substantial cost savings for mines during the construction of housing units and other site buildings."
Further, he notes that, with mines having problems disposing of mine slag, this solution will enable mines to use their waste material to build infrastructure.
Business consultancy MJC Business Consulting director Marius Lotter adds that, traditionally, mines made use of conventional building methods to construct the various site buildings. However, he suggests that a lack of quality management, logistical challenges, rigid deadlines, theft as well as excessive costs – including those relating to the use and rental of various types of heavy machinery, the contracting of a skilled labour force and the use of labour intensive methods – have resulted in mines looking to alternative building technologies.
Lotter notes that the Moladi system not only addresses most of the aforementioned issues but it also creates jobs. This assists mining companies with the legal obligation to, firstly, provide adequate housing and living conditions for staff and, secondly, "facilitate economic linkages to sectors other than mining" – which are the requirements in the 2010 Social and Labour Plan Guideline published by the Department of Mineral Resources.
Lotter adds that Moladi has been successful in implementing its entry strategy for the mining industry and it "foresees that as many as 150 houses will be completed in 2017".
The company is also set to supply 150 staff accommodation units at an Mpumalanga project, which has already been approved, and is awaiting the approval of 22 000 units to accommodate staff at another mining project.
Global Acclaim
The company was featured in a World Economic Forum report called 'The Future of Construction', published in January, which forms part of a multiyear global economic initiative to guide and support the engineering and construction industry.
The report notes that Moladi has an advantage over other affordable housing technologies, particularly those using prefabricated building components, because developing countries have notoriously inadequate road infrastructure, which makes transporting fully prefabricated units unviable and could result in the damage of prefabricated components. As Moladi's system involves the use of lightweight plastic formwork, which is easily transported, it is unlikely to be damaged, regardless of road conditions.
The system's formwork is assembled by clipping together a set of injection-moulded, 30 cm × 10 cm × 20 cm plastic panels that are removable, reusable and recyclable. With this system, a building can be constructed in as little as two days.
The formwork panels are assembled on the first day. Window and door frames, as well as piping and wiring are positioned within the wall cavity before the mould is filled with the Moladi mix.
To illustrate the speed of the process, Botes explains that constructing a 40 m² house takes a team of 18 workers about four hours: two hours to erect the formwork and another two hours to pour the mortar.
On the second day, the formwork is removed, the walls are painted with a cementitious water-based paint and the lighting and sanitary equipment are installed.
The entire process can be monitored by one Moladi supervisor who provides on-site training and assistance to local workers with no prior construction experience or special construction skills.
Moladi's system is generally associated with small affordable housing units, but it can be applied to various infrastructure assets, including schools, hospitals or courthouses, site offices and multistorey buildings.
Its main advantages are the speed and ease of production, the lower costs and reduced environmental impact, the quality of the end product and a localised supply chain that benefits local communities.
The cast walls have a strength of between 7 N/mm² and 15 N/mm² – which is significantly stronger than traditional structures.
The technology has undergone extensive testing and received certification from several African building and standards authorities, including the South African Bureau of Standards and the Tanzania Bureau of Standards. The structures are also reported to be "very earthquake resistant" according to tests conducted by the University of Panama.
The system has been used to construct several thousand units in 20 countries in Africa, including South Africa, Nigeria and Tanzania. It has also been used in Sri Lanka, Mexico and Panama.
Moladi is reportedly preparing to expand its footprint to include the UK and other industrialised countries that have a shortage of affordable housing. The report noted that one of the virtues of the Moladi system is that it can be easily adapted to local building codes and conditions by integrating the required reinforcing structures into the cast.
It concludes that the system is limited to single- or two-storey buildings, but Moladi is working with engineers to upgrade its construction processes and mortar to qualify the use of its system for multistorey buildings.