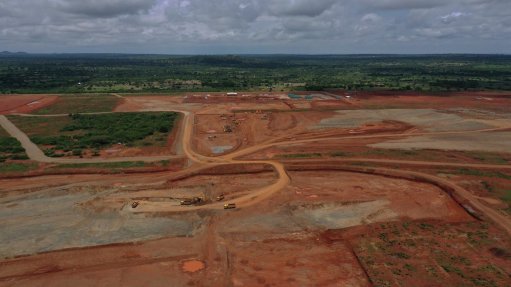 Name of the Project
Singida gold mining project.

Location
In the Ikungi administrative district of the Singida region, in central Tanzania.

Project Owner/s
Shanta Gold.

Project Description
Project economics estimated in house provide for the processing of 2.5-million tonnes of ore from surface mining at an average grade of 3 g/t for the production of 221 000 oz of recovered gold over an initial seven-year mine life.
Singida will use conventional openpit mining methods.
Average life-of-mine gold production is estimated at 32 000 oz/y at an all-in sustaining cost of $869 /oz.

The processing plant will have a nominal throughput of 365 000 t/y. The processing plant will be a conventional carbon-in-leach plant with gravity concentrator.
Singida is hosted in a greenstone deposit, lending itself well to upside exploration potential. Future exploration will target the extension of reserves and will be funded by cash flow from production at Singida.
Successful future exploration could justify an increase in the size of the processing plant to increase throughput and production, the miner has said.

Potential Job Creation
Not stated.

Net Present Value/Internal Rate of Return
Using a projected gold price of $1 700/oz, an after-tax net present value, at an 8% discount rate, of $56.3-million has been estimated, alongside and unlevered internal rate of return of 49%.
Payback is estimated at 40 months.

Capital Expenditure
The preproduction capital expenditure required to develop Singida until first gold pour is estimated at $26.4-million, with an additional $10.4-million for preproduction stripping.

Planned Start/End Date
The project remains on track for first production in the first quarter of 2023.
Latest Developments
Singida is progressing on schedule and in line with capital-spending expectations.
Several major project milestones have now been completed on site, with construction now 45% complete and a clear path to realising first production within the next 12 months.
Successful delivery of the Metso-built crushing circuit in December 2021 followed the completion of the design and manufacturing. All equipment and steel are now on site, with assembly to begin in March.
Manufacturing of the grinding and gravity circuit mill by NCP Africa, in South Africa, is 100% complete. Shipment to site is targeted for March and site installation is planned for May.
Construction of the tailings storage facility and waste rock dump have begun, following the approval of permits in 2021.
Ore stockpiling continues, following the first successful Gold Tree openpit blast in October 2021.
Key infrastructure, including bulk power, water, buildings and fencing are either completed or progressing in line with expectations.
Total capital spend at Singida for 2022 is estimated at $25-million.
Key Contracts, Suppliers and Consultants
Metso (crushing circuit) and NCP (manufacturing of the grinding and gravity circuit mill).

Contact Details for Project Information
Shanta Gold (Tanzania), tel +255 22 292 5148, fax +255 22 292 5151 or email mining@shantagold.com or info@shantagold.com.