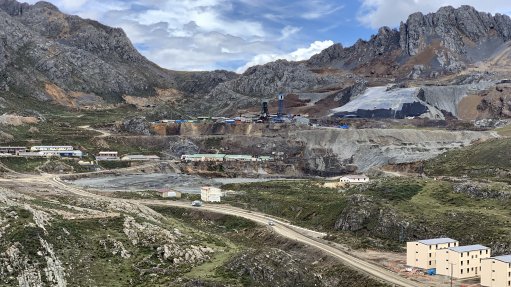 TSX- and NYSE American-listed Sierra Metals has announced the results of a preliminary economic assessment (PEA) looking at the expansion of its Yauricocha mine, in Peru, and has said that it is also considering growth options at the Cusi mine, in Mexico.
At Yauricocha, Sierra has been considering several output expansion alternatives and concluded that processing capacity of 5 500 t/d will be the optimum production level, based on the mineral resource base.
The 5 500 t/d production rate by 2024 compares with the current permitted capacity of 3 150 t/d. The company is expecting a permit by the first quarter of 2021, to increase capacity to 3 600 t/d, plus a 5% overalotment allowance, thus 3 780 t/d.
CEO Luis Marchese said on Wednesday that Sierra was encouraged by the results of the PEA, which supported the company's organic growth strategy.
Highlights of the PEA include aftertax net present value (NPV) of $333-million at an 8% discount rate. The incremental benefit of increasing production to 5 500 t/d, from 3 780 t/d, delivered a NPV of $27.1-million and an internal rate of return of 29.5%.
The study is based on updated measured and indicated resources of 15.92-million tonnes, averaging 43.8 g/t silver, 0.5 g/t gold, 1.2% copper, 0.6% lead and 2.2% zinc representing a 26% tonnage increase from the previous resource tonnage estimate. Total inferred mineral resources for Yauricocha are 11.63-million tonnes, averaging 27.5 g/t silver, 0.5 g/t gold, 1.4% copper, 0.3% lead and 1.0% zinc.
The PEA calculated life-of-mine payable production of 419-million pounds of copper, 13.7-million ounces of silver, 43 000 oz of gold, 541-million pounds of zinc and 167-million pounds of lead.
Sierra also on Wednesday announced an updated mineral resource estimate for its Cusi mine. The new resource estimate will be the foundation for the upcoming PEA that will help determine the expansion scope of the mine.
The total measured and indicated resources of Cusi increased by 18% to 5.36-million tonnes, from 4.56-million tonnes previously reported. The total inferred resource increased 200% to 4.89-million tonnes, from 1.63-million tonnes.