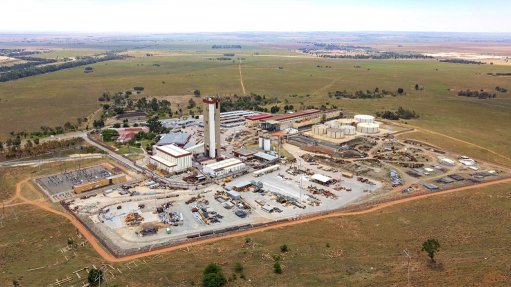 Sibanye's Driefontein gold mine
JSE- and NYSE-listed platinum group metals (PGMs) and gold miner Sibanye-Stillwater has advised it expects a 3.7% increase year-on-year in basic earnings to R9.3-billion, or $563-million, for the six months ended June 30.
Basic earnings a share should be about 351c, or $0.21, apiece.
This compares with the basic loss of R255-million or 11c a share, or $18-million and $0.01 a share, reported for the six months ended June 30, 2019.
Further, headline earnings per share (HEPS) are expected to increase by 748% to 250c, or $0.21, compared with the headline loss a share of 54c, or $0.04, reported for the 2019 interim period.
The company attributed the increases in earnings to an improved operational performance from its own-managed South African gold operations, despite the impact of the Covid-19 lockdown on production volumes, while the interim results of last year were heavily impacted by a trade union strike.
This year's interim earnings also benefited from the inclusion of the company's Marikana operations for the full six-month period, compared with one month's contribution in the prior six months.
Sibanye also benefitted from significantly higher average precious metal prices in the first half of this year, as well as from the depreciation of the rand relative to the dollar, with the rand being, on average, 17% weaker for the reporting period at R16.67 to the dollar.
Production from the company's South African gold operations in the six months under review increased by 17% year-on-year to 403 621 oz, while platinum, palladium, rhodium and gold (4E) metals production from the South African operations were 5% higher year-on-year at 657 828 oz.
Platinum and palladium (2E) production from Sibanye's US operations was 5% higher year-on-year at 297 740 oz.
The company reports that average received metal prices for the interim period under review were significantly higher than for the comparable period in 2019, with the average 2E PGMs basket price of $1 837/oz being 43% higher year-on-year, the average 4E PGMs basket price received being 92% higher at $2 002/oz and the average gold price received of $1 613/oz, 45% higher than for the interim period of last year.
At the end of July, the company's South African PGM operations had achieved a production run rate of between 70% and 75% of plan, while the South African gold operations achieved a production run rate of about 90% of plan.
Sibanye says the outlook for the second half of the year is positive.
The company will release its results on August 27.