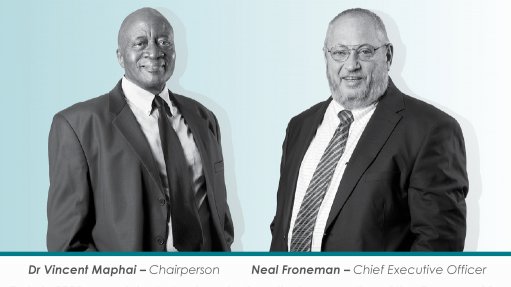 Sibanye-Stillwater chairperson Dr Vincent Maphai and CEO Neal Froneman.
Sibanye-Stillwater's Integrated Report 2022, published late last month, highlights the company's clinching of mineral resources and reserves in the critical metals arena while maintaining minerals positions in platinum group metals (PGMs) and gold in Southern Africa.
Listed at the top of its minerals successes in the comprehensive report is the declaration of a maiden lithium (Li) mineral reserve of 193 600t of lithium carbonate equivalent (LCE) following the board approval of the Keliber lithium project in Finland.
The Johannesburg- and New York-listed mining company, headed by chairperson Dr Vincent Maphai and CEO Neal Froneman, also achieved a 133% increase in Li mineral resources to 452 900 t of LCE.
This was done, the report states, while maintaining a stable mineral reserves position at the PGMs and gold operations in South Africa, where depletion has been offset by additional mineral reserves from the completion of a successful feasibility study at the Mimosa PGM operations in Zimbabwe and increases at DRDGOLD.
Its mineral resources and reserves challenges were cited as the repositioning of PGM operations in the US and the Akanani PGMs exploration project in South Africa. In the US, the update of life-of-mine plans resulted in a 3.6% decrease in mineral reserves and a 6.1% decrease in mineral resources, and at Akanani a mining right application was rejected on a technicality. Regarding Akanani, Sibanye has launched internal appeal proceedings in accordance with the Mineral and Petroleum Resources Development Act. Although confident in its legal position and that it acted within the guidelines during the application, the rejection of the application could impact on up to 10% of total group PGM mineral resources, Sibanye states in the integrated report.
As one of the largest primary producers of platinum, palladium and rhodium and a top-tier gold producer, Sibanye also produces and refines iridium and ruthenium, nickel, chrome, copper and cobalt, while recently also diversifying into battery metals mining and processing. It is also increasing its presence in the circular economy by growing and diversifying its recycling and tailings reprocessing operations globally.
On the lithium exploration front, Sibanye has total mineral resources of 10.2-million tonnes grading 0.2% Li (for 86 800 t LCE) and 8.1% H3BO3. The attributable resources in the Rhyolite Ridge lithium-boron project, through the shareholding in ioneer, were largely unchanged. An agreement is in place with ioneer to establish a 50:50 joint venture with respect to the Rhyolite Ridge project in Nevada. During 2022, the project advanced to the final stage of permitting with the US Bureau of Land Management.
Regarding copper exploration projects, Sibanye has total copper mineral resources of 13 257.1 Mlb, a decrease of 0.1%, impacted by a minor change in shareholding in Aldebaran Resources from 19.99% to 17.59%. Aldebaran has completed expenditure to gain a 60% interest in the Altar project.
Regarding gold exploration projects, Sibanye's total gold resources of 6.9-million ounces remained unchanged at the Southern Free State project and its 66.6-million-ounce uranium exploration remains unchanged, with uranium resources occurring within gold operational footprints.
As a dual-listed company, on the JSE and the NYSE, Sibanye's mineral resources and mineral reserves are reported in accordance with the Samrec Code and subpart 1300 under Regulation S-K of the US Securities Act of 1933, the company states in a release to Engineering News & Mining Weekly.
Meanwhile, t
he vertical shaft at Sibanye's Stillwater West mine in the US has been recommissioned, following remediation of shaft infrastructure, which was damaged during an incident in March.
Production from the deeper levels, below the 50 level, at the Stillwater West mine has resumed, and normalisation was expected by the end of April. Suspension of production below 50 level during remediation and production build-up is expected to reduce Stillwater West output by about 30 000 oz.
Access to Stillwater West's above-50 level as well as through the east portal to the Stillwater East mine was not affected by the incident, resulting in production from these areas, as well as from the East Boulder mine, continuing during remediation.