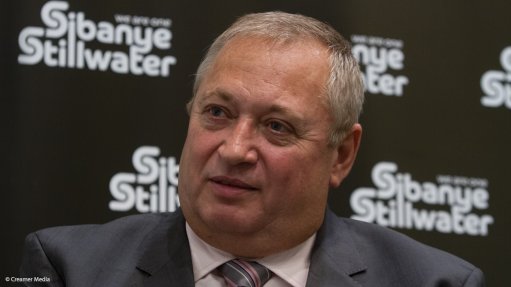 Sibanye-Stillwater CEO Neal Froneman
Photo by: Creamer Media
JOHANNESBURG (miningweekly.com) – Precious metals mining company Sibanye-Stillwater on Thursday welcomed the pragmatic approach taken to partially resume economic activity in South Africa's mining industry while safeguarding the health of employees.
This phased approach would facilitate a managed and orderly return to safe production, while minimising the prolonged health and economic consequences of the pandemic for all stakeholders, Sibanye-Stillwater CEO Neal Froneman stated in a news release to Mining Weekly, which came against the background of the Johannesburg- and New York-listed company earlier communicating that it had:
deferred nonessential growth capital expenditure at the US platinum group metal (PGM) operations in order to reduce employee numbers during the Covid-19 pandemic;
suspended its South African operations in response to the initial nationwide lockdown announced by the President of the Republic of South Africa, Cyril Ramaphosa; and
approved limited mining and processing at its South African operations, subject to the implementation of agreed protocols to address Covid-19 health and safety risks.
Its latest update focused on South African mines now being permitted to conduct operations at a reduced capacity of 50% of normal production during the period of the lockdown, thereafter increasing productive capacity as determined by Mineral Resources and Energy Minister Gwede Mantashe.
"We fully support the measures taken thus far by the South African government to manage the Covid-19 pandemic. The safety, health and wellbeing of our employees, contractors and communities is our overriding concern," said Froneman.
Detailed protocols and measures to manage the risks to employees and contractors had already been developed and were being implemented prior to the nationwide lockdown.
The company said it fully supported the risk-based measures to resume the prescribed levels of mining activity, which included:
arranging transport for South Africa-based employees from their homes in remote areas to their respective areas of work;
rigorous screening and testing programmes to be implemented as employees return to work;
the provision of quarantine facilities for employees who may test positive for Covid-19; and
submission of data collected during screening and testing to the relevant authority.
The US PGM operations would continue to operate with a reduced workforce, while Mimosa in Zimbabwe had resumed operations under precautionary measures agreed with the government of Zimbabwe.

Operating guidance for 2020 would be provided when greater certainty returned.
Following the integration of the Lonmin and now Marikana operations into the company's South African PGM portfolio, Sibanye-Stillwater executive Robert van Niekerk would move into a group role heading up technical services function while Wayne Robinson had been appointed executive VP of South Africa's PGM operations.
"We've built a substantial and resilient business and the depth and quality of our management bench provides flexibility and optionality," said Froneman.
Robinson's significant operational experience in South Africa's hard rock mining industry, including gold and PGMs, would ensure ongoing delivery and continuity as head of the company's South African PGM operations, while Van Niekerk, with his extensive experience, would provide invaluable technical support across the group and drive best practice, technology and innovation and project functions, all of which were core to the company's future success and relevance.